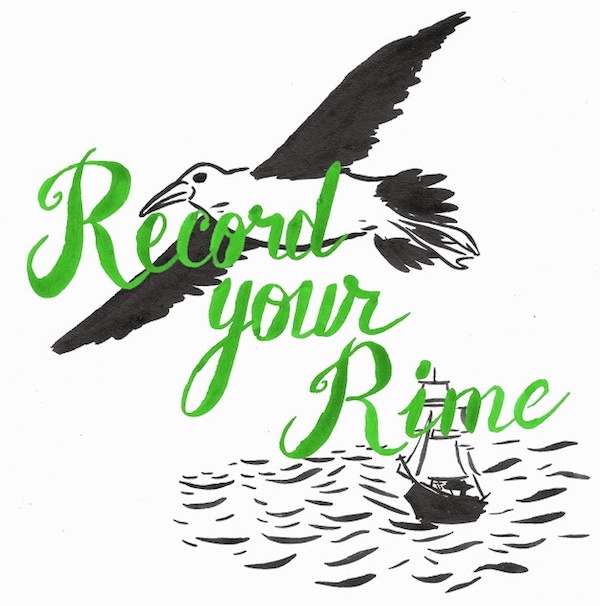 We love the Poetry Foundation's Record-a-Poem project, in which users are encouraged to read aloud their favorite verses using SoundCloud. Now, in conjunction with its upcoming performance of The Rime of the Ancient Mariner, BAM is partnering with the program, collecting recorded interpretations of a segment of Samuel Taylor Coleridge's poem; they will ultimately edit and compile the audio into a crowd-sourced animated video featuring as many voices as possible. The deadline is December 1, so take a few moments out of your holiday weekend to be part of something cool! Find the excerpt below, and see full details here.
From Part II of The Rime of the Ancient Mariner by Samuel Taylor Coleridge
All in a hot and copper sky,
The bloody Sun, at noon,
Right up above the mast did stand,
No bigger than the Moon.
Day after day, day after day,
We stuck, nor breath nor motion;
As idle as a painted ship
Upon a painted ocean.
Water, water, everywhere,
And all the boards did shrink;
Water, water, everywhere,
Nor any drop to drink.
The very deep did rot: O Christ!
That ever this should be!
Yea, slimy things did crawl with legs
Upon the slimy sea.
About, about, in reel and rout
The death-fires danced at night;
The water, like a witch's oils,
Burnt green, and blue, and white.
And some in dreams assured were
Of the Spirit that plagued us so;
Nine fathom deep he had followed us
From the land of mist and snow.
And every tongue, through utter drought,
Was wither'd at the root;
We could not speak, no more than if
We had been choked with soot.
Ah! well a-day! what evil looks
Had I from old and young!
Instead of the cross, the Albatross
About my neck was hung.
Read the whole poem here.