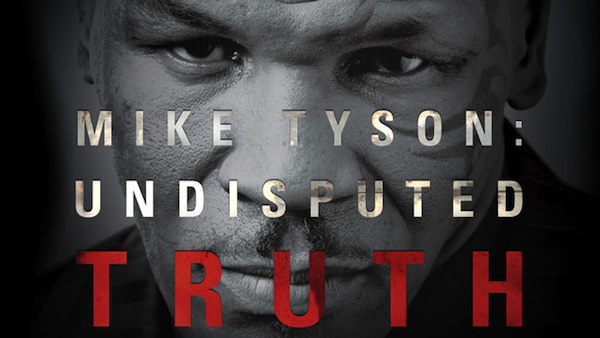 It was Tuesday and Mike Tyson was comparing himself to Machiavelli.
"After you kill the king," he said, "you cut off his head and you be audacious. You say what you're going to do to the next king. Speak foully."
What great writer bears the most resemblance to Mike Tyson? At a talk at the New York Public Library, host Paul Holdengräber compared Tyson to Montaigne, Rousseau, and Orwell, all in the same breath. "Well, uh, that's pretty profound," said Tyson, who was there to promote his new memoir, Undisputed Truth. He might have had a different thinker in mind. "I think about Nietzsche a lot," he writes in the book. Tyson the superman, a former petty criminal from Brownsville, Brooklyn, and the son of, as he put it, two people who "worked in the sex industry," is by now a thoroughly American symbol. He found riches on the basis of physical strength and sheer willpower, then lost everything by the force of his scarred psyche. He's currently aiming at the redemptive stage of his career. It isn't the first time. He is tragic in a Greek kind of way. "I love war," he told Holdengräber enthusiastically. "I love the players in war. I love the philosophy of war." And he has the facial tattoos to prove it.
At the library, he walked the audience through the lineage of Frankish kings. He identifies with them because "they came from obscurity" and "I was born in obscurity and I never wanted to go back again." Tyson is also an admirer of Pepin the Short, the first of the Carolingian rulers, a ruthless suppressor of revolts and the father of Charlemagne. At one point, he likened himself to Ben-Hur.
"Remember Ben-Hur?" Tyson said. "He became a wealthy man. He became a great conqueror for slaves. He became the best celebrity. And, wherever it was, he rescued the general of that ship, and after all that he couldn't save his family. They put them with the lepers. His sister and his mother. Then he got his family from the lepers. He was a success." There was a pause. "Look at success with me, myself."
Let's look back to June 28, 1997. The rematch between Mike Tyson and Evander Holyfield was billed as "The Sound and the Fury." This was the fight that now overshadows the rest of both men's careers and ended with a blood- and sweat-soaked piece of Holyfield's ear on the floor of the ring. Tyson had said he could defeat any of the six billion people on the planet in a fair fight (the world was smaller then), though his second fight with Holyfield resulted in the temporary suspension of his boxing license. His portentousness rivaled Faulkner's at his most bourbon-soaked. He was two days shy of his thirty-first birthday, and about two years out of prison after serving a commuted sentence of four years for raping Desiree Washington, Miss Black Rhode Island 1991, in a hotel room in Indianapolis in the early morning of July 19 of that year (a conviction that, to this day, he protests). He wasn't in need of a comeback—he accomplished that right after his release, defending his titles and earning eighty million dollars in the process. But as Faulkner wrote in that other Sound and the Fury: "No battle is ever won." Or, as Tyson writes in Undisputed Truth, "I wanted to destroy everything and everybody in his corner." The corner could be anybody's.
Once Tyson appeared, barely contained inside a maroon turtleneck, Paul Holdengräber, the library's director of events, a spry, bookish man, began a philosophical discussion of the fighter's permanently inked countenance. Tyson said the marking framing his left eye has origins in tribal paintings in New Zealand folklore. Also in Las Vegas, where he had it stamped on his face, but that went unmentioned. My takeaway from this was Tyson saying, "I was high. I was smoking weed."
Substance abuse—especially cocaine—plays a major supporting role in Undisputed Truth, as does rehabilitation, though Tyson's sobriety—or lack of it—is hard to pin down. He checked into rehab last summer, and he's been inconsistent about whether he is or isn't clean. In the book, he isn't so demure about his drug use, though. In 2003, he carried half a brick of coke on a private plane to meet Don King to renegotiate his contract, and ended up attacking his manager and several others on the side of a highway in Florida. He got high on the plane to Cannes for the premiere of his career-salvaging role in The Hangover. When his current wife, pregnant with their future daughter, went in for a check-up in 2009, she tested positive for cocaine simply from kissing Tyson on the mouth. "I was a licker when it came to my blow," he writes.
Nietzsche aside, maybe the writer with the most in common with Tyson is Norman Mailer, who traded writing lessons for boxing lessons with José Torres and thought of the two forms as one and the same. He wasn't the first novelist to romanticize boxing, but those are dying breed. The sport's mystique with the literary world eventually soured in part because Tyson took the poetry out of it. Let me quote the sales clerk at the Strand Bookstore on Broadway where I bought my copy of Undisputed Truth: "Never could much get into him. The fights were over too quickly."
There was certainly nothing poetic about Tyson v. Holyfield II, the elephant in every room Tyson walks into. I was waiting for Holyfield to appear when Holdengräber started playing clips from iconic fights on a screen onstage and asked Tyson for live commentary. (Sonny Liston "is a bad guy, the kind of guy you read about in fables"; Muhammad Ali "was a ferocious saber tooth tiger with a pretty face.") Tyson was reluctant to watch himself, but when he showed up in a clip fighting Reggie Gross at Madison Square Garden, he narrated the young Mike Tyson's actions with a distant kind of omniscience: "I want to hurt him desperately. I want to dismantle him. When I'm done fighting him, they're going to fear me."
Finally, a collective whisper swept through the crowd. There was Holyfield, on screen, his oddly friendly face betraying his brutal head butting. Even Tyson himself grew anxious. Was this the Tyson and Holyfield cannibalistic rematch? Was the New York Public Library going for a K.O. against The Baddest Man on the Planet?
"What year is this?" Tyson said. He was calm but menacing.
"November 1996," Holdengräber said, squirming. "It's round ten."
"Is this the first fight or the second fight?"
"First."
"Alright," Tyson said, and the audience let loose a collective sigh. It was the non-flesh-eating fight. The video played and there was silence for what felt like several minutes.
"Say something," Holdengraber said.
"This guy beat the shit out of me," he said and the audience burst into rapturous laughter and applause. Everyone loves a comeback.