So just what is the "thingness of the thing" that Heidegger was talking about? The phrase's riddlesome poetry could easily have been penned by John Ashbery, instead of the crusty German phenomenologist. Is Heidegger suggesting that material things possess an essence, an abstract quality that both defines and constitutes, say, a shoe—its shoeness? Perhaps, but Ashbery, in fact, offers a more straightforward assessment of the unseeable stuff that makes stuff stuff in the opening lines of "Grand Galop": "All things seem the mention of themselves." Such are my thoughts as I roam the rooms of Ashbery's Hudson, New York, home … well, only to the degree that the galleries at Loretta Howard, in Chelsea, have been decorated with trompe l'oeil drawings—wainscoting, doorways, mantels—to look like the rooms of the poet's well-appointed nineteenth-century house.
Thoughtfully curated by Loretta Howard Gallery and poets Adam Fitzgerald and Emily Skillings, the show offers a selection of Ashbery's own paintings, prints, collages, bric-a-brac, and furniture; it's all cozily arranged to conjure as much domestic atmosphere as might be had in a gallery space. Kitschy figurines, VHS tapes (Daffy Duck and Jack Benny among them), bawdy toys, and hand-painted plates line the shelves of cabinets and bookcases that could have been lifted whole from Ashbery's parlor. Other items, like the French Provincial chairs and Oriental rugs, have been. They complement a piano drawn on a wall on which are hung several selections of early twentieth-century sheet music ("Mr. and Mrs. Is the Name," "Flirtation Walk"), as if resting on the instrument's music desk.
Alongside such homey items (the cartoons playing on the TV jangle in a familiar way with the filigree wallpaper designs) are pieces by many of the poet's friends and artistic confederates, such as Joan Mitchell, Fairfield Porter, Larry Rivers, Trevor Winkfield, Jess, Alex Katz, Jane Freilicher, and Willem de Kooning. There's a gemütlich vibe, equal parts wry and melancholic, generated by this assemblage of things cultural that ably recalls the mood and manner of Ashbery's writing. To elucidate this point, the curators include wall text featuring apt passages of his verse that treat the world, if not the mind, as a congeries of curios, a kind of Cornell box. Of course, the show includes a few of those; with poems populated by Popeye, Henry Darger, Chopin, Faust, Parmigianino, and a myriad of other, less identifiable references, it's no surprise that Ashbery is a devotee of Cornell's eclectic connoisseurship. Both share an affinity for the metaphysique d'ephemera, an aesthetic that elevates the trivial to the transcendent.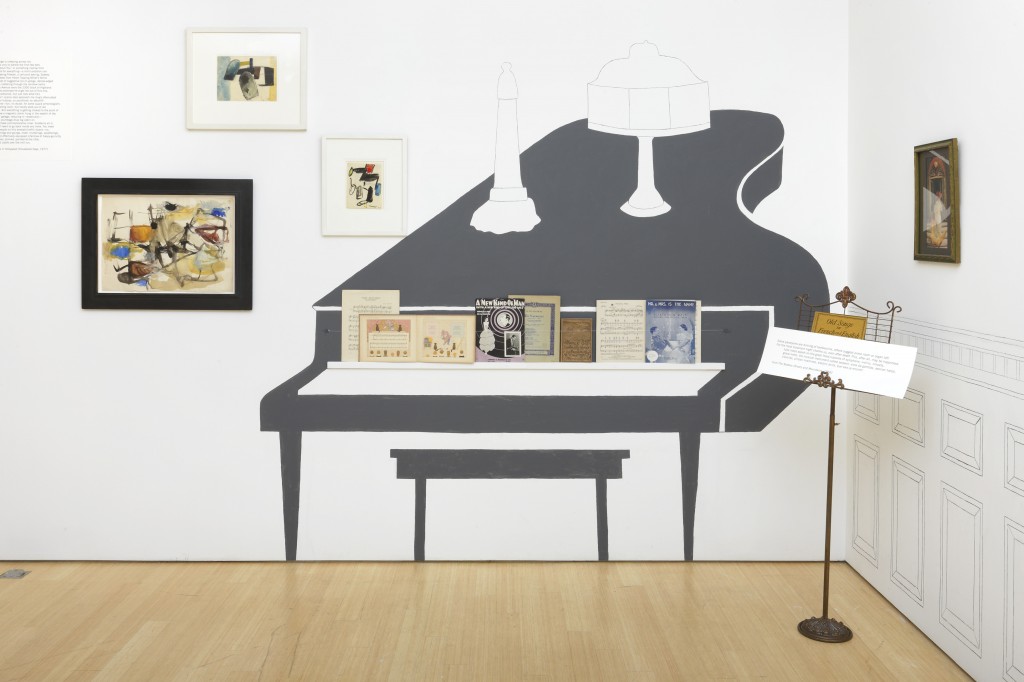 Porter's well-known portrait of Ashbery—it graces the cover of his first Library of America volume—depicts him in his late twenties, his face in profile, his seated figure slightly off-center and recessed in the frame. Painted around the time Ashbery published his first book, Some Trees, the portrait is classical in composition, restrained in palette. Porter's muted tones and contemplative regard reveal Ashbery's observational mien—he's not looking at the viewer but outside the picture, somewhere we can't see. It is as if Porter caught the poetic persona behind this opening line of "The Instruction Manual," from that first book:
As I sit looking out of a window of the building
I wish I did not have to write the instruction manual on the uses
of a new metal.
I look down into the street and see people, each walking with an
inner peace,
And envy them—they are so far away from me!  
The show suggests that there are different kinds of collectors. Unlike those detailed in Werner Muesterberger's Collecting: An Unruly Passion, Ashbery isn't an obsessive—a Robert Opie–type who acquires a museum's worth of supermarket goods—but rather appears to be someone who simply arrives at the objects he collects; they are ready to be plucked up from his path as he makes his way among friends, passing fancies, nostalgic affections, and sundry oddities. Instead of the scholarly verve driving many collectors, something like the associative logic that arranges the images in his poems determines Ashbery's acquisitions. These objects—not individually, but collectively—evoke the multifariousness of consciousness, instead of its broodful, innermost zones.
Or so I speculate. Because, after all, what do I know about how Ashbery came to own the things he owns. I do know that this show could be the prop room for his verses, a place where totems of high and low, irony and utter seriousness await staging. To be sure, such connections constitute, for me, the great drama of the poems. And those points of contact spark in conversation with Ashbery, too. I visited the house in Hudson many years ago and was duly enchanted by its grandeur, the movie-set staircase (there's a painting of it and other interiors by Archie Rand in the show) with its polished banisters. In an upstairs room, John Yau, Joseph Donahue, David Kermani, Ashbery, and I watched a TV show featuring old B movies that had been overdubbed with wisecracking, deliberately anachronistic dialogue. Ashbery was heading to New York the next day for the big 1986 PEN Congress, and someone asked him what he thought of the controversy roiling around one of the invitees, then–Secretary of State George Schultz. "Well," he offered, "I've always liked Peanuts." Between the TV show and Ashbery's ongoing commentary, I felt sure the materials for a poem were gathering with him as he sat there on the couch.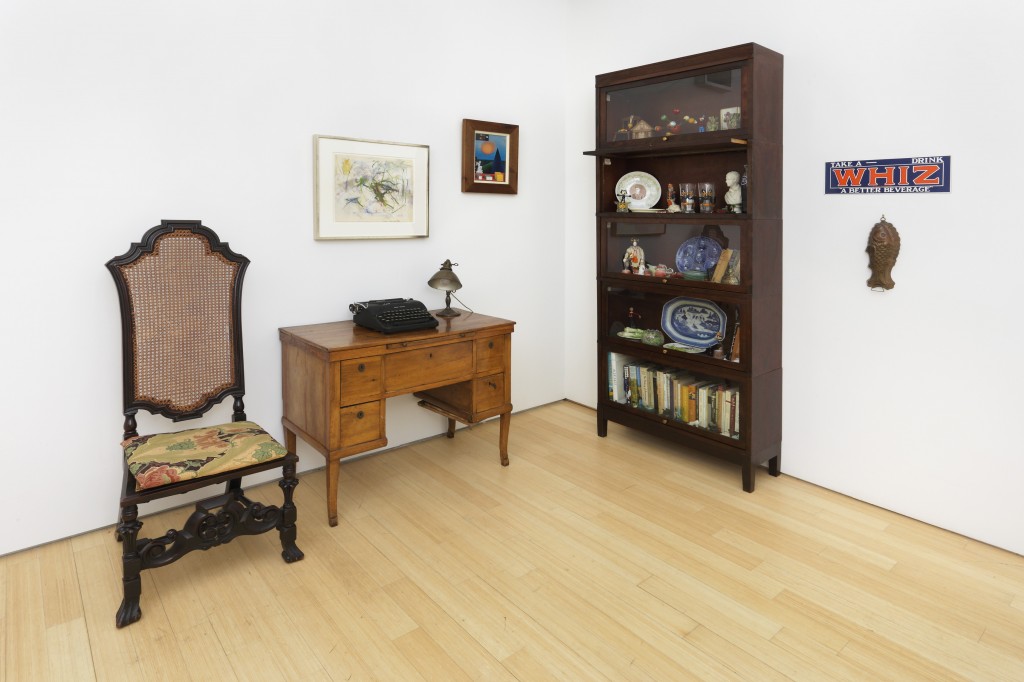 To scan these rooms is to carom across decades and oceans, as well as across small worlds of sensibility—from the Utagawa Kunisada woodblock prints, with their floral-draped and delicate maidens, to Shirley Goldfarb's painterly detonation, titled Storm; from Jane Freilicher's still life Peonies to Henry Darger's collage of military figures; from Mark Tobey's airy brushwork in World Dust to Joe Brainard's palpably dense collage Madonna; from ceramic cocker spaniels to a video cassette of Fritz Lang's The Spiders. The ricochets impact gently (after all, there are even antimacassars on the chairs in this comfy home), but no less bracingly. It's the sly jolt that arises from untested circuits, fresh neural pathways flashing to life. Another bit from "Grand Galop" comes to me—"For things can harden meaningfully in the moment of indecision"—and I remember that night in Hudson years ago: among these things, amid their thingness, I realize that I'm standing inside one of Ashbery's poems.
Albert Mobilio's most recent book of poems is Touch Wood. A volume of short fiction, Games and Stunts, will be published next year.
"John Ashbery Collects: Poet Among Things" is on view at Loretta Howard Gallery, New York, through November 2.