My father's father was a carpenter. I never met my grandfather, but I know from photographs and stories that in addition to farming, keeping dairy cows, and working on a cannery line, he earned money by carpentry. I also know from the sawhorses that my father inherited from his father.
The wooden trestles stood ever-vigilant in our garage, ready to serve whenever their nail-bitten, blade-gauged bodies were needed. The sawhorses were two of a few inherited things that reminded me of the grandfather I never met: a pear tree that still stands but no longer grows heavy with fruit in early autumn; a concrete trough he made that my sister, used for her horse's drinking water; a pitchfork on which the handle had been replaced many times, and that we used for moving straw, hay, manure, or leaves, depending on the season.
Our inheritance felt large, but it was the sawhorses that I most admired, especially when my father put them to use constructing bookshelves for my bedroom. My father was no stranger to construction; he built the log cabin in which I was raised. He inherited not only tools but also skills from his father, so he was able to cut, stain, and install the wide bookshelves on my bedroom walls in no time. The shelves were required to house my growing library, acquired book by book in a thrilling sequence of gifts, purchases, and trades.
The day those bookshelves were installed was both an end and a beginning. It was the beginning of my treating books like objects and the end of my venerating them as relics. The order of the library, the logic of the archive, the structure of the bookstore all faded that day; suddenly, my books were mine to play with and I could do with them as I pleased. I could arrange them by height or by color. I could divide them with whatever objects I wanted: the painted deer skull I had been given as a dream catcher, the glow-in-the-dark vampire mask I had bought on a family vacation, the ornate carousel music boxes I had collected.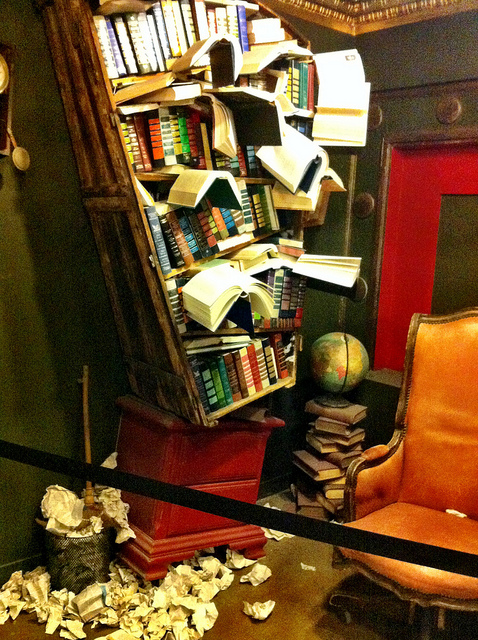 This was before online booksellers, even before we had a dial-up Internet connection we could have used for browsing their inventories. This was a time when you could borrow books from the local library or, with just cause, request books for delivery from one of the better-stocked branches in the state capital. A time when requesting publishers' titles from the local Hallmark store seemed as daunting as launching a mission to Mars.
I had previously considered books too precious for anything but reading, but now simply reading them felt like the least imaginative thing to do. I arranged my shelves and rearranged them with some regularity. Books were no longer only vessels of art, but art objects themselves. The worlds and characters and ideas in their pages ceased to be real, becoming instead mere reproductions.
I thought of my shelves when visiting the Last Bookstore in Los Angeles. What began in 2005 as a small shop in a downtown loft is now an almost 20,000-square-foot cathedral of books. Its current location is at the corner of Fifth and Spring Streets, in what used to be the Crocker National Bank.
If you don't look up, the ground floor might be mistaken for a regular bookstore. A small coffee bar flanks one entrance, while waist-level bins full of vinyl records border the other; oversized leather couches dot the floor plan, and the space is divided by tall shelves laden with books. There's a satisfying selection of used books, a few subject-based sections and some areas curated tenderly by staff, as well as a comprehensive array of new titles.
But stray from the center of the store or let your eyes wander to the edges or the ceiling and you notice that the Last Bookstore is something unusual. Books are suspended, their pages spread like wings; mannequins covered in printed letters and collaged phrases stand in corners; a large mural made from wire and paperbacks stretches like a whale shark along the mezzanine level.
Ascend to the Labyrinth upstairs and you feel as though you have gone through the looking glass. Every book on the second floor is only a dollar: new, used, hardcover, paperback, pop-up, spiral-bound, and everything in between. Tens of thousands of books line shelves, stand in tidy stacks on the floor, sort themselves by color, form tunnels, fill vaults, and stretch like scrolls along the ceiling.
The Last Bookstore has some of the most beautiful book art I've ever seen. You can wander and wander through this wonderland of cuttings, foldings, installations, and sculptures. Some pages are folded, others torn; the books are shaped into birds and windows, transformed into storyscapes independent of their original stories.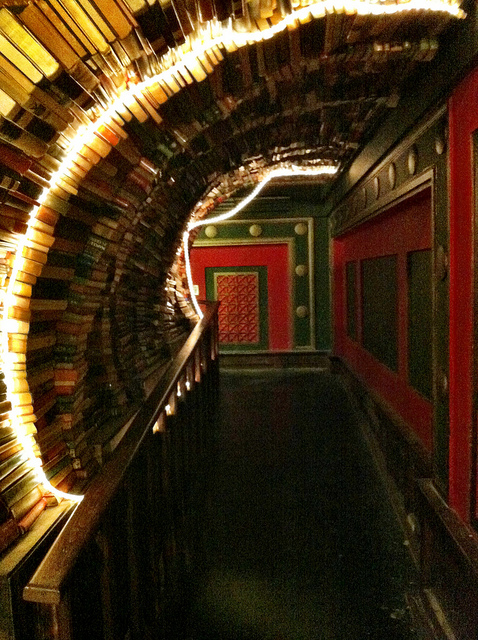 Book art might be called an epitaph for our relationship with the printed word. Its power comes almost entirely from the materials that it memorializes. Without the bindings or the recognizable spines, these works of art would cease to invoke their source. And in order to be moved by the work of art, we need to recognize the book, or even the idea of the book.
The setting, the Last Bookstore—apocalyptic, but also an increasingly plausible—makes this association easier, but it still seems clear that none of these works can succeed if they transform the book beyond recognition. The epitaph works only when we recognize its referent. There is both terror and beauty in every work of book art: the printed word mangled, but also memorialized; pages destroyed, but also preserved; books dead, but also resurrected. The Last Bookstore is equal parts mausoleum, shrine, and warehouse. If it were to be the last of the great commercial enterprises we know as bookstores, then it would be a fitting end to the legacy of booksellers, going all the way back to the ancient scribes.
I remember when stories became books in my childhood library. The arrival of those bookshelves, a beautiful gift from my father constructed with precious gifts from my grandfather, made books seem other than what they are. My Dover Thrift Editions seemed less than my expensive hardbacks. Bindings suddenly mattered. The height and width of every book affected how it could be stacked and arranged, distinctions that had never mattered before.
Few people believe that the end of bookstores would be the end of reading, or even the end of browsing or serendipitous encounters with literature. No matter how far into the digital realm literature moves, there are those who will always revere the book. Rare book libraries and manuscript archives will always, and for good reason, keep vaults full of parchment and paper. Artists like Michael Piscitello, David Lovejoy, Jena Priebe, Brady Westwater, Nick Lord, and the many others who have contributed to the Last Bookstore will continue to make art from physical books, while artists and archivists will always devote themselves to the book as concept.
The rest of us, though, will realize it is not books that we have loved, but words and stories. Take those bookcases in my childhood room. It was not the stained pine shelves that I cherished, but the father who made them. Take the sawhorses that my father used to build the shelves. It was not the battered pine sawhorses we prized, but the grandfather who built them and used them for his trade. The charity and hope and utility of the sawhorses and the shelves are what we loved, not the things themselves.
The same, I think, is true of books. Had we come of age in the scroll era, we would be just as resistant to the codex. But here we are, creatures of the book looking for new homes on Web sites and Kindles. The charity and hope of the stories we love are still there in their digital equivalents. Telling a story, communicating an idea, capturing an emotion: these are all possible with words whatever their format.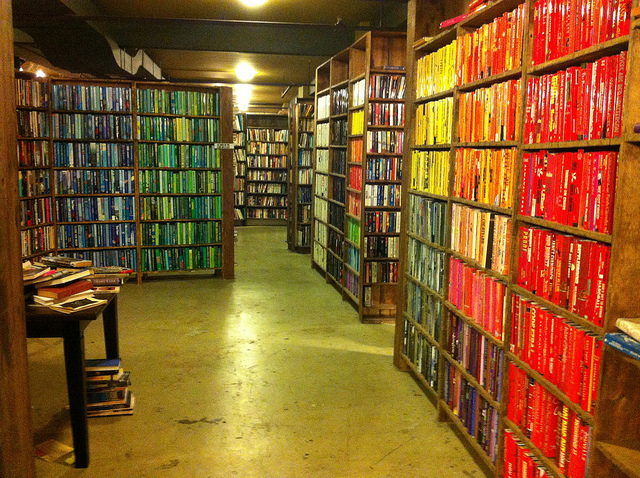 Casey N. Cep is a writer from the Eastern Shore of Maryland.