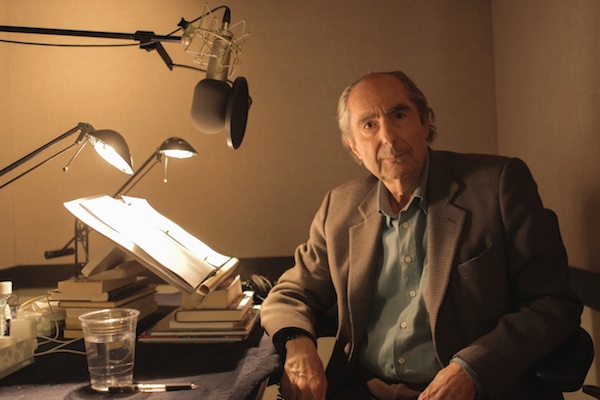 In April, Philip Roth published a eulogy for his beloved high-school teacher Bob Lowenstein in the New York Times. A couple of weeks ago, Roth visited Audible.com's Newark, New Jersey, headquarters to record an audio version of the eulogy, which is now available as a free audio download at Audible. Listen to an exclusive clip below.
For every download of "In Memory of a Friend, Teacher and Mentor," Audible will donate $1 to the Newark Public Library. "We are delighted to be able to offer Philip Roth's legions of fans this special audio recording of Philip reading his moving eulogy for his high school teacher," said Audible founder and CEO Donald Katz. "Here at Audible, we celebrate our connection to the great city of Newark every day, and as a literary company we take special pride in the fact that Newark is Philip's hometown. Hearing a legendary author reading his own words can be an incredibly intimate and moving experience, and we hope many people will download this wonderful audio piece and in doing so help us support the Newark Public Library, which sustained Philip as a young reader and writer."
Mr. Roth was kind enough to talk a bit about the audio recording, the important role of the library during his childhood and young adulthood, and the inspiration teachers can provide.
I understand that all of the conference rooms at Audible are named for people or places significant to Newark and its history, and that it has a Philip Roth room. Did you record there?
No, that's a conference room. It's right next to the Stephen Crane conference room.  I recorded in a little studio named for Duke Ellington.
Are you someone who can listen to his own voice?
I haven't done much of it.
As a rule, you don't do audio recordings?
No, I don't.
Have you listened to other recordings of your work?
No.
As a matter of principle, or lack of interest?
I listened once. That took care of it.
Do you listen to any audio books in general?
No, I don't. I'd rather read them. And when I'm driving, I don't want to listen to anything. I play music.
Why did you decide to record this, given that you haven't made a practice of audio recordings?
For Bob. I thought it would find a wider audience among Bob's associates and friends, who would have access to it. Also, they told me they would give a dollar a hit up to $25,000 to the Newark Public Library, and that was appealing. 
Tell me a little about the time you spent there growing up in Newark.
The library was very important to me as a kid. The main Newark Public Library was downtown, and I went to a branch library where I lived, about a mile away. I went often, when I got to be eleven, twelve, thirteen. Then, my first year of college, I went to college there in Newark—Newark-Rutgers, now—and the college didn't have a library, so the Newark Public Library was our library. I'm very attached to it. And I don't want it to go under. Not that $25,000 will save it, but it can't hurt.
Does reading work aloud make you think of the prose in a different way?
Well, of course I've given readings for years, read acceptance speeches … the prose isn't written to be spoken, so you do have to fiddle a bit, vocally.
How many takes did this one require?
Just did it once.
You wrote about Bob in his lifetime, basing a character on him in I Married a Communist. Was he pleased by the portrayal?
I don't know. I hope so. People generally aren't—they don't like it. "Why am I so mean?" "You're not mean; the character's mean!" They don't like it.
Would he have objected to such a tribute while he was living?
I'm sure some people did write about him—he was legendary. I don't think so.
It was lovely to see a tribute to a great high-school teacher in a time when we've been reading a lot of horror stories.
In those days we had a lot of good teachers. There were a couple of bad ones—boring. But by and large they were inspiring. Bob and I were talking about the time I was in high school. He said, You kids made us good.