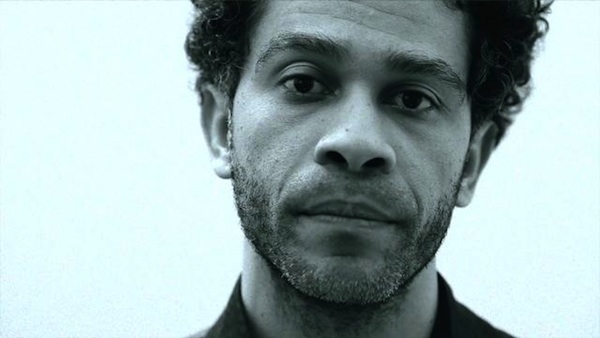 It's early on Sunday morning, about five-thirty, and Dana Crum has awoken without meaning to. His apartment lights have been left on. Craning his neck from the couch, he observes that he never found the bedroom.  Sloughing off the rude awakening, he decides to get an early start on the puzzle of his poetry. He bears down to write. He uncaps his fine-pointed roller ball pens—blue, black, red, and green—and confronts his notebook.
And he sounds rather startled, some hours later, by my phone call. "Hello," he groans, after the third ring. I ask how he's doing. "All right," he says, then interjects, "Actually, can I call you back?" Trying once again to get himself going, he puts on a pot of cinnamon stick tea (Lipton, for a change from Bigelow), while I begin to wonder whether he's nursing another hangover (Scotch, single malt). As I look over his autobiographical poetry, the canon seems to divulge as much. "In my unlit apartment on Valentine's Day, me on a soiled sofa above rotten piping, drinking / Macallan from the bottle. My cat's tail curls into a question mark," he writes in "Portraits of a Former Lover," a zuihitsu of imagistic confessions published recently in Blackbird. When we resume talking, though, he explains that not even a single line had taken shape and so he had simply given up and gone back to sleep. "I really wish I could start a poem, and write the first line first, the second line second, and so on," he insists. "But that doesn't happen."
What does happen, as he described it, is something like a young boy emptying his collection of jigsaw puzzles into a heaping jumble then kneeling down to rummage through the pieces. Each piece, for Crum, is a "fragment" of poetry. Often, he has no sense of where a fragment belongs within a poem, no inking even of where within his entire body of work. Unbidden, fragments infuse his days with poetic potential: falling from a giant puzzle box in the sky as he walks to work, or turning up under a school paper he happens to be grading, or springing from the jostle and bounce of a subway ride. His craft is not so much writing a poem as it is cobbling together myriad lines and images and phrases—"a mélange," he calls it—into the provocative, confessional free verse for which he is becoming known. "I'm receiving a piece of my vision of life," he says. "These bursts of inspiration are me expressing myself all the time, something my imagination has been trying to get out all along." Somewhere deep in the recesses of his mind, the lights are always burning.
Crum is never without a recording device. Digital is preferable, since search functions can help in locating specific fragments later on. If a computer is beyond reach, tapping the video recorder on his phone will do. As a last measure, he carries a notebook—full composition size, if he's got his shoulder bag, or pocket-sized, if not—which is loosely labeled by month or year. In any given notebook, sudden things he finds beautiful, striking, or strange are scribbled in blue or black ink, revised gently in red or green.
Sometime around March of 2006, Crum pulled his composition notebook, labeled with the year, from his shoulder bag to jot down something in blue. He was crossing the campus of Ramapo College of New Jersey, where he was teaching at the time. ("Go figure, poets usually have to do something else to support themselves," he says, and, with the exception of a several-year interlude copy editing, mostly the job has been teaching—composition and rhetoric at Virginia Commonwealth University while studying for his MFA, English at Horace Mann, and then writing at Ramapo.) Fresh snow was spread on the ground. Snow had not fallen since the previous winter, and Crum, having been recently persuaded by Al Gore's An Inconvenient Truth, was growing suspicious. Inspired by nature's precarious state, this phrase materialized, as if in attempt to restore balance: "Somewhere between a spring-like winter and a winter-like spring." In green, Crum immediately added a note "to use the line to comment on global warming."
The line was gradually hidden by notebook piled upon notebook. When it reemerged, several years later, in a poem about a failed relationship, Crum was relieved, if not at all surprised. In a promotional video for his Indiegogo campaign, he is seen, in black-and-white, wearily—as though burdened by the weight of unplaced words—shuffling toward the camera. His tousled curls and jutting, peppered chin fill the frame. He announces the unpublished poem's title, "Coupling," and, one eyebrow wryly raised, begins to read the opening couplets:
Somewhere between a spring-like winter and a winter-like spring,
I lost you, lost you even as you strolled

beside me. Over clams and calamari at The Little Owl,
over chicken kori kebabs at Kismat, you concealed

the matter behind smiles, behind drinks.
And what was the matter?
One half of the couple—the poet himself, Crum admits—is beguiled by the other. Naively, he tries to shield his lover from her troubled past, to stave off repressed feelings and rotten relationships from bleeding into their present. The lines break to convey his ignorance—of her whereabouts, her private dalliances, her ultimate intentions. Emotional turmoil unfolds, and, perhaps driven by the origin of the opening verse, is swept up in the turbulence of the world at large:
In bed I drank Macallan to sleep
                  but could not sleep, could only watch

                  as night blanched and passed out.
                  The day you left, you wore a black frock

                  and black, studded clogs, gliding
                  through the room like ever-moving night.
"Everything is wrong, constantly inverted to show that something's off," Crum explains. Night grows pale; the day the woman leaves, she is cloaked in the darkness of night. As he writes in the poem, only "a different kind of coupling"—between woman and man, between nature and mankind—could calm the maelstrom of forces, physical and non-physical alike, that have been discombobulated.
What could have come off as a maudlin plea reverberates with wider significance: our fidelity, to each other and to the environment, is never a secret. Transgressions stain. If Crum is a confessional poet, then, he works through his past for our benefit. His confessions are pragmatic, made "not because I want to reveal my secrets," he says. "It's just what I have to do to write successfully." It is through himself, after all, that he comes to know the world, and, if his poetry succeeds, so too will we.
After viewing the clip, contributors shelled out sizeable chunks—some $250, even $500 at a time—to Crum's campaign. (He eventually pulled in $3,441, perhaps a modest sum but one that nonetheless exceeded his goal and will help him publish his first book of poems.) Having established his "base" of fans and supporters through crowdfunding, Crum had finally established the catchall identity headlining his Web site: "poet, writer, and English-language expert." No longer did he resign himself to the scattershot life of a creative "who sometimes teaches, tutors, edits, or writes articles." Now he was gaining recognition for his poems alone. Now he was securing poets' residencies, including the Eva Jane Romaine Coombe, at The Seven Hills School (recently extended for a second year), and another at the Vermont Studio Center. "Now," he says, just several years after writing his first poem, "I tell people I'm a poet."
Matthew Lippman, a poet and author of The New Year of Yellow, which won the 2005 Kathryn A. Morton Poetry Prize, is Crum's manuscript consultant. He met Crum while teaching an advanced poetry workshop online, about four years ago, and soon took him on privately. "I knew pretty quickly that he was talented," Lippman recalls. "He was a force." Sensing promise, Lippman was the first to coax more of the poet into the poems. "I'm like, Dana, man, this stuff is incredible," he recalled telling him. "But you need to put yourself in here. We need a little bit of the Crum blood."
Speaking with Crum, the counsel seems wise. When I ask about his work, her responds by scanning his mental expanse for references—from major poets like Eliot and Yeats to Macbeth and Apollo and Daphne—elliptical flights that eventually, always, return to my question. "I think in fragments not just when writing," he explains. "Bouncing all over the place can be helpful because that's how I come up with my best ideas." Sometimes, he warns, "I'm going to get off topic, then get back on topic." And mostly, he does just that. "Nietzsche believed both the Dionysian impulse (wild, powerful, messy creativity), and the Apollonian impulse (imposing structure on inspiration's messy output) were both necessary when creating literature," he says. "The challenge is to organize that jumble of insights, ideas, and strategies into an intelligible whole."
Even a groovy one. Yielding a refined intellect melded with an inherent sense of rhythm, Crum can turn an erudite phrase that makes you bop. "He's able to make music out of his imagination," Lippman said, referring me to "The Broken Hand of Husbandry," part of a larger compilation of Crum's new World Poems. This section discusses the effects of global warming, and yet its opening stanza can be read for the melody alone:
Below a sky like liquid lead
dry riverbeds are unslaked gullets.
Bred over the feverish Atlantic, a clan
of hurricanes stand in line, then one by one
flog and stomp
Barbados and Dominica,
Haiti and Jamaica,
Cuba and New Orleans.
If the catchy tune draws the reader in, though, the content stretches them. Crum's World Poems deal with cosmopolitanism, the idea that, as he understands it, concern for others should reach beyond national borders. "It's being a world citizen," he says. "And I don't mean in the sense of, I'm American so I'm going to tell the rest of the world what to do and how to think. It's being concerned about a fellow human being, whether they live in Idaho or Burma." If the idea is to be compelling, universal concern must begin with universal perspective, which is where Crum takes aim. In "The Gods of Darfur," appearing in The Innisfree Poetry Journal, he renders in sharp relief the gap between worldly ills:
Around the smoldering huts of Hamada, the dead smudge brown grass: naked
babies with bashed-in faces; charred schoolgirls bound together and burned
alive; gelded men who bled to death, their voices thin like wind through a
cracked window, whispering to Allah.

What gods there are have killed them. But no
hyacinths sprout from their blood.

The gravest danger I face? A woman from match. Biracial with gray eyes and
corkscrew curls, she drank half a cappuccino at Starbucks on Sunday and can
destroy me by not returning my call.
The gravest dangers we face? Crum rattles them off: global warming, dwindling natural resources, terrorism, poverty, nuclear arms, Middle-East tensions. "I might warn that civilization as we know it is on the verge of collapse," he says. "Poetry—being able to say it concisely, without excess anywhere—somehow lives up to these things that I'm writing about. It does them justice." The world is wounded; perhaps the salve calls for a transfusion of Crum blood, for poetic fragments which now, as they did for T. S. Eliot's modern world, shore us against ruin. 
Dorian Rolston is a Canadian-born writer in Princeton, New Jersey. His writing has appeared online at The New Yorker, The Atlantic, Columbia Journalism Review, and other places.