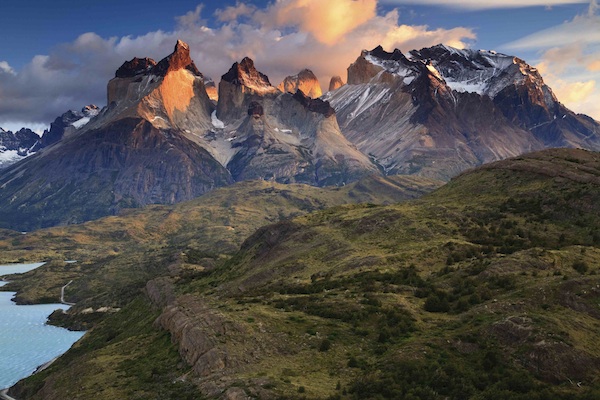 While I was traveling in South America, a friend, a writer, heard I was heading down to Patagonia. At the end of an e-mail he broke into all caps: "DRINK LOTS OF WINE FUCK SHIT UP RIDE A HORSE AND READ SOME BRUCE CHATWIN." Fortunately, my boyfriend and I had been drinking wine and fucking shit up plenty in Argentina already. While I like horses in theory, I haven't had the desire to get on one since I saw National Velvet as a child. His last command, though, made me curse myself—I'd meant to buy a copy of the Chatwin before leaving the states. I figured it was now unlikely I'd find a copy in English. The next afternoon, we entered a Palermo Viejo bookstore. High on a shelf in the brief English-language section, I excitedly located a shrink-wrapped copy of the Penguin Classics edition of In Patagonia.
In his smart introduction, Chatwin biographer Nicholas Shakespeare describes his own experience of reading In Patagonia in Patagonia: "One morning, in a gesture soon to be repeated by a generation of backpackers, I was waiting for a bus in the dusty scrubland west of Trelew when I dug out a book I'd brought with me … I'd never heard of the author, but his was the only contemporary book I could find about my destination. I opened the first page and I read the first paragraph and that, really, was that." Shakespeare summarizes the oft-told circumstances surrounding the book's inception: There had been a bit of mangy, ancient hide in Chatwin's grandmother's cabinet of curiosities when he was a boy. It was from a brontosaurus, he'd been told, from Patagonia. This scrap—which actually belonged to a Patagonian ancient sloth—ignited a spark that lingered in Chatwin's imagination. As an adult he'd already been Sotheby's auctioneer and an archeologist before turning to writing. After years of work on an unsuccessful manuscript, he was reminded of his desire to visit Patagonia by octogenarian designer and architect Eileen Gray. It had long been her dream to visit Patagonia, as well, and she told him to "go on my behalf." So he did. It is said—perhaps mythically—that he sent a cable to his employer, the London Sunday Times Magazine, stating, "Have gone to Patagonia." He wasn't heard from for months.
The manuscript he delivered to his editor, which was published in 1977, was career defining. It has been credited with reviving the moribund "travel writing" genre. It's also safe to say it birthed intrigue about Patagonia in the minds of his many readers—Shakespeare's "generation of backpackers." In a story about hiking in Chilean Patagonia from early this year in the New York Times, Ondine Cohane writes that she'd wanted to travel to Patagonia ever since she'd read In Patagonia twenty years before, in high school. She writes that the book "drew me both to the place and in no small way to the profession of travel writing itself." While Shakespeare is an exception to this trend—he had visited Patagonia in his youth before returning with Chatwin in tow—he states that of all the authors he'd read on the place, "none had validated my Patagonia as Chatwin had."
I admittedly didn't know much about Patagonia before going there; it was my boyfriend's dream more than it was mine. Back home, I had glanced through some Lonely Planets and Rough Guides and only half-pictured lots of empty space and perhaps some beautiful peaks. By the time I'd finished Shakespeare's introduction to the Chatwin, I felt convinced I'd never needed a book as badly as I needed In Patagonia in Patagonia.
Bruce Chatwin arrived in Buenos Aires in late 1974. He describes the Argentinean capital on his book's fifth page. "The city kept reminding me of Russia," he writes, "the cars of the secret police bristling with aerials; women with splayed haunches licking ice-cream in dusty parks; the same bullying statues; the pie-crust architecture, the same avenues that were not quite straight, giving the illusion of endless space and leading out into nowhere." In Patagonia is short and composed of easily digestible page or two-page chapters. It mostly consists of jaunty, sharp descriptions such as this one, details arranged precisely by a narrator who seems candid, if a tad sassy. His adjectives are exquisite and his verbs active. Look here at how the images influence one another—how the ice cream is less appetizing because of the animal "haunches" and "licking" and "dusty" and how the "bullying" threatens the already vulnerable, almost silly "pie-crust." Its conversational tone masks the great labor that must have gone into the sentence and most importantly allows a great deal to go unstated. He's making you feel the contradictions, the exhausting contradictions, that make a place.
At eleven that night, we left the old apartment we'd let on Airbnb and ate steak and calf brains at a red-walled restaurant. The waiters were very prompt and presentational and set our wine cork upright onto the table with great intention. Crystals sparkled atop it.
In San Telmo's plaza two tango dancers leaned against one another. The tourists applauded when each song announced its ending with a brisk chord. A host stood in front of his dead restaurant commanding passersby to eat. We walked home through the not-quite-straight streets. There was pie-crust architecture overhead, but also glass towers sparkling over the Rio Plata. I asked my boyfriend, who's lived in Russia, whether Buenos Aires reminded him of there. He answered it sort of did, but not really.
* * *
We boarded a plane the next morning. I read as Chatwin walked and thumbed his way south, sleeping in the homes and barns of strangers, describing them and their stories in his way. Of the Welsh in Río Negro: "They chose Patagonia for its absolute remoteness and foul climate; they did not want to get rich." A piano protégé in Gaimán: "He was a thin nervous boy with a drained face and eyes that watered in the wind. His hands were strong and red." A band of drunk gauchos in Epuyen: "Their leader was a scrawny rough in the black bombachas and a black shirt open to his navel. His chest was covered with a fuzz of ginger hair and the same ginger bristles sprouted all over his face." A European widow: "She smiled, her painted mouth unfurling as a red flag caught in a sudden breeze. Her hair was dyed dark-auburn. Her legs were a Mesopotamia of varicose veins. She still had the tatters of an extraordinary beauty." There are also exiled pseudomonarchs, an Englishman Chatwin suspects has never been to England, a nostalgic Scot who's only been to Scotland once, Indians, Boers, anarchists, prisoners, and, famously, Butch Cassidy and the Sundance Kid. I could continue; if you haven't already, you should just read the book.
Our destination was Ushauia, the southernmost city in the world. In the few hours it took us to cross over all of Patagonia, I had finished the Chatwin and sat with it in my lap, sighing over how beautifully he wrote; what a redeemer he was of literary nonfiction.
This same land had taken Chatwin months to cover forty years ago. Ushuaia he had found cold, in both senses of the word: "The blue-faced inhabitants of this apparently childless town glared at strangers unkindly. The men worked in a crab-cannery or in a naval yard, kept busy by a niggling cold war with Chile. The last house before the barracks was a brothel. Skull-white cabbages grew in the garden."
I was surprised that Ushuaia's airport was somewhat swank. It boasted a dramatic, slanted roof that seemed a bit much against the lulling Beagle Channel. We climbed into a boat-like cab. The town was visibly growing; its fringes were dotted with story poles. Half the houses we passed seemed to be B&Bs. Mountains loomed overhead and robust lupines dotted the shoulders. What's changed since Chatwin's time, I realized, is the cruise ships. Every day or so during the high season, behemoth Norwegians and Princesses and Celebrities rounding the horn or headed south to Antarctica dock in here. When they do the town swells by several thousand. The "blue-faced inhabitants" had to learn to smile at them.
A ship larger than the town I grew up was anchored at the port. Downtown, store after store advertised "end of the earth" T-shirts and stuffed penguins and boxes of Patagonia chocolate. Restaurant after restaurant served overpriced crab. Tourists swarmed like termites, shuffling up and down the town's few streets with intention or boredom, their bags full of T-shirts and stuffed penguins, their bellies full of chocolate and crab.
We ducked into the three-room Fin del Mundo museum and paid the exorbitant fifteen dollars apiece to enter. One room's walls were lined with a history of Tierra del Fuego in both Spanish and broken English. The second room displayed an assortment of stuffed birds behind glass. The third, behind a heavy velvet curtain, contained a projector playing a video on a loop for twelve white plastic chairs. The footage had been shot by an Italian in the early thirties and was mostly of the Yaghan Indians, who were some of the last Native Americans to live without seriously interacting with Europeans. Chatwin had managed to find what he was told was the last remaining Yaghans, with whom he converses, briefly.
I sat, as did a middle-aged American couple. They were evidently incapable of thinking things without articulating them. The man remarked often at his inability to tell "the males" from "the females" when discussing "the natives."
I found myself growing angry with Chatwin.
Chatwin has had many critics and detractors over the years. He's been pounded by academics for being a colonialist. He was one of the first homosexual celebrities in the UK to die of AIDS—in 1989, at a too-young forty-nine—which no doubt cast a pall for some time on his life and legacy, which I assume has righted itself. Mostly he's been accused of Crimes Against Nonfiction. Many of the people he wrote about in this book and his subsequent ones accused him of writing everything from small errors to outright lies. He freely admitted to rearranging events, conflating characters, and so on, for the sake of his book as a whole—things I believe are surely allowed for the writer of literary nonfiction. Chatwin was no fan of the nonfiction and fiction division; he identified, I think correctly, that they were a product of "book marketing." He eschewed the term "travel writing" so much he even asked his American agent that In Patagonia not be sold as such. The book is plainly a hybrid that includes travel writing, sure, and history, and myth, and imagination—the blend of which contributes to its originality and its brilliance. It reminded me of other motley works, like Invisible Cities, The Rings of Saturn, also Candide.
I wasn't angry with Chatwin for any of these reasons, but because Patagonia seems to have changed so drastically since he traveled there, not very long ago. I was surprised by this; I, like Shakespeare, had been attracted to the fact that In Patagonia was "contemporary." Chatwin's Patagonia was defined by its isolation, inconvenience, and eccentricity. The arrival of tourism en masse threatened this essence.
Outside, the drizzle had broken and a rainbow stretched over the water. People stopped and wrestling with their bags and camera cases, photographed it.
We did too.
* * *
Though he walks plenty in the book, and is said to have been a great walker, Chatwin only hikes once in In Patagonia. (He also doesn't describe the environment much, compared to the relish with which he paints characters and domestic settings.) Chatwin goes hiking in Tierra del Fuego, against the advice of his hostess, who explains that if he gets lost or breaks a leg, sending out a search party will be very difficult. He wraps his matches in plastic and sets off against her will.
"The track rose and fell," he writes. "Platforms of logs were laid on corrugations in the hollows." He's left very wet by his first river crossing—"At the deepest point the stream swirled round my buttocks"—and in the afternoon falls into the river altogether. He seems somewhat lost throughout his description and is accosted by two condors. (As if emphasizing that it is characters who make this book, not, ironically, setting, the chapter is titled "Condors.") He sleeps one night in the wilderness. By the next afternoon, he is back in civilization "washed and fed … too stiff to move." Afterward, he writes, "For two days I lay on the sofa reading."
Chatwin had come to desolate Patagonia to find people. Like the many who now journey there, we came to lose them. Whenever we weren't on a bus, we were hiking. We ambled along dusty and exposed and forested and root-strewn paths. We crossed rivers and filled our motley collection of bottles in them. Sometimes we hiked alone. Sometimes we hiked past many, many others—people of all ages, of all nations, all countries—and said hola to them all in that awkward way that hikers do.
Sometimes we ascended steeply and at some summit there was a great view. Perhaps of a crown—the Torres at Torres del Paine or Mt. Fitz Roy (of Patagonia clothing company logo fame) and the below glacier that had made that crown, dripping into an opaque, topaz lake.
We stopped and gaped with our mouths and then our digital camera. We sat on rocks and unwrapped empanadas from brown napkins. It was only here, looking only at the mountain, the glacier, the lake, that I forgot about the other tourists on their rocks, unwrapping their empanadas. In these moments, Patagonia was one of the most beautiful places I had ever seen. Whether it bares any resemblance to the place Bruce Chatwin traveled I cannot say.
* * *
These days on the beaten trail, there is no need to seek shelter with strangers; towns are littered with hostels and the hostels are filled with the characters you expect. In one kitchen, the requisite American hit on the requisite naïve-seeming European girl. She cringed at the shot he poured her. He espoused his belief that Phish was the greatest band. He lamented how nobody really plays albums anymore.
In the bar of another, an Argentine asked the bartender, an Oregonian, how to say muy amable in English. The Oregonian explained that telling a perfect stranger he was "amiable" or "nice" in English would be weird. The Argentine asked what you'd say instead, if, for example, when interacting with a bartender and he'd just handed you your beer.
"Right on," the bartender finally decided. "You'd say to a bartender, 'Right on.'"
"Righten," the Argentine nodded and lifted his microbrew. "Righten."
Ice axes adorned the walls. A movie was being silently projected onto the wall, about a rock climber who overcame a great rock-climbing injury and rock climbed again. On our walk home it was hostel, hostel, hostel, hotel, restaurant, hostel and a store bragging that it sold REI tents.
The people we spoke with, mostly other foreigners, spoke of Patagonia as if it were something to conquer. They asked which hike we were "doing": The "W" or The Circuit? They debated the merits of this bus company, that hydrofoil, those guides. They debated the use of hiking poles. (Contentious topic.) Needless to say, ecotourism, especially high-end ecotourism, was booming. A new, privately funded megapark they're attempting to build in Chile will only increase this. At the beginnings or ends of hikes, we passed hotels that charge three grand for four nights. Millionaires and billionaires are snatching up land like mad—Ted Turner, Sylvester Stallone, North Face cofounder Douglas Tompkins. The largest landowner in Patagonia today is Luciano Benetton.
While we heard some still hitchhike in Patagonia, it hardly seemed necessary with the number of buses covering the long miles between towns. We rode a lot of them. Sometimes someone walked through the aisle distributing ham and cheese sandwiches or Styrofoam cups of instant coffee. Sometimes this did not happen and we were hungry. Sometimes we stopped at border control for hours while tourists ambled about smoking and officials did what seemed like nothing.
Once we were told to get off of the bus and wait for the ferry. The loud, young group of Israelis who had boarded some hours before were now very solemn. Some people petted a wind-beaten cat. The ferry finally came. The buses and trucks and cars sat on its bed and we passengers were herded into a long, thin room. Scratchy televisions as either end each blared the music and emotions of a telenovela. Everyone was eating hot dogs, we learned, because that was all the concessions stand sold. My boyfriend bought a hot dog and mayonnaise dripped on our laces.
Once the bus came several hours later than we'd been told and we waited in a field with some other backpackers and a pack of guanacos. They lollygagged and ate grass and made farty exclamations. Sometimes something or nothing scared one or all of them and there'd be an explosion of hoofs. They'd then stop, rearranged. The little ones suckling from their tall mothers looked headless.
Once we were told to get off our bus and get on another, identical bus, underneath an awning standing alone on a plain. We complied. My boyfriend was halfway through the Chatwin by now, and wondering at it, and wondering at the ways in which it did and didn't match where we were. I was settled in, looking out at the countryside, which I'd decided resembled Western Nebraska, but with less.
"Shit!" my boyfriend exclaimed.
"What?" I exclaimed back.
"I left the book in the back of the seat on the other bus," he said, and I was upset but also all right to no longer have it with us.
But in the next small town we found a bookstore. Its small English-language section had Lonely Planet and translations of Márquez and Cortázar and 50 Shades of Grey, and, oddly, Emma, and of course, a stack of shrink-wrapped In Patagonias—Bruce Chatwin, grinning at me from the shelf.
Sandra Allen has an MFA from the University of Iowa's Nonfiction Writing Program. She's Managing Editor of the online-only literary quarterly Wag's Revue.