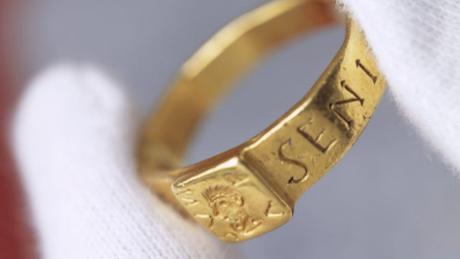 One Ring to rule them all, One Ring to find them,
One Ring to bring them all and in the darkness bind them.
Such is the object that starts Bilbo Baggins's quest and, later, marks the glowing center of Tolkien's Lord of the Rings trilogy. And some speculate that it was based on a real Roman ring, currently on display at a Hampshire mansion. 
Originally discovered by a farmer in the late eighteenth century in what the Guardian terms "one of the most enigmatic Roman sites in the country," the ring was presumably sold to the family who owned the great house the Vyne.
It was a strikingly odd object, 12g of gold so large that it would only fit on a gloved thumb, ornamented with a peculiar spiky head wearing a diadem, and a Latin inscription reading: "Senicianus live well in God." A few decades later and 100 miles away, more of the story turned up: at Lydney in Gloucestershire, a Roman site known locally as the Dwarfs Hill, a tablet with an inscribed curse was found. A Roman called Silvianus informs the god Nodens that his ring has been stolen. He knows the villain responsible, and he wants the god to sort them out: "Among those who bear the name of Senicianus to none grant health until he bring back the ring to the temple of Nodens."
Here's where Tolkien comes in. When archaeologist Sir Mortimer Wheeler reexcavated Lydney in 1929, he consulted Professor Tolkien about the god's unusual name; both men were apparently struck by the fact that the name appeared on both ring and curse.
Whether or not you believe this to be the inspiration for the One Ring, you can judge for yourself: it is on view, along with a copy of the curse and a first edition of The Hobbit, at the Vyne.