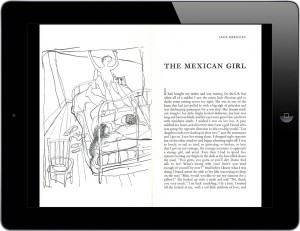 In 1955, The Paris Review paid a struggling Jack Kerouac fifty dollars for an excerpt from a then unpublished manuscript. The excerpt appeared as a short story titled "The Mexican Girl" and, after much acclaim, was picked up a year later by Martha Foley's The Best American Short Stories. Due in large part to the success of "The Mexican Girl," On the Road was soon accepted by Viking Press; the full novel was published in 1957.
The issue containing Kerouac's excerpt—The Paris Review no. 11 (Winter 1955)—has long since sold out, but we're happy to announce that it's now available in digital form via the Paris Review app. For those interested in our hard-to-find archival issues, we've also digitized issues 1, 18, and 20, and many more are on the way.
In fact, for the next two weeks, readers who purchase a digital subscription via the Paris Review app will receive free digital access to the issue containing Kerouac's excerpt. Alongside "The Mexican Girl" are stories by Gerard Reve and Marjorie Housepian, an interview with Nelson Algren, portfolios by Antoni Clavé and Oskar Kokoschka, and poetry by Louis Simpson, John Hollander, W. S. Merwin, Rolf Fjelde, Christopher Logue, and John Haislip. And all of that, of course, accompanies a year-long digital subscription to The Paris Review, beginning with issue 204.
There's good reason for print subscribers to download the app, too—we've granted free digital access to any issue covered by your print subscription. (If you're a print subscriber and haven't yet set up your app account, send an e-mail to support [at] theparisreview [dot] org.) There's also lots of free content, including our complete interview archive—now fully bundled for offline viewing—and The Paris Review Daily. That's really all to say: there's no good reason not to have us on your iPad or iPhone!
(To those with Android devices: we hope to have a version for you soon!)