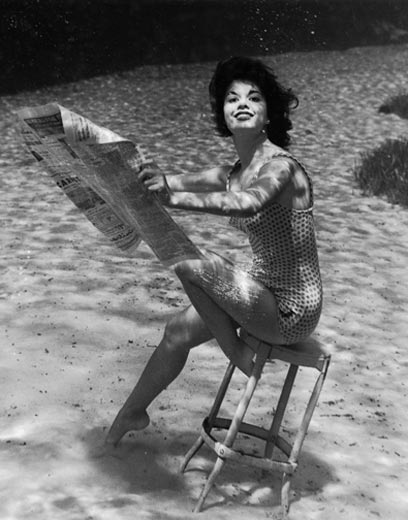 When I was a teenager, I had a series of dreams in which I would attempt to do the most banal tasks underwater: eat breakfast, cut my toenails, read a book whose waterlogged pages would always stick together. I never really thought much about the dream's implications—Was I suffocating under life's demands? Or was it just something I ate?—until I stumbled on Bruce Mozert's 1950s underwater photography. Using a self-constructed underwater camera, Mozert spent his career shooting underwater portraits for numerous lifestyle magazines—entirely without digital manipulation. (One Mozert trick was "using baking powder to create the powdery 'smoke' coming out of the underwater barbecue.") Why would a photographer devote his life to such a niche? Some things (like the genesis of my dreams) are better left unanswered. —Justin Alvarez
I'm impressed by a twenty-eight-page examination of "The Endangered Semicolon" in the debut issue of Apology, Jesse Pearson's new quarterly. It's disheartening, though, to read that the semicolon is in decline, not least because it is my favorite punctuation mark—a fact that displeased Matt Sumell, who cheerfully rejected the suggested use of semicolons in his story for issue 200 (save two) and who wrote me recently with the sole purpose of informing me that he still doesn't use semicolons. I pity him and Alexander Theroux, who bemoans in Apology the semicolon's typographical imbalance (neither a colon nor a period) and its existence as a tentative mark, an "illicit and uneasy compromise." Let others have the em dash, the period, the showy exclamation point. I'll keep the semicolon, so adept at capturing a particular cadence, a curt melody. —Nicole Rudick
Can a person actually recommend The New Yorker or This American Life? Might as well recommend the Beatles, or Vermeer, or the Natural History Museum. So let this just be a thank you: Thank you, New Yorker, for getting Rachel Aviv to produce articles on a semiregular basis. Like Larissa MacFarquhar, Katherine Boo, or Elif Batuman, to name three other reasons for recent gratitude, Aviv has been allowed to stretch the New Yorker feature in new directions, giving its familiar forms a sound of her own. In Aviv's case, you hear something like the pressurized non-hum of a recording booth. No matter whether she writes about homeless or imprisoned teens, the mentally ill, pedophiles, or (last week) newspaper reporters in Newtown, her articles are painfully intimate and compassionate and not quite like anybody else's. So thank you, New Yorker.
And thank you, This American Life, for your two-part series on everyday life in a Chicago high school struggling with gun violence. The interviews with students, administrators, social workers, and teachers show yet again why the editing style of This American Life turned our generation into radio listeners. These two installments kept me standing in the kitchen, when I was under deadline, long after the kettle boiled. —Lorin Stein
This week, I find myself captivated by Edmund Wilson's Memoirs of Hecate County, a collection of five stories and one novella, all narrated by an unnamed art historian with Marxist tendencies. The stories skew toward the supernatural—in "Ellen Terhune," for example, Wilson sets out to spook the reader by playing with time; but the novella, The Princess with the Golden Hair, is decidedly realistic and so sexually explicit that on its 1946 publication the book was banned in the United States. The novella concerns the narrator's all-consuming relationships with two different women: luxe, luscious Imogen and working-class Anna. Class difference and erotic obsession combine to reveal a New York City of the 1920s where highballs are gulped and gonorrhea is, unfortunately, gotten. —Brenna Scheving
I couldn't help but swoon over Arthur Rimbaud's A Season in Hell, surprising because I've never been one to read a lot of poetry, let alone French classics. However, recently I stumbled on a dusty, early twentieth-century edition, so I finally decided to give it a try. Most critics have said that the book is a commentary on French society at the time—the restraints of it—which it is; however, in my humble opinion, most of the poem is about sex. "And it's life again!" he writes. "If damnation were eternal!" What Rimbaud experiences as damnable are actually some of the most ecstatic moments of his life. It all feels like a gaudy neon sign, foreboding damnation but with an enticing glow. That's great poetry—great art—to me: questioning what pleasure and pain, heaven and hell, really are. —Matthew Smith
There's a weekly exodus from Grand Central to Beacon, New York, wherein art enthusiasts board the Metro-North and watch the Manhattan skyline recede to a row of jagged teeth. Upon disembarkation, this caravan of city dwellers files across a train overpass, navigates sidewalks buffered by snow banks and descends the sloping driveway of Dia Art Foundation's Dia:Beacon. Whether or not you are engaged by minimalist art, the museum space alone warrants a trip: factory windows that yawn forever and more skylights than actual ceiling. It occupies a renovated Nabisco factory and celebrates its tenth anniversary this year. —Kendall Poe
It seems like yesterday that a friend made me go to St. Mark's Bookshop and read the intro to a new magazine called The Believer. "They're quoting you," my friend said, "as an example of snark. They're against it." I like to think we've all mellowed over the years. For proof of The Believer's diminished rah-rah-rah, look no further than their tenth anniversary issue, where Jonathan Goldstein (of This American Life!) interviews that prince of bitterness, the scary late-night radio genius Joe Frank. —L.S.