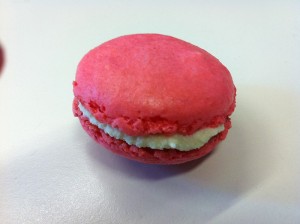 I had planned my disclaimer before he even opened the door. What kind of an idiot, I had realized belatedly, brings noted francophile and former Paris-dweller Edmund White bootleg, neon, NYC-made macaroons for tea at his apartment? "Mr. White, I am so embarrassed …"
I never had a chance to tell him. He was kind and warm, thrilled with the fat, ersatz cookies, even claiming he loved them, got them himself sometimes. We sat down together in White's living room with a pot of English tea and two Fiesta teal-colored teacups, me on the couch facing him, in one of a pair of battered brown club chairs. He was wearing a pale-blue checkered shirt and navy pants. I'd interrupted his taxes, visible on the den table.
We'd been put in touch by Kathryn Hamilton, press attaché of the Cultural Services at the French Embassy, in regards to the Marcel Proust exhibit they organized with the BnF at the Morgan Library for the upcoming centennial of Swann's Way. This was our initial point of contact, at least. Paris gossip was more pressing. I'd just gotten back from the city where White lived for many years, the subject of his upcoming memoir, Inside a Pearl. He'd initially wanted to call it Paris Gossip, but the publisher wouldn't have it. They wanted more depth. "I don't think it will ever be published in France," White told me, because of French invasion-of-privacy laws. "I used to call myself an archaeologist of gossip," he said. "That's sort of Proust, too—not to make a comparison between my humble self and the great Proust."
White first wrote about Proust for a senior paper and has read him many times, though only recently in French, as prior to moving to Paris his language skills weren't so good. "I lied to Vogue and told them I spoke perfect French; I didn't at all," he says of going to work for Susan Train in the Paris bureau as a freelance culture journalist. His first assignment was to interview Eric Rohmer ("I couldn't understand anything he was saying"). Along the way, prior to writing a biography of Proust for James Atlas, he would write a seminal work on Jean Genet, and it was this project that led him to Proust once more. White told me all of this and then stood up to take a hot yellow macaroon and change seats, to my left. I hoped he didn't notice the pink and blue sugar confetti.
We started to talk about Lorenza Foschini's book Proust's Overcoat, the English translation of which I've written about for this Web site. White likes Foschini and describes her as so nice that she had even liked Jacques Guerin, the man who acquired Proust's effects and features prominently in her book. White, for his part, hated him, describing him as "a terrible man," the "black sheep" of his family. White first encountered Guerin while researching Genet; Guerin was a book dealer, and in his possession was both an edition of Genet poems dedicated to Sartre and a manuscript of Thieves Journal, complete with variants and suppressed pages—but he was stingy about allowing scholars access to the papers. "Painting collectors don't mind if you look at their wares because they are unique objects," White said, explaining Guerin's miserable approach to business dealings. He was well aware that "if you don't know the book and haven't seen the manuscript, once you have you don't care about the object itself." When White visited Guerin he secretly taped the dealer reading aloud from relevant documents. Guerin's secretary spied the tape recorder and White later received a call in which Guerin called him a cad.
"Of course, I copied it and returned it," says White. "When the book came out, he was dead. The French are so possessive, closefisted they think it's property. I like American openhandedness." (White has another story of going rogue for this project—"very costly and devious"—which involves enlisting an American girl to take French lessons, at his expense, from a woman who refused to talk to anyone about Genet.)
Researching Proust has been slightly less Machiavellian, but no less eventful. While in the process of working on the biography, White attended a dinner at the home of the Princesse de Caraman-Chimay at her little house in the eighteenth-century courtyard of a building on rue de Lille. Their hostess recounted a memory of her great-uncle.
"He came out one morning to find his footman sobbing. He asked what was wrong.
'Mr Proust is dead.'
'I didn't know you knew him.'
'He used to come by after parties and give me a handsome tip to tell him what happened.'"
Rogue tactics by a fellow gossip archaeologist.
White changed seats again, back to the other club chair. I asked him where had he found them. It was, it turns out, at a place on the Right Bank. The three remaining macarons—an ugly blue (oddly peanut-butter flavored, which doesn't even exist in France), a pale lavender with white cream, and an electric orange, kind of like those vending-machine crackers also made with peanut butter—sat on a table from the forties purchased at the Paris flea market. On the floor sat a dehydrated, hollow ostrich leg, retaining one clawed toe and one little stub of toe, which White's late lover, Hubert Soren, brought him from Ethiopia. Next to it was a child's toy lion from India. On the table was White's favorite piece, a black and gold vase patterned with bats. He told me the maid had cleaned off the patina, but he still loves it: a remnant of the twenties fad for japonaiserie, found in the Bastille, which he fills with flowers—often his favorite, freesia.
Across the room sat a diorama in a mirrored case that could have been part of a pop contemporary piece filled with found objects, like two kitschy clear-plastic pianos filled with floating magenta and cream pearls. It was, he tells me, made by a friend of his who was "married to Babar the Elephant, the man who did it," Marie-Claude de Brunhoff. She created many of these unique pieces in the eighties, this one containing two painted plastic walruses, each seated at one of the pianos in a room furnished with a mini chandelier, a pair of spectacles, feathered companions, and a trompe l'oeil library. De Brunhoff had told White that the walruses were supposed to be Proust and Reynaldo Hahn; she was, says White, always making these kind of pointed, cultural allusions. "It was the part of her I didn't like, French in a bad way," he says.
And so I take my leave, my awkward embarrassment completely banished. There's no pretension to White. He's an observer and a lover and happy for my bad macarons. At least, I think, I had not brought madeleines.
Stephanie LaCava is the author of An Extraordinary Theory of Objects.