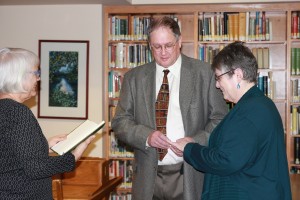 "The library has always been a sanctuary for me. I always felt validated as a child when the librarian went to, what I believed at the time, great lengths to attend to my inquisitiveness," says Barbara Morrow, who on Friday married David Kurland in the Northwest History Room at Washington's Everett Public Library. "Today, when I walk into a library, I feel calm. I look around at the stacks and know I can find out about anything. There before me, shelf after shelf, are ideas and knowledge."
Added the groom, "Libraries are full of ideas. A person needs lots of ideas. And we both love words … We are the ultimate nerds."
The two, who met on Match.com after he decided he "just wanted to have lunch with the woman who could write like that," and who enjoy reading aloud to each other, were married by children's librarian Theresa Gemmer. Librarian Joan Blacker acted as a de facto wedding planner.
The bride sported book-shaped earrings; the groom a bookshelf-patterned tie. Following cake with the staff, the bride renewed her library card.
Hearty congratulations from everyone at 62 White Street!