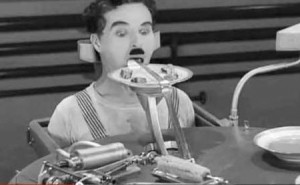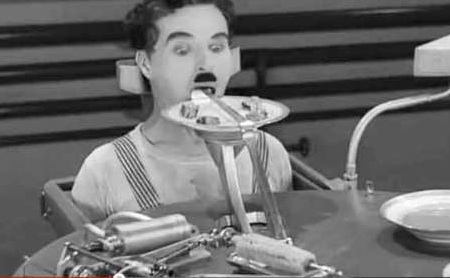 The opening scenes of Charlie Chaplin's Modern Times demonstrate the indignities mechanized factory production perpetrates upon the bodies of its workers. The first shot, of sheep herded into a pen, dissolves into one of men leaving the subway. They're bound, the viewer assumes, for the kind of job in which the next cut finds Chaplin's Little Tramp: working on an assembly line, his motions so repetitive that they become reflexive. He can't stop twisting his wrists, as if to tighten bolts, even when he leaves the station where he tightens bolts all day. His body is so bound to the line and to the factory that the same boss who controls the conveyor belt's speed also controls the movements of the Tramp's body. Finally, the factory extends its control to the Tramp's last autonomous function: eating his lunch.
A salesman so committed to mechanization that he lets a machine speak for him has brought to the factory boss's office a prototype of "the Billows Feeding Machine, a practical device which automatically feeds your men while at work." He asks the boss to pick one of his workers for a demonstration, and of course Chaplin's Tramp is volunteered. Strapped into the machine, hands incapacitated, the helpless Tramp watches the machine rotate plates before him: soup, air-cooled between spoonfuls; corn, spinning on its cob; cubes of meat, pushed by a mechanical arm from the plate into his mouth; and finally cake for dessert. The machine promises to "eliminate the lunch hour."
Even before the machine goes predictably haywire—speeding up, spilling soup on the Tramp's shirt and cake in his face (always pausing, hilariously, to wipe his mouth)—it's clear to the viewer that some kind of line has been crossed. Beyond its threat to his leisure time, the Billows Feeding Machine robs its user of all control: over when, what, and how much he eats. As such, the Feeding Machine stands in for a host of anxieties about the loss of individual agency in the age of mechanization and automation. It's just a step along the way to the assembly line machinery's eventual absorption of the Tramp whole, culminating in the famous sequence where his body runs through its gears. The mechanisms of industrial labor—the same ones that convert workers into literal sheep on their way to work—threaten to dehumanize their eating habits, already standardized into the factory lunch hour.
Modern Times was released in the middle of the Great Depression, when many Americans were going hungry despite the nation's abundance—they were surrounded by goods they couldn't purchase and food they couldn't get into their mouths, not unlike the Tramp, strapped into the Feeding Machine. Most striking of all, Modern Times shows us a Tramp unable to manage or process the abundance of goods the machine keeps pushing at him. This isn't how we ordinarily think of the Depression, because much of its modern iconography is somewhat misleading. Dust Bowl photographs and stories of bread lines and rail-riding hobos suggest a food shortage or a famine: failures of production that didn't exist. When the stock market crashed in 1929, it did not, after all, magically take with it the raw materials of production and manufacturing that had enabled American industry throughout the Roaring Twenties; nor did it take the workers themselves. Rather, the crash took their jobs, and it took everybody's money away, so industry suddenly found itself without anyone to buy what it generated. It was during the Depression that farmers started receiving government subsidies to reduce supply—to stop growing crops, and sometimes even destroy them—in order to boost demand and get Americans to buy again. When consumption, rather than production, became the order of the day in the 1930s, Americans had to become a nation of consumers, rather than producers. We learned to buy more stuff than we made, and we haven't stopped.
It's exactly this shift in the individual's economic function that Modern Times addresses. Faced with a depression of the nation's buying power, industry's challenge was to create a more prolific, efficient, and effective buyer for the goods it manufactured. When Chaplin's Tramp straps himself into the Feeding Machine—on his supervisor's orders, though presumably he's clocked out for lunch—he becomes (at least until the machine breaks down) the product that every American factory is trying to assemble: a perfect consumer. He's literally an open mouth, captive to the aggressive new machinery that American industry has designed to feed his appetites. He's passive, while the marketplace is active and (r)evolving. As metaphors for the technology of capitalism itself go, the Feeding Machine is a pretty transparent one: to live in Modern Times (and, by extension, in modern times) means to train yourself to consume as quickly, efficiently, and widely as possible.
It's not just Modern Times. As one in a long series of menus that anchor the modernist canon, on both sides of the Atlantic, the Feeding Machine scene illustrates a preoccupation with food and eating. When Leopold Bloom first appears in Ulysses, he is frying himself a lamb's kidney for breakfast. John Dos Passos's U.S.A. trilogy opens, in The 42nd Parallel, with Fainy McCreary ordering bread, butter, and ginger snaps from a grocery case. The first section of Woolf's To The Lighthouse is organized around getting everyone to the table to enjoy bouef en daube. Jay Gatsby's parties serve up "glistening hors d'ouevre, spiced baked hams crowded against salads of harlequin designs and pastry pigs and turkeys bewitched to a dark gold" and five crates of oranges and lemons delivered from New York by something called a "fruiterer" and put through what must be one of the first industrial citrus juicers. Hemingway's heroes hunt and fish in the wilderness and they eat and drink in restaurants and bars in cities. And, of course, Remembrance of Things Past finds a seven-volume novel in a single bite of a cookie.
Notable for its absence, in all this talk about food—especially in 2013, when another new century's food fascination centers on celebrity chefs, master producers—is any real time in the kitchen: these are menus, not recipes (the exception here is Ulysses, from which I suppose the reader can actually learn to fry himself a lamb kidney for breakfast).
This obsession with what people put in their bodies shows us literature and culture doing what became, in the years between the World Wars, their job: to create a better consumer. After all, a nation of consumers needs a nation of salespeople telling it what and how much to buy. Modernism made a more prolific consumer by making sense of and often glorifying the shift from production to consumption. It created a more discriminating one by distinguishing serious art, or "high modernism," from mass culture and mechanized entertainment. This may be the readiest association that most of us have with literary high modernism: Joyce, Faulkner, Eliot, Dos Passos, et al are good because they're difficult. We are taught it takes an entire liberal arts education just to learn to appreciate and discuss them—that is, to consume them correctly. In the twenties and thirties, the modernists began to think of movies, magazines, cheap paperbacks, and other forms of automated and mass-produced amusements as cultural equivalents to another developing consumable that was cheap, easy, standardized, and bad for the masses consuming it: fast food.
The first Automat opened in Philadelphia in 1902: essentially a row of vending machines and a dining room. Similar establishments gained in popularity and notoriety over the next four decades, precursors to the fast food chains we'd recognize now: food was prepared in the morning, and kept warm throughout the day, ready at the press of a button and the twist of a dial. At no point, of course, did the consumer interact with the producer or the preparation of her food—or, much of the time, anyone else. The early Automat machines themselves were monuments of modernist style—chrome and glass, all reflective surfaces and deco curves—in much the same way that your basic strip-mall McDonald's plastic is a monument of postmodern design. They're icons of their moments in history.
Edward Hopper's 1927 oil painting "Automat" portrays a woman alone at night, staring into her coffee cup at a table for two. From the long rows of lights reflected in the window behind her, we can tell that she's sitting in a huge, empty room—it's dentifiable as an Automat only by its title, but the absence of human contact is clear in the painting's every detail. "Automat" is usually understood to portray the loneliness and alienation of modern urban life. The coffee cup is a crucial detail here, because somehow the subject wouldn't seem so lonely if she were just sitting there at a table, perhaps waiting for someone, or if there were a waitress to fill her cup. Drinking coffee alone from a coin-operated machine divorces a trip to the restaurant from its social function. And consumption without the ritual that surrounds it—food for food's sake—runs contrary to the ethos of modernism.
Compare Hopper's lonely coffee-drinker in "Automat" to Ernest Hemingway in A Moveable Feast. In the first chapter, he considers building a fire in his apartment's fireplace, where his wife and infant live; instead, he goes to a good café on the Place Saint-Michel to write, and buys one café au lait, two rums St. James, a dozen oysters, and a half-carafe of white wine, in the process turning out a story. Where domestic spending and housework lead to frustration, public consumption—food and drink in a restaurant—leads to art. And a nation that was shifting from agrarian to urban life was probably happy to have Ernest Hemingway tell it that ordering coffee was more important than building fires.
By the 1930s, such authority was how Americans knew to assign cultural value to things: because they had less and less everyday contact with the people who cooked their food, grew their crops (which they bought at another modern invention, the supermarket), played their music (which they listened to recorded, instead of live), or told their stories. Urbanization brought with it this technical, Marxist version of alienation, too: the commodities available for sale in the modern city vastly outnumber those in the agrarian past, but in restaurants and in supermarkets they speak less and less of the labor and the people that produced them. It's easy, that is, to buy a cup of coffee, a lamb kidney, or a novel if you know the farmer, butcher, or novelist: you know if he's responsible, ethical, clean, and so on. In the novelist's case, you could know whether he tells good stories. If those things just appear in the store, though, you need to be a better consumer: you need to be able to speak the language of commodity and cultural value … or risk getting stuck in the Feeding Machine.
As such, working when they did, the modernists were in no small part curators: their role was not only to produce culture worth consuming but also to explain to readers both why their own work was valuable and what other work was similarly worth their attention. In short, they had to distinguish themselves from the junk-food mass culture that surrounded them. And their worries, today, seem needless: they successfully defined a canon and a set of standards to which we continue to adhere. As a nation, we celebrate and institutionalize Hemingway and Chaplin, later James Beard and Alice Waters—even as we we get so many of our daily calories, literal and figurative, from Taco Bell, Jackie Collins, and Michael Mann. You could say the story culminates in the Nixon-Kruschev kitchen debate of 1959. Standing in a replica of a California kitchen inside the U.S. Embassy in Moscow, Vice President Nixon distinguished U.S. capitalism from Soviet communism in terms of—what else—consumer choice: "Diversity, the right to choose, the fact that we have 1,000 builders building 1,000 different houses is the most important thing: let people choose the kind of house, the kind of soup, the kind of ideas they want." Capitalism, Nixon proclaimed, is flexible enough to account for individual taste. That's its greatest strength. Nixon is a different kind of figure now, of course, and "the right to choose" is a different kind of phrase, but his argument in the kitchen was a point of pride for many Americans, for quite some time.
When choice between commodities is a culture's central principle, educating and catering to its consumer-citizens becomes its chief responsibility. Chaplin's Modern Times is, by now, famous for several iconic images: the Feeding Machine, the Tramp being run through the factory's gears, and the scene he spends roller-skating around the department store where he's been hired to be a security guard. The film itself has also been accepted as the kind of culture that's good for you—the tastemaker is the taste itself. At the time, though, Modern Times was most famous for a scene near the end of the film, when the Tramp sings: it was the first time movie audiences had heard Charlie Chaplin's voice. Chaplin, the artist, sings in Modern Times because it's time for him to catch up with cinema, technology, and synchronized sound; the Tramp, the character, sings because it's his job: he's a singing waiter. He's gone from being the test case for the J. Widdecomb Billows Feeding Machine to being an agent of a much larger one. The Tramp and the film most fully realize themselves when he brings people their food, and when he entertains them.
Jacob Leland has been a university professor, a middle school teacher, and a Latin boogaloo bandleader. He has written about music, movies, literature, and major league baseball for OffBeat Magazine, The Morning News, SFist.com, Safundi, and The Hemingway Review. He lives in Tahoe City, California.