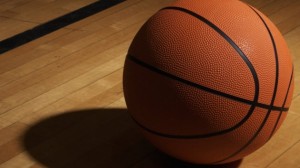 The most common score in basketball is 2-0. It tends to be the point of departure from which thousands upon thousands upon thousands of basketball games subsequently differentiate themselves. Yes, of course the game can break its goose eggs with a three-pointer from behind the line, or the enduring "and one" basket and free throw, or it can begin with one of two free throws made after a personal or technical foul. 1-0, 3-0: as far as basketball scores go these are baroque figures: one bland, one grand. But 2-0. One basket made inside the arc with no response yet from the other team. It's the primordial moment of the game in motion. The opening bell. The icebreaker.
Twenty seconds into last night's game in Madison Square Garden, when Raymond Felton dribbled hard to his left, flattened out from the left elbow of the lane, dropped his shoulder as though heading full-steam on an angle toward the hoop, and then, instead, took a sudden step backward, elevated, and rattled in a fifteen-foot jump shot, the New York Knicks led the Houston Rockets by the pristine score of 2-0. The crowd cheered. I watched and couldn't help but wonder: Would tonight be Felton's night? I have trouble recalling another ballplayer with Felton's knack for being both mercurial and dependable always and at the same time. He can shoot you out of a game you have no business losing. He can shoot you to a victory against the best competition. Yet, as strange as this must now sound, he basically plays the same game every game. He always looks to run the offense. And he rarely turns the ball over (a trait he should get far more credit for). But Felton's form, and his face, are a weathervane for his game. Imagine seeing a hard-working person, faithful to his daily tasks, but on some days working with the knowledge that he's been favored by the gods and on others with the knowledge that he's been condemned by them. That's Felton's game. He has a strange swagger to him: not so much street (Felton's from South Carolina) as much as benignly Shakespearean—Shakespeare being, as far as we know, inventor of the word "swagger." It was a good shot. Raymond went back on defense. I thought about how if you've made it to the NBA you've made countless—really, countless—shots in your life. It was one shot in a lifetime of shots made and missed? The crowd cheered. Their point guard had scored. He cracked the goose eggs. It was a good shot.
What, if anything, is the history behind a score as boring as 2-0? Felton had not only replaced the Rockets player whom he just dribbled away from, misdirected with that jerky step-back move of his, elevated above and scored on; he had also (if only with that one shot, if only for that one moment, and if only in his mind) replaced the screeching tire of a performance he put at the start of the last game he played against the Rockets.
In that game, played the night after Thanksgiving, Felton missed his fist shot, a twenty-one-foot jumper, and then proceeded to miss his next, a nineteen-foot jumper, then a free throw (he made the next), then a three-pointer from twenty-five feet, before throwing the ball to the other team that led, as tends to be the case with turnovers, to an easy score. With that, Felton found the bench. All of this happened in the first seven minutes of play. The game was still in its earliest stages but the deficit was already significant. The Knicks were groggy on their feet and never recovered. Adhering to the idea that you are what you eat, Felton and his teammates were big enough not to blame the previous night's Turkey dinner. Felton had clearly wanted to make a statement in that game. And his final tally, if you look at the box score, was six of eleven shots made, four of six from behind the three-point arc. Dazzling percentages to go along with eight assists. But his shooting (streakier than paint in the hands of a toddler, capable of speechless bewilderment and touching brilliance—by thanks for those two games against the Heat, Raymond) and his errant passing at the start of that game set the tone for a game that the Knicks were never really in, despite thirty-seven points from Anthony. Knicks, 103; Rockets, 131. The Rockets point guard, Jeremy Lin (you may have heard of him), played like a cog in machine that ran well that night: thirteen points, having hit half of his twelve shots. His teammates James Harden and Chandler Parsons scores thirty-three and thirty-one points respectively with ridiculously high efficiency. Harden's output—he's an offense genius—was expected; Chandler Parson, try as he did to hide it, looked like a kid who'd found a secret unlocked door to his favorite candy store. The story of the Knicks and Jeremy Lin finding each other again quickly dissolved into the concentrate of a slate of other, far more interesting games: the Grizzlies beat the Lakers … the Grizzlies were good before but now they look ridiculously good … that said, maybe, just maybe, perhaps, something's wrong with the Lakers? Brooklyn beat the Clippers? There you go: Brooklyn's for real … Boston beat the Thunder and Kevin Martin, Harden's Thunder replacement, by direct trade, only scored three points—look how much the Thunder miss Harden and the Celtics aren't as decrepit and formless as they'd seemed. Oh, and the Knicks, despite yet another scoring explosion from Carmelo Anthony, were dismantled not by Jeremy Lin, but by the Rockets: draw your own conclusions. Fast-forward to nearly a month later and  we find that some of these observations are proving to be true and some utter nonsense. The NBA plays an eighty-two-game season. Drawing anything of note from a season from one game is akin to drawing anything of note from a game at 2-0. Last night, however, was a rare exception.
Twenty seconds into last night's game, when Raymond Felton dribbled hard to his left, flattened out from the left elbow of the lane, dropped his shoulder as though heading full-steam on an angle toward the hoop, and then, instead, took a sudden step backward, elevated, and rattled in a fifteen-foot jump shot, the New York Knicks led the Houston Rockets by the pristine score of 2-0. The crowd cheered. I watched and couldn't help but wonder: Would tonight be Ray's night? You never know with him. His effort is beyond question, as is his willingness to run the offense. Opponents have discovered that the Knicks offense is potent, efficient, and varied. Defenses have learned to pick their poison, and they have named that poison Raymond Felton. In defending Felton and the Knicks high-powered center Tyson Chandler on ball screens, the tendency is to collapse on Chandler as he dives to the basket and stick with the deadly shooters on the perimeter. This leaves Felton more or less open from the eighteen-to-twelve-foot range. As a point guard, it's a shot you have to take; your number has been called and you have to answer it. Passing up those shots means a defense will be constantly playing five on four. It's a basic jump shot. But, oh, that jump shot … Sometimes simply from seeing the snap of the wrist, the backwards rotation of the black seams of the burnt sienna ball, the commitment to holding his follow-through, arm straight hand breaking the perpendicular plan like the head and neck of a swan, you know he's brought his jump shot with him that night. And then there are other nights: cue the PA system in an empty Barclays Center pumping "Brooklyn Brooklyn" again through its speakers in honor of Felton's 3-for-19 performance—3 for 19!—in an overtime win for the Nets against the Knicks. A team, unless it's coached by Phil Jackson or has LeBron James and Dwayne Wade on it, is going to live and die by the play of their point guard. It's a burden Felton and no one else, not even Anthony, takes with him into every arena. Even to MSG. The results, despite a few spectacular slipups in play, have thus far been beyond encouraging. Perhaps most encouraging about Felton's play has been that the Knicks, for the first time in over a decade, are not stuck in nostalgia. For the first time in a decade the cries for 79-73 victories and exclusively isolation basketball have given way to questions about a near future: How good can this Knicks team be? How far can they go?
Twenty seconds into last night's game, Raymond Felton dribbled hard to his left, and sunk his first shot of the game. Fourteen seconds later, Jeremy Lin ran a backdoor cut and found himself along under the basket for an easy right-handed layup. The score was tied 2-2. Felton ran Lin off a Tyson Chandler screen and, taking advantage of newfound space, found a little more with a step-back dribble and scored. Lin ceded the ball to Harden at half-court, ran off the ball along the baseline and set Felton up for a off-the-ball screen by the Rockets' newly-signed gigantic center, Omer Asik. Felton jumped the screen. The ball had moved from Harden to Parsons, right to left, around the circumference of the three-point line. Asik stepped up towards Parsons to set another pick and Chandler, another master of the art, was alert to the danger and followed Asik to provide cover. Both centers were now out of the lane, the basket was alone like a dime you'd find on the pavement. Lin, still in the corner, darted under the basket, Felton (who'd done the right thing in jumping Asik's screen) now couldn't recover, Parsons quickly found Lin with an overhead bullet pass. Easy layup. 2-2. The crowd cheered a little, then a little less. Like always, it was just basketball. No one player responsible for anything, everyone connected on a chain, lots of small events that end up neither on the scoreboard nor the stat sheet. Too miniscule to be talking points. The Knicks, this time without Anthony and the ever-avuncular Rasheed Wallace, would lose again to the Rockets. It would the first time the Knicks lost at home and the second time the Rockets would win on the road thus far this season. Lin, whose shooting this year makes Felton's ups and downs seem like ups and ups, would play like a very good player. People had seen something a little like that before. But it was more muted this time. Passes, screens, points, an accumulating score. A foul here and there. Everyone would take it all in stride. The ice at the Garden was broken: after all, it was just basketball. With a step-back jumper and a backdoor layup, a letting go happened. Suddenly, there was that certain New York calm about this whole thing. The Knicks, reborn, were on their way. The Rockets, renewed, were on their way. Their paths are different paths. But at 2-2, it was the end of the beginning.
Rowan Ricardo Phillips's debut collection of poetry, The Ground, was published this year by FSG. He lives in New York and loves basketball.