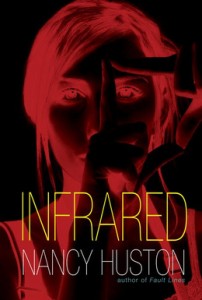 The votes are in, the people have spoken, and the winner of the 2012 Bad Sex in Fiction Award is Canadian novelist Nancy Huston, for her novel Infrared. Here is the publisher's description:
Award-winning author Nancy Huston follows her bestselling novel, Fault Lines, winner of the Prix Femina, with an intensely provocative story about a passionate yet emotionally-wounded woman's sexual explorations.

After a troubled childhood and two failed marriages, Rena Greenblatt has achieved success as a photographer. She specializes in infrared techniques that expose her pictures' otherwise hidden landscapes and capture the raw essence of deeply private moments in the lives of her subjects.

Away from her lover, and stuck in Florence, Italy, with her infuriating stepmother and her aging, unwell father, Rena confronts not only the masterpieces of the Renaissance but the banal inconveniences of a family holiday. At the same time, she finds herself traveling into dark and passionate memories that will lead to disturbing revelations.

Infrared is both an explicitly bold story of how sexuality is influenced by childhood, family, and culture, and a portrait of a woman coming to terms with the end of her father's life. With exceptional flair and intelligence, Huston fearlessly investigates the links between family intimacies and our collective lives, between destruction and creation.
Prose that helped her nab the prize include the following:
In a delirium of restrained desire, I weigh, stroke and lick Kamal's balls, then take his penis in my hands, between my breasts, into my mouth. He sits up, reaches for me and I allow him to explore me in turn. He runs his tongue and lips over my breasts, the back of my neck, my toes, my stomach, the countless treasures between my legs, oh the sheer ecstasy of lips and tongues on genitals, either simultaneously or in alternation, never will I tire of that silvery fluidity, my sex swimming in joy like a fish in water, my self freed of both self and other, the quivering sensation, the carnal pink palpitation that detaches you from all colour and all flesh, making you see only stars, constellations, milky ways, propelling you bodiless and soulless into undulating space where the undulating skies make your non-body undulate …
The author did not claim her prize in person but did send in a statement: "I hope this prize will incite thousands of British women to take close-up photos of their lovers' bodies in all states of array and disarray."
It was a tough field: says the Literary Review,
Huston edged out strong competition from Tom Wolfe's Back to Blood ("Now his big generative jockey was inside her pelvic saddle, riding, riding, riding, and she was eagerly swallowing it swallowing it swallowing it with the saddle's own lips and maw"), Ben Masters's Noughties ("She took it and forced it inside the cup of her bra, lending me her full cushiony swell. With my other hand I traced the Braille of her viscera"), and Nicola Barker's The Yips ("She smells of almonds, like a plump Bakewell pudding; and he is the spoon, the whipped cream, the helpless dollop of warm custard. She steams").