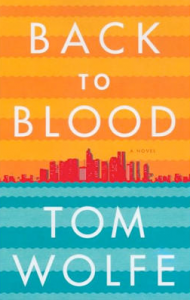 The Literary Review has released the shortlist for the twentieth annual Bad Sex in Fiction Award. The nominees for achievement in terrible sex writing include:
The Yips, by Nicola Barker
The Adventuress, by Nicholas Coleridge
Infrared, by Nancy Huston
Rare Earth, by Paul Mason
Noughties, by Ben Masters
The Quiddity of Will Self, by Sam Mills
The Divine Comedy, by Craig Raine
Back to Blood, by Tom Wolfe
Mr. Wolfe, you will recall, is a previous winner, having taken top honors in 2004 for I Am Charlotte Simmons. He was deemed eligible for this year's awards by dint of passages like the following:
But then the tips of her breasts became erect on their own, and the flood in her loins washed morals, despair, and all other abstract assessments away in a cloud of some sort of divine cologne of his. Now his big generative jockey was inside her pelvic saddle, riding, riding, riding, and she was eagerly swallowing it swallowing it swallowing it with the saddle's own lips and maw—all without a word.
Bad, assuredly. But is it bad enough to take the prize? Find out on December 4. Until then, follow the process via @lit_review. (The tweets are tagged as #LRBadSex2012.)
And for a glimpse into the judging process, check this out: