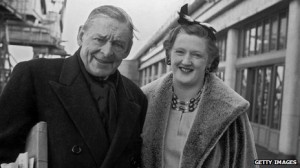 My father is inordinately fond of pointing out our place in the course of history. "Just think about it!" he would say intensely almost every morning of my childhood, as he scanned the obit pages over breakfast. "This man was born during the Taft presidency! Twice his lifetime was the Pierce presidency! It's amazing! It's so recent!"
I was reminded of this when I read the news that T. S. Eliot's widow had died, this Friday, at eighty-six.
Of course, it's not as though Valerie Eliot were some sort of secret: Eliot's executor, she guarded her husband's legacy since his death, periodically editing and releasing his work, fiercely guarding his privacy, allowing for the making of Cats, and using the money from that success to start a charitable trust. And considering the difference in their ages—Eliot was thirty-eight years older than his second wife, whom he married in 1957—her relative youth is no shocker either. But hers was, for the most part, a quiet and unobtrusive stewardship (she avoided interviews), and those are themselves rare things these days.
She said that their relationship was a quiet one, involving much Scrabble-playing and cheese-eating. As she said in a rare interview, "He obviously needed a happy marriage. He wouldn't die until he'd had it."