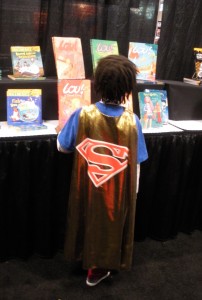 Much has been said and written about New York Comic Con. It's weird, it's magical, it's overwhelming, it's hell on earth, it's the best event in the world. If you've ever attended, it's easy to see how all of these things could subjectively be true. Only one thing seems objectively true, however: Comic Con is utterly unique (unless you count San Diego Comic-Con, which seems to be the only comparable event in the United States, and which I've never attended).
Here is a list of things you can buy at Comic Con: the video game Just Dance 4, anime DVDs from Japan, K-pop posters, books titled How to Be Death and Victorian Sexual Positions, your zombie portrait drawn for $19.99, your superhero portrait photographed for $10, a steampunk corset, potions, comics-related earrings, sriracha-themed boxer briefs, "premium" (the seller's word, not mine) hugs for $2, a photorealist painting of superheroes for $2,495, Nancy Drew manga, the Bible as manga, an autograph (free), and a picture of a girl dressed as hipster Hitler (also free).
One thing they don't sell yet: strollers. But it's only a matter of time. As a man I overheard on Sunday afternoon astutely observed, "Yo, they should sell strollers here! They'd make a killing."
At Comic Con—and for many blocks north, south, and east of the Javits Center, which hugs the West Side Highway—you can see adults and children alike dressed up as Batman, Robin, Batgirl, Superman, Captain Marvel, Mario, Luigi, Transformers, and at least a hundred other characters I couldn't identify. People attend discussion panels while painted blue or stroll the aisles in their underwear. And let me tell you, there's nothing quite like watching a woman wearing a bikini bride outfit and combat boots push a stroller (presumably bought elsewhere) through the crowds of people waiting patiently to play the latest version of Tomb Raider. It's like Halloween, only friendlier, less drunk, and more concentrated.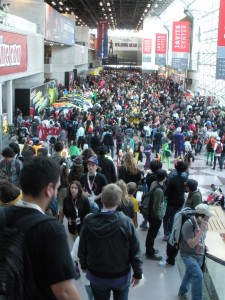 To say that Comic Con is popular is a laughable understatement, like calling the Harry Potter series "well-liked." Over the course of four days in October, 116,000 people streamed into, out of, and through the palatial convention center. I attended only on Sunday, when things were apparently winding down (according to a friend who had been there all weekend) but still felt impossibly frenetic. When I arrived at the press desk, the man who checked me in kindly informed me that they were out of lanyards; the woman next to him happened to have a few left and gave me one, explaining that they were hot commodities. When I asked him for a map, he nearly laughed. A map! On Sunday afternoon! As the day wore on, I sought a plastic bag to hold my mounting pile of books at no fewer than five booths. Everyone was out. The official Comic Con shop had apparently never had shopping bags at all, not even on Friday, a woman behind the counter told me.
Moving from the press check-in area to the convention hall proper, I was faced with two possible entrances. Both vistas offered huge hanging signs, flashing video screens, massive crowds, and multiple people on microphones hawking their wares. "You get a lot of awesome stuff—if you preorder today," said the woman at the Just Dance 4 booth in a voice that couldn't hide its weariness (did I detect a sigh after that "stuff"?); she shepherded a group of costumed children and teens onto a mini-stage to play the game. Across the floor I found a group of people dancing passionately to "Gangnam Style."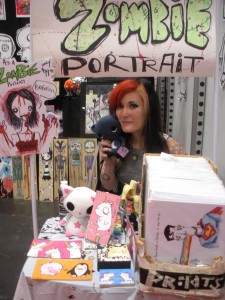 If at this point you have surmised that Comic Con is not really about comics so much as it's about—well, something else, you are correct. Of course comics are there, in large numbers; most of them tend towards the superhero, vampire, or children's genres, with a bit of indie stuff mixed in. The latter being my favorite category, I picked up a few things, including Zahra's Paradise, a graphic novel I'd been eyeing for a long time; the Oatmeal's hilarious How to Tell If Your Cat Is Plotting to Kill You; and spectacularly dramatic manga versions of Don Quixote and Moby-Dick, from the purveyor of the aforementioned manga Bible, One Peace Books. (Editor Robert McGuire, who finds the books in Japan and translates them into English, told me the manga Bible had sold out on Friday.) I also ran into artist Benjamin Marra, creator of the absurd The Incredibly Fantastic Adventures of Maureen Dowd, stumping for the School of Visual Arts's new MFA in Visual Narrative, which sounds wonderful.
But these finds make up only a meager portion of the whole, and at this point, even comics themselves are only a small part of the gesamtkunstwerk that is New York Comic Con. The culture the convention represents is hard to classify—it has elements of goth, geek, gaming, and more, all subcultural groups that I tend think of as distinct but that come together at Comic Con and seem to speak a common language. The event is, for one thing, about community: Where else can you dress up as an obscure anime character and be congratulated for it, your hard work analyzed and photographed from a dozen different directions?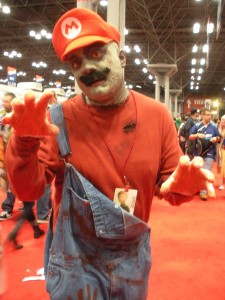 This helps explain the vibe of Comic Con, which, despite the massive crowds, is ridiculously nice. Everyone is, for the most part, gregarious. Strangers strike up conversations while watching video-game demonstrations; they dance together; and they all take pictures of each other constantly and freely. Short of shoving someone, there's probably no such thing as being too intrusive at Comic Con. At some point, I passed a zombie Mario limping his way through the crowd and inquired if I could snap a photo. "Sure!" he answered, his face lighting up before reverting to "undead" in a pose for my camera. Then he turned and theatrically limped away.
In this sense, Comic Con is also about exhibitionism—the old adage "let your freak flag fly" kept ringing though my head all day. And for those of us who don't dress up, Comic Con offers unparalleled people watching, particularly towards the end, when people are tired and have taken to sitting in the margins and reviewing their purchases. There's something strikingly intimate about watching costumed crusaders at rest against a wall, or a costumed couple make their way wearily through the crowds, talking quietly to each other about what they'll have for dinner when they get home.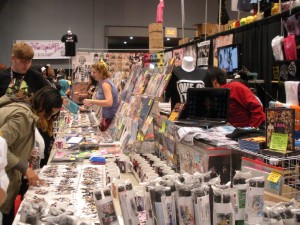 But lest I paint New York Comic Con as a utopia, it's worth remembering that the event is also the apotheosis of capitalism. Sure, there's much creativity to be had, but nearly everything within the Javits Center's four walls during those four days is for sale, from the food to the games to the books to the art. More than that, Comic Con unites a group (or several) around those commodities, making it essentially a capitalist's wet dream, a symbol of how much our relationships today revolve around commercial products. Pointing out that the creativity came first, before the industry, is largely irrelevant by now. All of which isn't to say that the comics-obsessed, video-game-playing, death-inspired, anime-devoted community isn't a valid one, or necessary or wonderful. But it's something to think about the next time you (or your kids) are playing Just Dance 4.
Jillian Steinhauer is a Brooklyn-based writer and senior editor of Hyperallergic.
[tweetbutton]
[facebook_ilike]