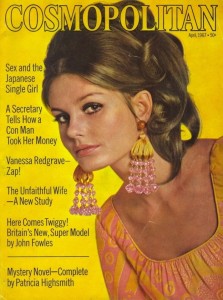 I was one of the last to get in on the sexual revolution, letting the other virgins sprint out of the starting gate ahead of me. Though sex wasn't formally a competitive sport, in the sixties it could feel like a relay race with men and herpes being passed along by Team America. Cosmo girls were encouraged to be players—to experiment, seduce, and manipulate … in no particular order. For seventy-five cents, we got monthly tips on being alluring and adventurous. Our coach was Helen Gurley Brown.
In those early days of Cosmopolitan, we ripped into each new issue to find out "How You Can Become a More Likeable, Secure, and Less Jittery Person … and Change Your Life." You might think that, having read that, you would never need another self-help article, but Helen Gurley Brown had endless ways of tapping into our self-doubts while simultaneously giving us license to lust. Virtue was no longer a virtue. The shame connected to sex that our mothers had tattooed on our DNA was suddenly spun on its head by a woman who never had a daughter. And maybe that's why she made so free with recipes to heat up the bedroom, renovating what was done in bed the way Better Homes and Gardens had our bedrooms. We could now have orgasms along with mismatched bedside tables.
Even if we didn't manage to snag one of the Bachelors of the Month, we might consider other options after reading, say, "The Undiscovered Joys of Having a Chinese Lover," "Should You be Faithful to Somebody Else's Husband," "Buddy-Flirting—the Bold, New Way of Having Him Notice and Like You," "Foot Fetishes: The Trade Secrets of the Sexiest Ladies in History," and "When He Wants You to Make the Orgy." Married women, often overlooked, could learn "How to Get Our Husbands to Love Us Like a Mistress."
With the SATs behind me, Cosmo quizzes reflected my value, showing indisputably if I was a good lover, a bad girl, mysterious, inhibited, or an oversharer. Though these were untimed tests and there was no Dean's List, I was as tense as I'd been during college finals. This was, after all, how guys perceived me. And for those of us a bit too old to be Baby Boomers, being a man magnet was still the all-important pass/fail at that time. A "gentleman's C" just wouldn't do it. Getting a man was next to godliness … even if it was as impossible to believe in a man as in a deity.
The centerfold pictures of Burt Reynolds, Senator Scott Brown, and Arnold Schwarzenegger sent the same message as Playboy's—that physical attributes were the big draw. Of course, Helen Gurley Brown herself would never have been a Bunny, and this was a crucial element in the magazine's credibility. Like Dr. Ruth, HGB made it clear that sex wasn't only for cover girls. If these women could romp around naked, so could we!
Of course, there were clothes. The magazine dressed us for undressing. Cosmo asked what Donald Sutherland, Johnny Cash, Tom Jones, Cary Grant, Richard Burton, Bob Newhart, Charlton Heston, Lee Marvin, and George Segal liked a girl to wear, and let us know. I didn't have enough money or closet space to please them all, but it was comforting to know that if Lee Marvin called, I wouldn't screw up by wearing the outfit that Bob Newhart would have wanted to tear off me.
HGB made breasts front and center, setting the stage for Cosmo contributor Nora Ephron's lament that size does indeed matter. It is perhaps natural that their paths should have intersected. While sharing intimate feelings about breasts, necks, and other body parts, both women, in different ways, were speaking for us and to us. Indeed, I would argue that these two women (in addition, of course, to the feminist leaders and the woman who gave us Spanx) in their way had the greatest impact of any on my age group. They raised expectations in bedrooms and screening rooms, demonstrating that women are sexual and funny, strong yet self-effacing, have small breasts or get new ones paid for by Medicare, stay thin while regularly eating in great restaurants, and that we can dream without losing sight of reality. Each knew the importance of a happy ending—Nora's on the screen and Helen's in bed.
Sybil Sage, one of the early female comedy writers, went from working as Carl Reiner's secretary to writing for TV. Credits include The Mary Tyler Moore Show, Alice, Barney Miller, Northern Exposure, and Lily Tomlin. She is working on her first (and last) memoir and has an encore career as a mosaic artist.
[tweetbutton]
[facebook_ilike]