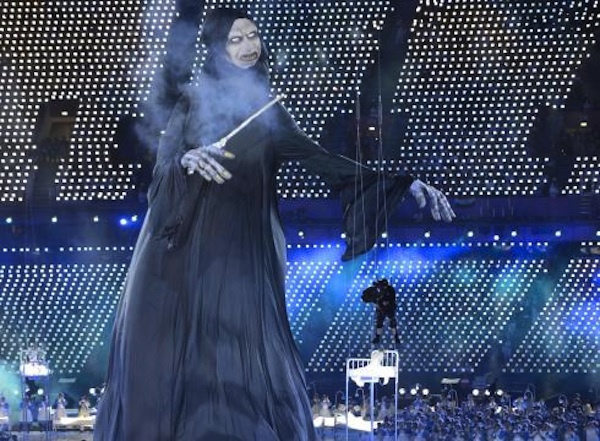 At the 1904 St. Louis Olympics, to which Britain did not send a delegation but at which it did earn two medals by virtue of owning Ireland, the first-place finisher in the marathon, a New York City bricklayer, was disqualified for having covered eleven miles of the course by automobile. The runner-up, a British-Bostonian brazier competing for America, whose trainers had administered him strychnine and brandy and egg whites and who had been borne along by officials for part the race, was declared the victor. At the 2012 London Olympics, in a video clip shown during the opening ceremony, the comic actor Rowan Atkinson (as Mr. Bean) was digitally inserted into the beach run that opens Chariots of Fire; imagining the scene as a race, Atkinson flags, veers offscreen, then overtakes the other runners in a car, rejoining the pack just in time to win.
Such filmed-to-order interludes, which cutely recontextualize iconic personages for special occasions, are familiar from Academy Awards broadcasts, and their appearance in a live Olympic commencement marked conspicuously the London show's direction by British filmmaker Danny Boyle. Olympic opening ceremonies, so it is written, present a vision of the host country, which lately (Atlanta, Sydney, Athens) has meant Cirque du Soleil–ified stage shows of varying national specificity but considerable stylistic consistency: LED and fiber-optic light effects, elaborate and ethereal costumes, colossal puppetry, acrobatics and wirework—most of it slow and graceful. Beijing transformed these elements with a performance of globally lauded and metonymically freighted military precision. The London organizers' appointment of Boyle signaled a wholesale departure from Beijing: in place of faceless Politburo pyrotechnics, British officials promised a demonstration of British character, and in place of British might, wry understatement and mellow self-confidence. "I've always felt that tingling feeling on my spine and hairs standing on the back of my neck," said Prime Minister David Cameron, "with the treatment that they're giving it."
Quickly, then, a vision of the United Kingdom, per Boyle's treatment. To begin, ten batches of balloons burst as children count down from ten. We open on a scene redolent of Braveheart: the entire stadium floor is a meadow in preindustrial times, with artfully uncultivated-looking wildflowers growing throughout and rising at one end into Glastonbury Tor (which can be described most efficiently as where Bilbo Baggins lives). Britons and livestock (again genuine) saunter and gambol, particularly around four maypoles (one for each country of the UK). Kenneth Branagh, playing Isambard Kingdom Brunel, declaims a line of Caliban's from The Tempest that alludes to the title of the ceremony, Isles of Wonder. Then comes the Industrial Revolution, and the druidic tree atop the holy hill lifts away and smokestacks soar up from the meadow. Workers pour molten metal to forge five rings (for the elven kings?), which shower sparks as they rise into Olympic configuration above the stadium. Then come a great many other things: suffragettes and unemployed workers march, deaf children wearing pajamas sign along to the songs being sung by hearing children in pajamas. Later there are children in wheelchairs wearing pajamas. NHS nurses care for children in hospital beds. J. K. Rowling reads aloud from J. M. Barrie. Great villains of children's literature inflate: Voldemort and Cruella de Vil and the Queen of Hearts. A colossal baby is put to bed. Throughout, numerous musicians perform, and in addition to the Mr. Bean sketch, other videos are interlarded with the live bits: David Beckham chauffeuring the Olympic torch up the Thames in a speedboat, flyovers of rapeseed fields and sundry waterways, James Bond (in nouveau-yobbo avatar Daniel Craig) striding through Buckingham Palace with the Queen and her corgis.
The show ends in a very long sequence wherein several decades of British pop music play while several dozens of young people in hip clothes of various periods dance along. The sequence tracks a flirtation between a young woman who has lost her mobile phone and a young man who has found it; their social-media posts and exchanges float in the air. As the sound track progresses, footage of music videos and TV shows and movies (including Wayne's World and Boyle's Trainspotting) is projected on the sides of a suburban house in which a pantomime of sitcom teenage rebellion has taken place earlier.
The world's foremost English-language newspapers seemed unanimous in finding the opening ceremony a triumph of quirkiness, but within the New York Times' apparently laudatory account of Boyle's show as a plucky celebration of postimperial, midrecession British eccentricity was this assessment: "[A] sometimes slightly insane portrait of a country that has changed almost beyond measure since the last time it hosted the Games, in the grim postwar summer of 1948." This tinge of insanity lay on the surface of a broader, pervasive, and telling incoherence that might have been predicted by anyone familiar with Boyle's directorial career, which comprises the following feature films: Shallow Grave, a nimble though slightly dated thriller; Trainspotting, one of the best films of its decade; A Life Less Ordinary, a kidnap road-romance typical of the shaggy ensemble-cast Hollywood productions into which enfants terrifiques are seduced for their second acts and that Boyle himself has characterized as cut-rate Coen brothers; The Beach, a lemon of a Leonardo DiCaprio vehicle; 28 Days Later, an excellent postapocalyptic zombie movie; Millions, a twee story about children in possession of stolen millions; Sunshine, a suspense-horror spaceship plot that comprehensively rips off two other films that were already ripping off Kubrick and Tarkovsky; Slumdog Millionaire, a lively, mediocre film that (for mass-psychological reasons I will not bore the reader by describing in detail but that had a lot to do with the financial crisis, terrorism, heavily publicized reverse-verisimilitude, and that year's presidential election) achieved a terrifying popularity; and 127 Hours, the tense true story of a climber who has to amputate his trapped arm with a dull knife.
If you watch these films, you will begin to perceive, loosely uniting most of Boyle's generically diverse projects, a sort of claustrophilia: characters' extended constraint in cabins, apartments, spaceships (a.k.a. submarines), taxis, crawlspaces, crevasses—even on the beach, there obtains a sort of cabin fever; there is, too, usually fairly tight editing and a disciplined tracking of narrative lines. This sense of constraint presaged perhaps the most obvious problem for Boyle's ceremony: he does not work with large canvases. At stadium scale, even on television, many of his scenes quickly became atomized, lost to a mise-en-scènique provinciality. And when large numbers of performers were at times marshaled in coordinated movements, choreography was absent. Dancers with glow sticks milled around the sitcom house; dancers tracking the decades of British pop air-guitared limply (a neat metaphor for Boyle's reliance on canonical, prerecorded audio and visual material); and factory workers were factory workers one minute, dancers the next (Boyle, who gave the male half of the Facebook-crossed lovers the Tramp's hat, might have taken a cue from Chaplin, for whom the rhythms of labor fluidly transform into the rhythms of art).
The disconnectedness accumulated into an overwhelmingly discursive pastiche, with minor iconographies and narrative arcs, historical and fictive, continually supplanting one another or simply trailing off to never-never Land. At one point I lost NBC's commentary track and could not figure out whether the appearance of men in vivid shell coats was a Sgt. Pepper's reference or a recognition of Britain's imperialist iniquity in the Opium Wars. And looking back on my notes two days later, I had no recollection of half the scenes I had written about. (One particularly puzzling entry concerned a young girl's hatred for Paul McCartney, who led the London stadium in a valedictory sing-along of "Hey Jude"; this turned out to be a childhood memory related to me by a waitress at Bashers sports bar and bowling alley in Faribault, Minnesota, where I watched the tape-delay broadcast and where the fish and chips are excellent.)
The other problem was subtler and deeper and arises from the fact that Boyle is not an auteur but an executive technician; he is, further, not really much of a thinker, and when evidence of his unfettered thinking emerges, in interviews and elsewhere, it usually does so in the form of platitudinous nonsense (superlatives and boosterism; lots of loves and timeless and amazings). "For inspiration," explained NBC's Meredith Vieira of the opening ceremonies, "Boyle says he turned to British literature. Shakespeare, Frankenstein, even Peter Pan." This is how you end up with Branagh playing Brunel playing Caliban talking about an "isle" he is most assuredly not actually standing on: Boyle, who directed Shakespeare for the stage, isn't unread, but as a bloke-with-a-book he has always been a dangerous, sloppy, omnivorous force. "Danny Boyle, who said the Industrial Revolution was the most important event in history." More terrifying words were never spoken on NBC.
In a show that distinguished itself by its reliance on history as something like an organizing principle, the actual depictions of historical events continually collapsed, eclipsed by interludes or jumbling against one another in no particular order, and requiring the constant expository ministration of TV commentators. The movement from the "pastoral era" into the "pandemonium" of the industrial, out of a romantic Eden and into an equally romantic Hell, was a reductive gesture, but it was also grand and legible. Every other event in British history, though, is a pickup scene, and even these sporadic concessions take us only into the 1930s: Britain since the interwar period has been nothing but children's books and pop music (and to a lesser extent movies and television), though at some point Tim Berners-Lee invented the Web, and several years ago a number of Londoners died in public-transportation bombings (the latter tribute segment was not shown in America). Boyle, NBC's commentators explained, simply "skipped from the industrial era to the digital age." Absent any sense of proportion or measure, British modernity deteriorates into its campiest, most abashed self-conception. Contemporary historians refer to this tendency by the term "Hugh Grant," who obligingly appears, in a clip from Four Weddings and a Funeral, on the side of the sitcom house, and whose press-conference speech in Love Actually, as a British P.M. rebuffing Billy Bob Thornton's tumescent POTUS, now reads eerily like a treatment for Boyle's opening ceremony: "We may be a small country, but we're a great one, too. The country of Shakespeare, Churchill, the Beatles, Sean Connery, Harry Potter. David Beckham's right foot. David Beckham's left foot, come to that."
The scattered "come to that" catch-all exuberance of a juniors-versus-seniors musical-skit competition (if you can persuade Headmaster Sullivan to appear onstage in a dress, by all means, use him) further reflects Boyle's failure to represent big things (here, the sweep of history) on a big stage. This is, again, a failure of craft, but also more pertinently an intellectual and imaginative failure: Boyle was a poor choice as director of the show, but as its creator he was disastrous. Nevertheless, he was an inevitable choice, and it was not for his working-class bona fides. As Mr. Slumdog Millionaire, Boyle is less the Manchester boy of modest background made good than he is a successful inspirational speaker-cum-CEO, who turned a fifteen million investment into four hundred million of box-office revenues; who was consequently praised by then-P.M. Gordon Brown as an example of "Britain … showing it has the talent to lead the world"; who, for his vaunted belief in the "dignity of labor," seems to choose a lot of scripts that celebrate the fantasy of the big, unearned score—the stolen proceeds of a heroin sale in Trainspotting, the orphaned mob moolah in Shallow Grave and the orphaned heist moolah of Millions, the orphan's game show jackpot in Slumdog; and who has been a great enthusiast of the worldwide transformational power of neoliberalism. London is, of course, the city whose economy, above all others, depends on the curation of these free flows of global capital. The city at whose opening ceremony corporate psychopomps led, with logo-ed lollipops held high, their executives and other lucky persons to IOC-apportioned blocks of seats, blocks that at later sold-out events have been left scandalously and photogenically unoccupied.
In 1904 in St. Louis, other marathon runners included a five-foot Cuban postman who supposedly, as if in a children's book, stopped to eat apples in an orchard, fell ill, fell asleep, then got back up and placed fourth. Two tribesmen from Orange Free State, who were part of an ethnographic sideshow at the World's Fair, to which the Olympics were themselves a side show, finished respectably, though one was chased far off course by dogs. More than half the entrants failed to complete the race. Watching Boyle's hokey and disorienting production, I found myself in mind of this "pastoral era" of haphazard, low-budget amateurism. London's Olympic Committee might have approached an artist better suited to the spectacular (Ridley Scott) or to the repurposing of history for the stage (Andrew Lloyd Webber), or one more solidly a part of the British traditions of humor and fantastical whimsy (Terry Gilliam—a Minnesotan who elected to become British). By lack of design, the opening ceremony sounded a note of modesty—though not the one that was intended—amid the symphonic corporate precision of these games (which by one account will cost Britain somewhere around twenty-four billion pounds). And I found, too, that the mere presence of Boyle, who in his buoyant clichéd optimism always strikes me as a creature of the 1990s, kept putting me in mind of the Atlanta games, which was famous for its promise that funding would come entirely from corporate sponsorship and broadcast rights. And I remember Bill Clinton, rakish and fresh in a monstrous American flag trompe-l'oeil tie, at ease among his people, radiant in the confidence of his still-young body, ready to crush his inconsequential opponent that fall and then coast along at the end of history.
Rafil Kroll-Zaidi is the managing editor of Harper's Magazine.

[tweetbutton]
[facebook_ilike]