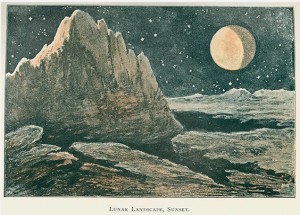 As Shakespeare said, "It is the very error of the moon … she comes more nearer earth than she wont, and makes men mad." This weekend will see the biggest full moon of the year. The "supermoon" will be at its most visible Saturday night, and we are already scouting our vantage points!
It seems fitting that we should mark the event with a visit to the newly available online picture archive of the venerable Royal Society of London for Improving Natural Knowledge. Founded in 1660, the Royal Society is the world's oldest scientific library. It's easy to lose yourself on the site for a few hours—and you should: whether your tastes run to seventeenth-century botanical studies, early lunar photography, or the history of telescopy, you'll be rewarded by a collection that, a week ago, might have required a plane ticket.
And since 2012 also marks the 110th birthday of the classic silent short A Trip to the Moon, it is meet and right that we pay tribute to Georges Méliès as well! Happy viewing, wherever you are.