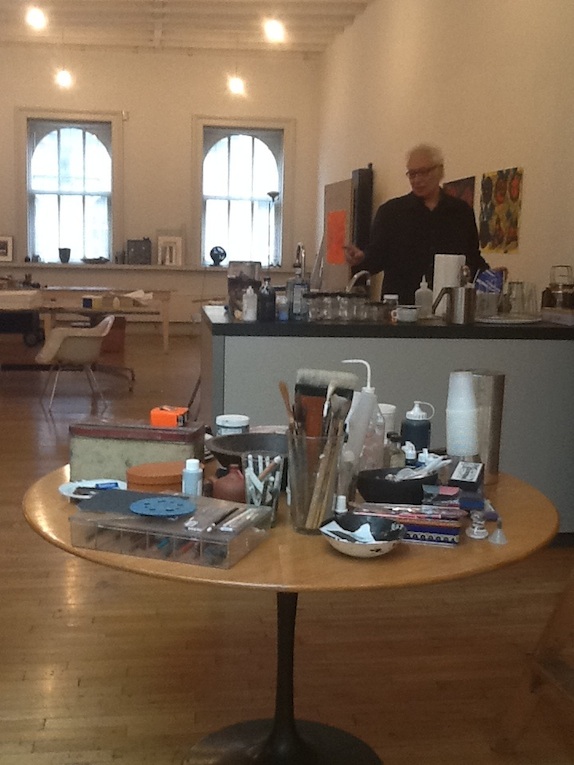 Terry Winters works on the fifth floor of a Tribeca walk-up. It is a steep climb, but the space is serene and open, decorated with a few large Nigerian ceramics, a framed Weegee photograph, and of course Winters's own drawings and watercolors (he does his oil painting in a studio in the country). It is also remarkably free of clutter for an artist who describes himself as an "image junky." Winters spends a lot of time here—"I try to show up for the job," he remarks when I ask him about his daily practice—though he does not have much by way of routine, allowing the needs of the project to shape his day.
This year marks the thirtieth anniversary of Winters's first solo show at the Sonnabend Gallery. Now represented by Matthew Marks, Winters's work continues to be informed by the ideas that animated his very first exhibition. One constant—besides his New York studio, where he has worked from the very start of his career—has been his use of found images, which he faithfully collects and assembles into collages that serve as miniature laboratories for future paintings. But the collages, with their layers and juxtapositions, their invocation of modern technology (several feature visible URLs, linking to universities and laboratories) and natural forms, are also lovely in their own right. In Winters's current show at Matthew Marks—and on view for the first time in the United States—are images from his "Notebooks," which showcase the artist's process as an indelible part of his larger vision. 

I stopped by Winters's studio on a mid-February afternoon. What follows are excerpts from our conversation about his practice, photos from the visit, and several images from the "Notebooks."
In the current show there's a clear extension of many ideas from my first exhibition. The beginnings of the "Notebook" collage project actually date from that time—clippings that I made in the eighties. Hopefully, the concerns of the work have widened and gotten deeper over time. The collages are a way of thinking for me. I use photographic or computer-generated images that are then transposed through a succession of layers to provoke unforeseen connections. The collages are complete in themselves, but they can also suggest other ways for me to explore their subjects or themes, as drawings or paintings, for example.
Technical images offer something readymade. That is, found images, technical images, offer us something no one made. Although they are the product of human activity, these images also seem free from subjective decision-making. And the Internet amplifies this; it offers images made by no one and everyone. I use this found imagery as a model, to see how images can be torqued or tweaked, made more poetic.
I've always tried to define parameters for the drawings or paintings according to some organizing principle. It can be anything from an idea about acoustic space to the color range of a particular pigment. The goal is to construct a picture that is autonomous and at the same time suggests multiple associations or readings. This is partly why I'm reluctant to name where all the sources are, what they are. I think there is some significance to the source, of course, but the ultimate significance is what the images conjure up in the paintings themselves and what they might mean to the viewer in terms of the multiplicity of connections that one could make in looking at them. Still, the decision to show the "Notebooks" is a way of showing the variety of disciplines I'm attracted to and how they might be seen in the paintings.
I'm always on the lookout for material. I grew up in New York, so I remember the used bookstores on Fourth Avenue. When I was in school I bought lots of books. They were a cheap and inspiring resource for reference material. Just the abundance of pictures, exquisite photogravures, chrome lithographs, precise line engravings, or simple woodcuts. A dizzy and dazzling array. Now, digital information is the great image provider.
My method is quite random and intuitive. Recently, I've been reading a book of interviews with W. G. Sebald. I'm taken with the way he discusses his writing methods. The structure of his novels are singular, and I feel close to his approach, that mixture of fact and fiction. His use of photography is wonderful—each photograph may or may not be an actual document. That hybrid is something I want for my paintings, using abstraction to make images that are factual and specific and at the same time fictive, almost mythological. Sebald describes how the most enjoyable part of his work is the research—reading texts and collecting images. And that is true for me as well. I like to stockpile pictures for inspiration and motivation. That's all stress-free and entertaining. How that source material gets utilized or becomes part of a painting is a difficult, not always pleasant process. The challenge is to describe another possible world.
When painting, I'm being pulled along like those strange attractors in chaos theory. The work makes demands and I respond until the work has a life of its own and feels somehow complete.
I work in the city, and have a studio in Columbia County. Over the past few years, I've been painting up there and concentrating on drawing here in town. The impetus to get a place in the country came from changes in the work itself. The space of the pictures was changing, and I wanted a new working space as well—literally, both inside and out. I was able to extend the floor plan of a New York loft and construct a building in the middle of an open field. The new studio has helped to fuel much of the energy and evolution of the recent work.
Terry Winters's show "Cricket Music, Tessellation Figures, & Notebook" is on view at the Matthew Marks Gallery through April 14.