The People Behind the People
This tour is the biggest the Magnetic Fields have ever done, in terms of the number of people traveling. In addition to the five members of the band and one eighteen-month-old baby, there are five members of the crew: me and my husband (merch, blog, Twitter), Jason Thompson (tour manager), Mike Yesenosky (sound), and the very lovely Julia Knapp (nanny). That brings the grand total to eleven people, and with all the suitcases, instruments, and gear, we are a small society all our own. Someone is always holding the leftover snacks from the previous night's greenroom, and someone is always holding assorted painkillers and stomach remedies. We are all getting very good at traversing airport terminals and hotel lobbies en masse, like a pack of nomads, or zombies, depending on the amount of sleep achieved the night before.
The Hotel Life
This tour is more grueling than the last few I've done with the Magnetic Fields, and we are rarely in one place longer than a day. This means less time for exploring the cities and more confused moments in the middle of the night when one wakes up and needs to pee. Stephin Merritt (vocals, harmonium, melodica, kazoo) told me a story about their last European tour, during which he was staying in a room so small that when he opened what he thought was the door to the bathroom in the middle of the night, he in fact had opened the door to the hallway and promptly locked himself out. In the last ten days, we've stayed in six different hotels, and so in addition to having no clue what day of the week it is, I also now have no clue where the bed is in relation to the door or what floor my room is on.
Of course, there are perks to staying in so many hotels. At heart, I am not a kleptomaniac, but when it comes to hotels, I can't help myself.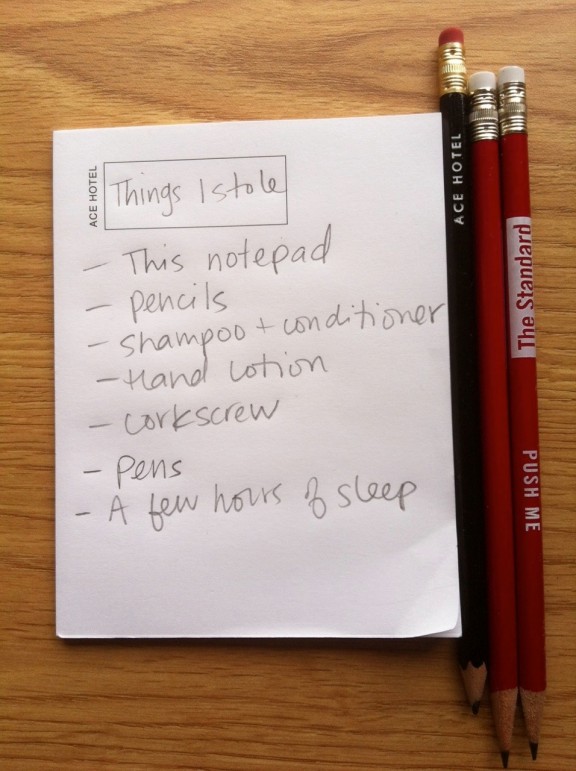 Not all hotel products are created equal. The best ones (the Standard Downtown, Los Angeles, room 706; the Ace Hotel, Portland, room 224) have better shampoo and conditioner than you have at home, and cute pencils. The latest trend in hotel shampoo is to have things that sound like cocktails/dishes at fusion restaurants (cardamom-lime, lavender-yuzu). The mediocre hotels have cheap pens that will burst open in the bottom of your purse, and it's best to just leave those where they are. I will say that the otherwise unremarkable Oakland Convention Center Marriott (room 1428) did provide a corkscrew at one A.M., for which I was very grateful. Some hotels have views to die for (Hotel Deca, Seattle, floor 12, room number already forgotten; Hotel Lincoln, Chicago, room 702), and make you think, just for a moment, that you would like to move somewhere with mountains/lakes nearby. Some hotels (the Standard, see above) have built-in barber shops, where I got to sit and listen to my husband talk about the tour while he got a trim. This is probably also where I should point out that my husband is in charge of keeping track of everything—money, ordering, merch counts—while I am only in charge of remembering peoples' names, accepting their presents for the band, and doing our tour blog. I am a very lucky woman.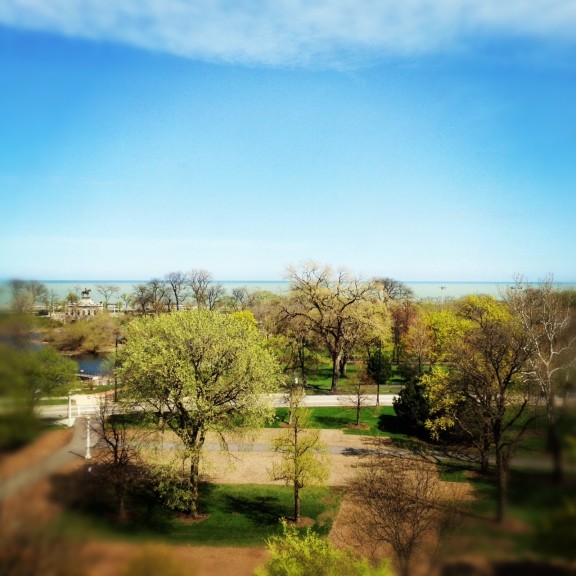 The Tourganizer Glossary
In addition to the endless games of Scrabble/Words with Friends (some of Stephin's latest high-scoring words: bedtime for eighty points, ibex for seventy-eight points, and brusque for seventy-five), one of my hobbies on tour is picking up new vocabulary words from Jason Thompson, our tourganizer. My three favorites are below, and you are welcome to use them at will. The photo below shows my husband and me smiling next to our slumbering guru.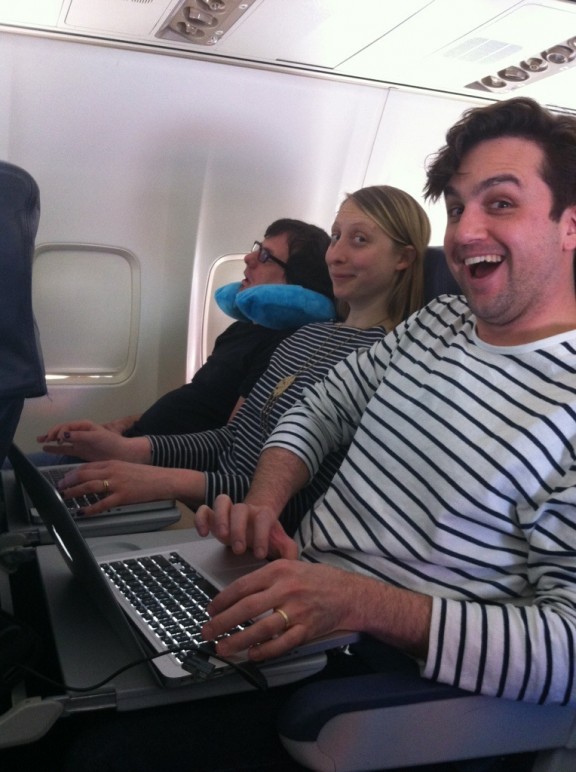 The Gypsy Fade
This is the name of Jason's new boat, where he is going to move when we get home from tour. The Gypsy fade is another name for what some call the Irish good-bye, and refers to the act of leaving a party without saying one's proper good-byes. I have always envied this ability in others and plan to begin Gypsy fading as soon as possible.
Bunk Doses
A synonym for bad luck. This phrase comes from the parking lots at Grateful Dead shows; bunk doses are dud tabs of acid. I am not implying that Jason has ever partaken in this particular activity, merely that he knows and uses the phrase. It has a delightfully nonsense sound to it, and I think it would make an excellent name for a racehorse. A slow racehorse.
Ass Pass
Some good old-fashioned tour lingo! An ass pass is what skeezy roadies hand out to buxom young ladies who look like they would enjoy some quality time with one or more band members. I imagine this comes in handy when working for Mötley Crüe or Poison or maybe Justin Beiber, when Selena Gomez isn't around. The Magnetic Fields do not have ass passes.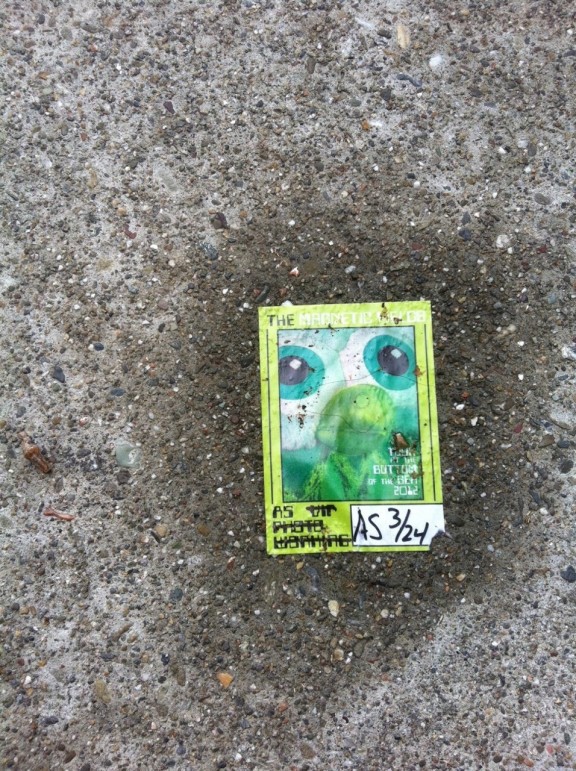 Exit Music
Mike Yesenosky, or YMike, is the band's sound engineer for most of this tour and has worked with the band even longer than I have. One of YMike's greatest joys is selecting the song that plays directly following the band's exit from the stage. In Portland, when the club was so frosty that we could see our breath, he played "Freezeframe" by the J. Geils Band. In Vancouver, he chose "Love and Marriage" by Frank Sinatra, because the band sang so many songs about the subject. At one show, the band kept pointing their fingers in the air to get one another's attention, à la John Travolta in Saturday Night Fever, and so he played the only disco-era Bee Gees song he had on his iPod, "Nights on Broadway." Imagining one's exit music is a lot like imaging the sound track to a movie, which I assume everyone else does as much as I do. When I go on my book tour in September, I would like to request the following songs to be played on the bookstore iPods: Stevie Nicks's "Edge of Seventeen," Chet Baker's "I Fall in Love Too Easily," and Bruce Springsteen's "Tenth Avenue Freeze Out."
The In-House Crew
Of course, bands don't arrive to empty theaters. Each one has a large staff, often gruff-looking young men dressed all in black with things attached to their belts, and elaborate facial hair. They all have excellent stories about the bands who have come through, as well as other public figures. They tell us where to eat and drink, how to get to the dressing rooms from the front of the house, help us carry heavy boxes, and smile at us affectionately, because we're all in it together. Without these production, security, sound and lighting people, bartenders, coat-checkers and ticket-takers, our job would be downright lonely. Three cheers for the hard-working staffs of all the cities we've played so far, and all the cities still to come.
Emma Straub is the author of the short-story collection Other People We Married. Follow her on Twitter @emmastraub.