I've worked for the band the Magnetic Fields for the past ten years and have sold their merchandise on every tour since they released i, in 2004. Their latest tour, for their new record, Love at the Bottom of the Sea, began last week, and, as is my wont, I've been taking notes. After a warm and fuzzy show in Hudson, New York, the first completely positive experience in Philadelphia in recent memory, and a very quick trip to Minehead, England, for All Tomorrow's Parties, the Magnetic Fields took the Tour at the Bottom of the Sea to Austin, Texas, for their first-ever appearance at South by Southwest, the juggernaut music festival that turns the entire city into a beer-and-taco-stained pair of jeggings. Half the band and crew flew in from New York, and the other half from Boston, meeting up in the Dallas-Fort Worth airport for the puddle jumper to Austin. We shared the plane with several members of the E Street Band, which made Sam Davol (cello) quiver with excitement. When we landed, the steamy Texas air relaxing our synapses, Sam asked E Street violinist Soozie Tyrell for her autograph, and I made a proclamation: in Austin, I was going to find a) Bruce Springsteen or b) Timmy Riggins, my very favorite fictional character on Friday Night Lights, played by heartthrob and Austin resident Taylor Kitsch. I find that wishes are more likely to come true when spoken aloud.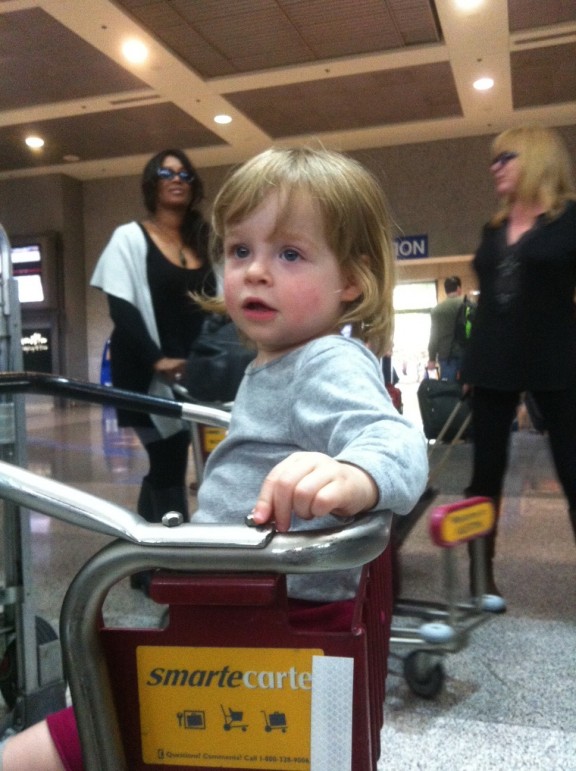 The Magnetic Fields Like Words
Touring is almost all downtime. On show days, the band and crew arrive at the venue for a few hours in the afternoon and then scurry off until shortly before doors open. That leaves many hours in the day, most of which are filled with endless games of Words with Friends. Stephin Merritt (vocals, harmonium, melodica, kazoo) and I play (with each other and with people not sitting two feet away, such as my mother, who beats us both) nonstop, and I have yet to lose a game by less than one hundred points. Here are a few of Stephin's highest-scoring words of the last few games: ax/xi/di (53 points), swindle/eyes (93 points). Here are some of my lowest-scoring words during the same period: roe (4 points), ag (5 points).
The others aren't always interested in playing iPhone faux-Scrabble with us, but everyone brought along something to read. John Woo (guitar) is reading Michael Ondaatje's Divisadero, and Sam just finished Steven Kurutz's Like a Rolling Stone: The Strange Life of a Tribute Band, about Rolling Stones' tribute band Sticky Fingers. Claudia Gonson (piano, vocals, management) was with her seventeen-month-old daughter and read We're Going on a Bear Hunt aloud several times. Stephin is reading Ed Sanders's memoir, Fug You, on his Nook. Shirley Simms (vocals, ukulele) is reading some Lovecraft stories and listening to Shane Nicholson. Michael Fusco (merch, husband) is reading Gabrielle Hamilton's Blood, Bones, and Butter. Jason Thompson (tourganizer, guru) is reading Coastal Cruising Under Power, a book about boat operation and maintenance. This is why he is the guru.
The Magnetic Fields Like Tacos
One of my favorite parts of going on tour is foraging for excellent local cuisine. This is not hard to do in Austin, where tacos grow on trees and are available on every street corner. The show the band played today, an NPR showcase, was early, and so the load-in and sound check was just after breakfast. Instead of eating at the hotel, Mike and I sourced a breakfast taco near the venue, the Parish, and came up with Jo's, a few blocks away. We wandered over while the band was setting up the gear and inhaled our potato-egg-and-cheese tacos. Claudia was so envious that she convinced Mike to turn around and escort her back, so that she could have one, too. While waiting to order, Claudia poked Mike in the arm to point out a man ahead of them in line who was carrying his iPad and iPhone in a tidy little stack. Mike recognized the man's face peeking out from under his baseball hat and identified him as none other than my heartthrob, Taylor Kitsch. Mike called me three seconds later, and I told him that I would divorce him if he didn't get a photograph. Below, my husband (right) and Taylor (left). My broken heart (not pictured) is back at the venue playing Words with Friends.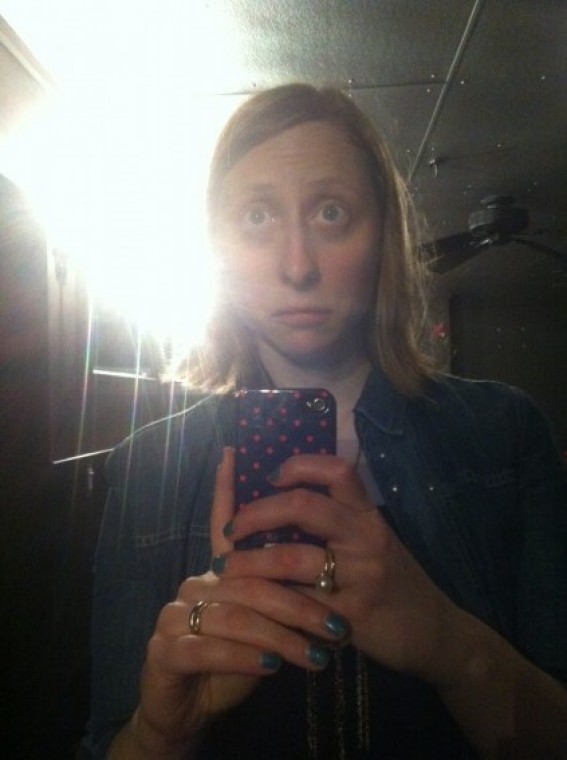 The Magnetic Fields Play Music
Ah! I almost forgot why we were here. The NPR showcase was an unusual show for the band—Shirley lost her voice and was rendered completely mute, able to communicate only via her iPhone notepad.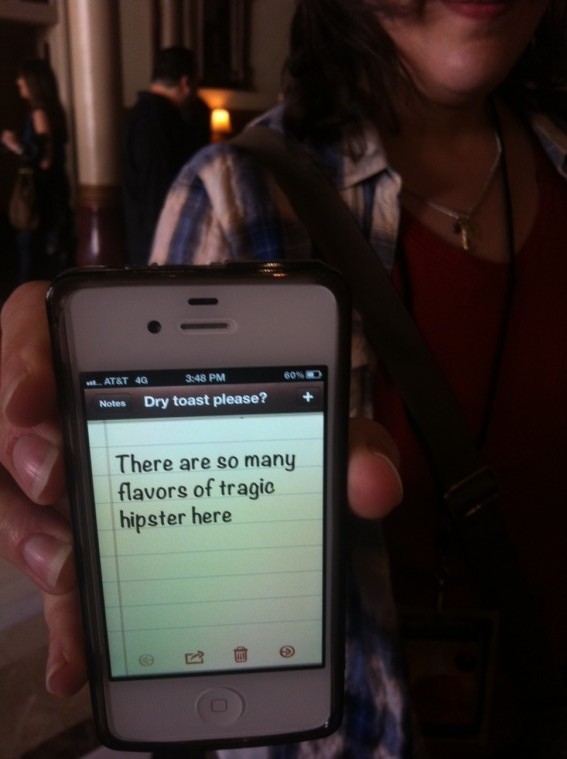 Stephin and Claudia split Shirley's singing duties, and it was fun to hear their voices on songs we usually hear Shirley sing, though of course we missed her signature twang. I say "twang" because Shirley was Loretta Lynn in a previous life, and we are very lucky to have her. The crowd sang along and clapped more softly when Stephin asked them to.
After the show, we snuck up to the roof of the Omni Hotel for a pool party thrown by the band's booking agent, Mr. Erik Selz, who wore a bathing suit but did not actually submerge himself in the pool while we were present. Earlier in the day, Erik's colleague Ethan had won a lottery and had been awarded a pink wristband that would grant him admission to Bruce Springsteen's concert at Austin City Limits that evening. This photo of Ethan's wristband would prove to be the closest we came to seeing Bruce in the flesh, but I suppose one out of two ain't bad. Tomorrow, we fly to Vancouver, where no one will be wearing bathing-suits.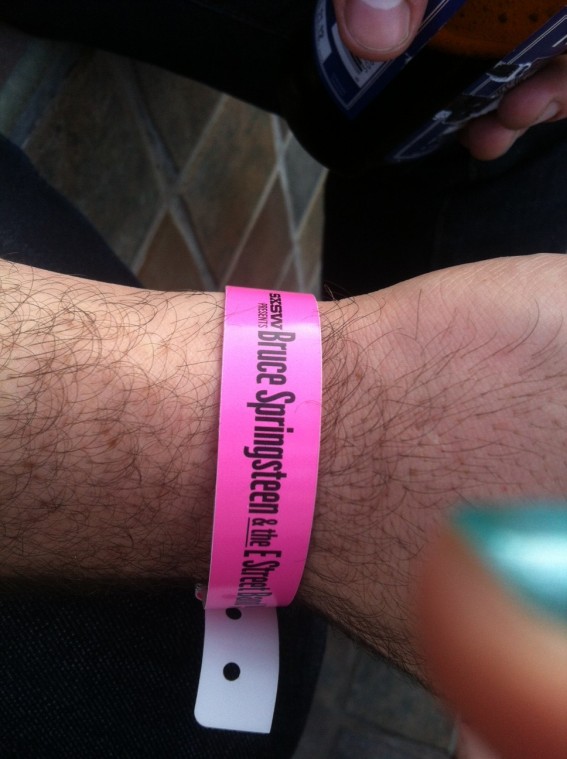 Emma Straub is the author of the short-story collection Other People We Married and will send another missive from the road next week.