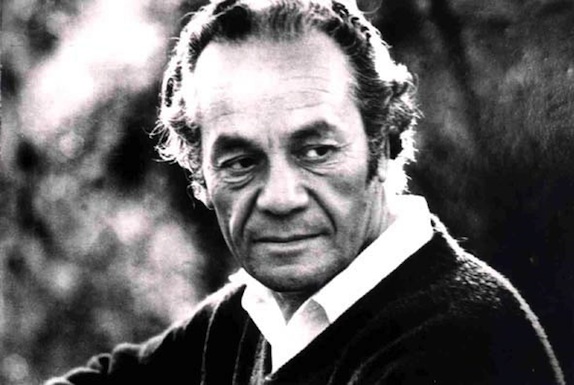 Argentinian journalist Leila Guerriero wrote this article, translated by Sarah Foster, based on her interview with Chilean poet Nicanor Parra at his home on the coast of Chile. It was published in the Spanish newspaper El País after Parra was awarded the Cervantes Prize last December. The prize, given by Spain's Ministry of Culture, is the most prestigious literary award in the Spanish-speaking world. Parra's poem "Defense of Violeta Parra" appeared in our two-hundredth issue, on newsstands now.

Reaching the house where Nicanor Parra lives, on Lincoln Street in Las Cruces, a coastal town two hundred kilometers from Santiago de Chile, is easy. The hard part is reaching him.
Nicanor Parra Oiundo de San Fabian de Alico is the first-born son out of a total of eight children brought into the world by Nicanor Parra, a high school teacher, and Clara Sandoval. He was born in 1914, was twenty-five during World War II, sixty-six when John Lennon was shot, and eighty-seven when the planes hit the towers. Last September, he turned ninety-seven. Some people don't even know he's still alive.
Las Cruces is a town with two thousand inhabitants, shielded from the Pacific Ocean by a bay that embraces several towns: Cartagena, El Tabo. Parra's house is on a cliff, overlooking the sea. In the garden, a staircase comes down to the front door, where local punks have painted graffiti so that no one will dare touch the house; it says, "Antipoetry." In the foyer, he has written the names and telephone numbers of his children.
Nicanor Parra's hair is white. He has a long beard and no wrinkles, only furrows in a face that seems to be made of earth. His hands are tanned, no spots or creases, like two roots rinsed in water. Lying on a table is the second volume of his complete works, Obras completas y algo (1975–2006). In its preface, Harold Bloom writes, "I firmly believe that, if the most powerful poet produced by the New World until now is still Walt Whitman, Parra joins him as an essential poet in our Twilight Lands." At the end of the eighties, when Parra was still living in Santiago, he stopped giving interviews, and, although there have always been exceptions, he often objects to direct questions in unexpected ways, so that a conversation with him is subject to uncertain diversions, into topics that he repeats and brings up for whatever reason: his grandchildren, the Laws of Manu, the Tao Te Ching, Neruda.
Sitting on a low stool covered by a wool blanket, he's wearing a jean shirt, a beige sweater with several holes, corduroy pants. Behind him, a glass door separates the living room from a balcony with two chairs and, beyond, a backyard full of shrubs and then the Pacific Ocean. He tells me, of his grandson Tololo, "Once the director of his school called an urgent meeting with his mother because they had called his name for attendance and little Tololo didn't answer. So I tell him, 'Listen, buddy, why didn't you answer when the teacher called your name?' 'I can't because my name isn't Cristobal anymore. Now my name is Hamlet.' Since then, I gave up literature and now I spend all my time writing down what children say."
It may sound like a joke, but it's not: Parra writes down things he hears from his grandchildren or from Rosita Avendano, the woman who cleans his house, or from random people he sees walking around, and then he transforms them: "Later they wanted to send me to the school / Where the sick children were / But I didn't put up with them / Because I'm no kind of sick girl / I hate to say it / But I'm just not a sick girl," he writes in "Rosita Avendano."
Parra writes with a plain ballpoint pen in plain notebooks, he takes massive doses of ascorbic acid, he always eats the same things: soups, cazuelas, arrollados. He has been nominated several times for the Nobel Prize and every year for the Cervantes, before winning on December 1, 2011. A while ago they asked him to film a commercial for milk. Shakira was also part of the project, so he told them they should pay him however much they paid her. They say he was paid thirty thousand dollars for a half-minute appearance, so now he tells everyone that he charges one thousand per second. He has two houses in Santiago, one in Las Cruces, and one on Isla Negra. Nobody knows what he does with the houses he doesn't live in.
Parra's childhood was full of hardships and relocations, until, at age sixteen or seventeen, he left alone for Santiago. With the help of a scholarship from the League of Poor Students, he was able to finish his studies at a prestigious institution. He had good grades in the humanities subjects but not in the hard sciences, so he studied math and physics at the Universidad de Chile "to show those bastards that they didn't know anything about mathematics." In 1938, while making a living as a teacher, he published Songbook Without a Name. In 1943, he traveled to Providence, Rhode Island, to study advanced mechanics at Brown University; in 1949, he went to England to study cosmology at Oxford; and in 1951, he went back to teach math and physics at the Universidad de Chile.
Then, in 1949, he published Poems and Antipoems, revolutionizing Latin American poetry with deceptively simple language: "Neither very bright nor a total fool / I was what I was: a mix / of oil and vinegar for eating / A sausage of angel and beast!" It had a prologue from Neruda, with whom Parra would come to have a rocky relationship, in part because his poems began to be read as a negative reaction to Neruda's. This was followed by a very productive period; he published four volumes between 1958 and 1967 and won the Chilean National Literature Prize in 1969.
In 1970, Parra was fifty-five, pro-Castro, and on the jury for the Cuban Casa de las Americas Prize when he attended a writers' meeting in Washington and, along with all the other guests, visited the White House. They were invited, unexpectedly, to have tea with President Nixon's wife. But drinking from Mrs. Nixon's teacup in the thick of the Vietnam War was enough to finish Parra: Casa de las Americas disqualified him from being part of the jury and showered him with insults.
Parra's political position had come under suspicion, and it wasn't long before his literary works caught up. In 1972, he published Artifacts, a series of sayings, accompanied by drawings, that were alternately irreverent, blasphemous, and politically incorrect: "The right and the left united will never be defeated." The kindest reviewers said that it was not poetry, the harshest critics said it was the best propaganda the fascists could have gotten their hands on. In 1977, during the Pinochet dictatorship, he published Sermons and Teachings of Christ of Elqu ("I'll bet my head / that nobody laughs like I do when the Philistines torture him") and Jokes to Confuse the Police ("If it appeared that he appeared, but only in the list of the disappeared"), but, like other poets who stayed in Chile during these years, he was judged with a certain suspicion for not opposing the military regime strongly enough. In 1985, he published another book, Hojas de Parra, and then entered twenty years of silence, broken only in 2004, when he published a translation of Shakespeare's King Lear, now considered the best in the Spanish language. "After we published King Lear," said Matia Rivas, the publisher who approached Parra about the translation, "he went into a university and there were millions of young people following him. He had turned into a rock star."
In 1940, Parra married Anita Troncoso, with whom he had three children, and in 1951 he married Inga Palmen. He had a son with Rosita Munoz—a previous housekeeper—and two more with Nury Tuca, who was thirty-three years his junior. In 1978, he met Ana Maria Molinare, a woman in her early thirties. When she left him, he wrote in order to get over her, ultimately producing a radioactive mantra, a poem called "The Imaginary Man": "The imaginary man / lives in an imaginary mansion, surrounded by imaginary trees / on the bank of an imaginary river." Three years later, Ana Maria Molinare committed suicide.
Since 1998 he has been—more or less—single. "What I really need / is a Maria Kodama / who can take care of my library […] with a young widow in the picture / […] the coffin looks rosecolored / even stomach pains / brought on by the Stockholm academics / disappear like magic," he wrote. In his old age, he has started to get a reputation for being eccentric. He buys clothes from a second-hand store in the Port of San Antonio, a rough neighborhood, but he gets along pretty well there, like everywhere else. A while ago, when some of his writing notebooks were stolen from his house, he found out that some local dealers had received them as a payment, so he went to look for them and they were returned with apologies.
His reluctance to publish is legendary. Even when Ediciones Universidad Diego Portales was publishing two more books—After Dinner Declaration (2006) and The Return of the Christ of Elqui (2007)—he took years to sign the contracts, months to work out satisfactory versions for publication. The process of putting together his complete works took almost a decade.
— Are you satisfied with your complete works?
— Surprised. I read those poems, and I don't feel like I was the person who wrote them. I think I never wrote anything because I have always just pulled things out of the air.
— It's pretty here, no?
—Yes, it would be nice to live here.
— More like, to die. Think about everything that's been done, and still they haven't figured out this one thing.
— Which thing?
— Death. They've figured out other things. But why don't they concentrate on that?
Article ©Leila Guerriero/EL PAÍS S.L. 2011.