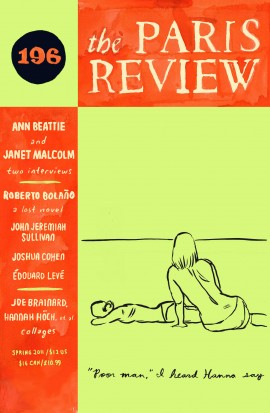 "Compassionate, disturbing, and deeply felt … tragic and beautiful." —NPR

"A scathing novel with a lot of exuberance to it, not unlike the man who wrote it." —The Economist

"Thoroughly, weirdly absorbing." —The New York Times
That's what the critics are saying about Roberto Bolaño's lost novel, The Third Reich, which we serialized with original illustrations by Leanne Shapton. Over the course of four issues, we followed the adventures of Udo Berger, a young German who falls into louche company in an insalubrious resort on the Costa Brava—but of course, as a reader of The Paris Review, you know all about it.
But maybe you missed an installment. Maybe you left it on the beach. Maybe your sinister uncle stole a copy from your apartment.
Maybe you never subscribed at all.
Well, kids, you're in luck.
Subscribe now* to The Paris Review, and receive all four installments—the entire Third Reich—plus three more issues to come. All for only $50.
That's right: you'll receive seven issues, 196 through 202, and catch up on our most popular installments to date.
Plus: interviews with Janet Malcolm, William Gibson, Nicholson Baker, and Jeffrey Eugenides; new work by Geoff Dyer, Jonathan Lethem, Frederick Seidel, and John Jeremiah Sullivan; and much more.
But don't delay! This offer only lasts through February 7.
*Offer good for U.S. subscriptions only.