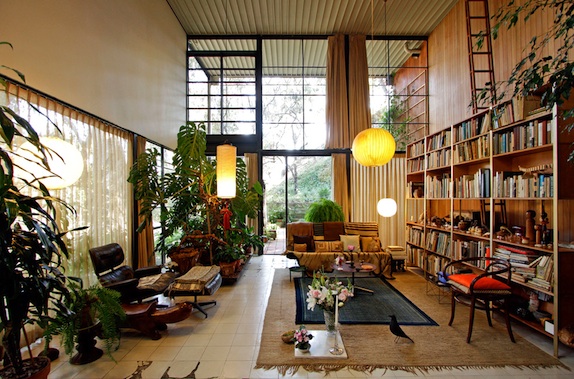 If you've been a tourist in Russia you've probably visited a "house museum," one of those great, daft halls of pedantry that strive to preserve the former homes of Russian writers and other luminaries exactly as the luftmenschen kept them. Fidelity to the writer's own domestic arrangement is broken only by the addition of the writer's death mask, typically hanging on a wall. So, for instance, the poet Aleksandr Blok's white ceramic statuette of a dachshund still sits on his desk next to his inkwell. The docents who give tours of Blok's St. Petersburg apartment emphasize his interest in the latest furniture designs and interior arrangements of the 1910s. But one has to work to see the novelty: Blok's apartment, like Bloomsbury rooms, no longer strikes viewers as "modern" at first glance.
Not so with the Charles and Ray Eames living room, a full-scale steel-and-glass replica of which is now on view at the Los Angeles County Museum of Art as a part of their giant survey of California design, "California Design 1930–1965: Living in a Modern Way." ("California Modern" is itself part of the multi-institution California art exhibition called "Pacific Standard Time"). The museum has reassembled the contents of the designer couple's living room precisely as they kept it circa 1958, down to the arrangement of sculptures and shells and little vases of fresh flowers and piles of woolen blankets and magazines. Though its contents are old, the room somehow looks new: mid-century modern is still what we think of as modern.
It's a room of browns and tans and yellows and russets. The pale wood paneling on the far wall stretches up seventeen feet to the ceiling. In spite of the Eames's liberal experiments with man-made materials in the furniture they designed, their living room overwhelmingly evokes things organic. The feeling is of a cabin in the forest. For a second I think I smell evergreens.
Earth tones. Here, the meaning of the phrase is obvious: colors evoking things that originate in the earth. I marveled that this term also applied to the palette of browns and beiges that I remember from childhood—the dark brown of a faux leather sofa, the yellowish tan of a particle-board kitchen table. Dun-colored nylon wall-to-wall carpeting, gray vinyl siding. And what do you call the once-ubiquitous color of computer and printer casings?  Dirty silly putty? These were the colors of the suburbs where I grew up in the eighties, my first earth tones, hopelessly estranged from their referents in nature.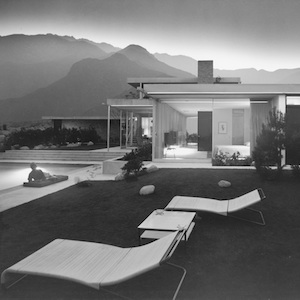 It's not that the things I grew up with were especially cheap, but the economic law of suburban decor seemed to be precisely the opposite of what the LACMA-featured California designers had once hoped for: you could spend piles of money at the local furniture stores and still come home with only dull-colored, unpleasantly textured, ill-proportioned, and indifferently designed goods.
"California Modern" makes no claims that the Eames House is itself demotic, but the exhibition literature emphasizes that designers aspired to make beautiful furnishings and houses widely available. "Middle class utopias," as one of the plaques calls them, were imagined by some of the more adventurous real estate developers. Joseph Eichler hired progressive architects to design modern, single-family houses in what became known as the California style: open plan, glass walled, single story, lavish of patio. In his biography of Steve Jobs, Walter Isaacson writes that one of Jobs's early aesthetic influences was the Eichler house in which he spent some of his childhood years.
Wall text explains the conditions that led to California's mid-century artistic ferment: a population boom; new residents' needs for houses and goods; the presence of European émigré designers and architects trained in the Bauhaus and International styles, and native designers who came out of the local Arts and Crafts movement and shaped the curricula in L.A. art schools; the designers' interest in new technologies and materials (fiberglass, molded plywood, urethane foam, plastics) and their willingness to work with industrial producers to make affordable versions of their designs.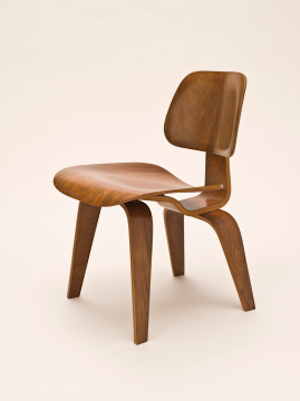 If you have a modern house, you also need whole suites of modern furniture, modern dishes, and a modern dollhouse for your modern children. Tea sets, planters, bowls, bathing suits, desks, sofas, toys, jewelry—you can see all of these on display. Book-jacket covers that Alvin Lustig designed for New Directions in the forties. A Polaroid camera designed in 1965 by Henry Dreyfuss. Some objects on view were made by the millions in factories, others spun on a pottery wheel, once. 
With its emphasis on the single-family house, the California design movement was essentially a movement about what life in the suburbs should look like. It drew national and international publicity. The State Department sent design shows to Europe as part of its cold war campaign to show that our side was having more fun than their side. In 1959 the American National Exhibition went to Moscow. LACMA has a photograph of a Soviet woman trying out a fiberglass Eames chair.
In spite of a zillion boosterish photo spreads in House and Garden, and in spite of its broader influences on design, the modern style remained a minority taste in the U.S. throughout the period covered by the exhibition. This perhaps explains why it seemed to have left such a light footprint in Huntingdon Valley, Pennsylvania, circa 1985. My family had emigrated from the Soviet Union in 1980 and reveled in property ownership, privacy from neighbors, labor-saving appliances, and the plenitude of food and consumer goods. Yet the furniture we sat in was not much different in appearance, no more or less ingenious in design, than what we had in Leningrad.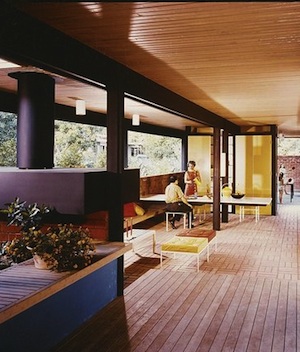 Now mid-century modern seems to be everywhere. Its original designs are lawfully reproduced and sold by Design Within Reach and Hive; its vocabulary is echoed in the less expensive furniture of CB2, not to mention IKEA. I won't dwell on Mad Men. But maybe I'm overestimating mid-century modern's reach because I live near the Silver Lake neighborhood of Los Angeles, which is proud of its large share of modern residential architecture (Richard Neutra had his studio there) and is especially saturated in the movement's artifacts and influence. This is documented in the confoundingly seductive photo book Bohemian Modern: Living in Silver Lake, by local architect Barbara Bestor, about the houses belonging to the neighborhood's artists and designers and design nerds and other interested parties. LACMA's "California Modern" may be the first large-scale survey of mid-century California design, but when you've driven from Silver Lake to LACMA to find yourself staring at an Eames chair, you could swear you've seen this installation somewhere before.
A familiar object or style poses its own challenge to the visitor. We have learned how to look at mid-century modern. We have learned to like it and want it. Now going to see "California Modern" is like going to see a Monet: we have to learn how to look again.
Elaine Blair is a writer living in Los Angeles.