Silvano and I met about ten years ago through mutual friends. I don't remember the exact shirt he was wearing at the time, but I know it had bright colors and elaborate embroidery. (Later, I learned it came from Alpana Bawa.) Also, he was wearing one dangling, bauble-y earring. Possibly it included a feather. This was at a party where most people worked in publishing, which is to say, he stood apart.
Other details I have filed away about Silvano include that in the house he shares with his husband, Craig, there is a shrine to Anna Magnani and a poster from his 1977 campaign for supervisor of Board 5 in San Francisco. In the poster, he wears a one-shouldered top and tights and is beaming, his long arms flung skyward, a look inspired by a Patti Labelle album cover. He was running as the "dada alternative" to Harvey Milk. Also, in Robert Gluck's novel Jack the Modernist, the narrator goes out to a performance piece in which Silvano appears as "Madame Chiang-Ch'ing." More recently he got his associate's degree in accessories at FIT.
I knew all this about Silvano, but I didn't have any idea how much Elizabeth Taylor meant to him. Not even when I met him at his home Sunday morning and he came to the door wearing a purple felt fedora, an iridescent purple mandarin-collared jacket, and purple suede boots. We were on our way to a preview of the Elizabeth Taylor collection being auctioned off this week.
There was already a line down the block when we got to Christie's on Forty-eighth Street. Silvano's friends Jen and Russell had joined us. We handed over our tickets, checked our coats, and were funneled into a low-lit hallway. Everyone stopped and peered into the room full of Taylor's jewelry boxes, not realizing yet just how much there would be to see, that this was the least of it.
The hall opened onto an open foyer, an altar of sorts, with three mannequins, the middle one suspended mid-air, arms outstretched in a kimono from the 1968 film Boom! "E.T. in ascension," murmured Russell. Inside, people kept their voices low, deferential. We had come to pay our respects, almost like a wake. Except we weren't there to gaze upon the deceased, but rather what she wore, like lot 319, a short tunic of linked alloy discs, "possibly Paco Rabanne," estimated ($1000–1500).
"The grandma hot pants," Russell said fondly, like he had come upon an old friend. "She wore them to celebrate becoming a grandma at thirty-nine."
Here's how they look at Christie's: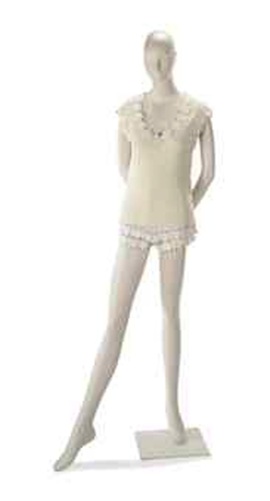 And here's how they looked on Liz: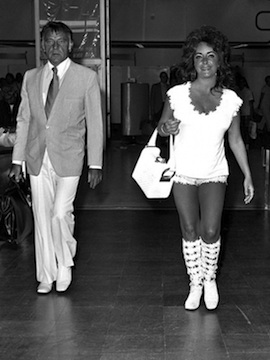 Apparently she hated the nickname Liz. She also hated BUtterfield 8, hated the part of Gloria Wandrous, and believed, as did many others, that she'd gotten the Oscar in 1961 simply because she hadn't died when she got double pneumonia that time in London and the tabloids were camped at the hospital, waiting to see whether she was going to come out of the coma or not.
The next room was caftans as far as the eye could see. Red and orange chiffon. Cotton ikat. Bottle-green velvet. "They cover a multitude of sins," Silvano said, gazing upon the phalanx of mannequins arranged like Rockettes, each with a hand jutting sideways. "Plus they were comfortable."
Actually, it wasn't just caftans: there were Oscar De La Renta embroidered cowboy boots, a burgundy velvet tunic with an armhole that opened like a trumpet. Next came the Vollbracht display, then Halston, Chanel, Dior, a suite of Louis Vuitton luggage with the famous purple MINE! tags. We lingered at Versace, marveling at lot 467, a strapless evening gown of emerald-green silk, "the bust embellished with blood red and white rhinestone embroidery." Or circles of bling to go around what Richard Burton once called her "apocalyptic breasts." ("Why, I thought you'd get all excited … heave and pant and come running at me, your melons bobbling," George sneers in Who's Afraid of Virginia Woolf?) Oddly, the mannequin was posed demurely, hands up, like she was hoping you wouldn't notice.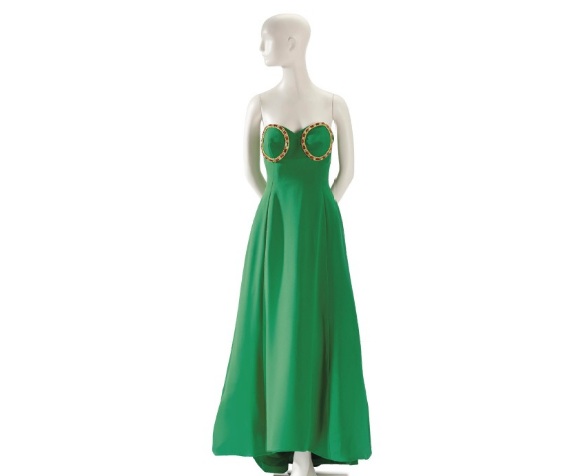 Of all the roles, I love Martha, in Woolf, most. In a way, it's a hedge, because Martha contains Taylor's multitudes. She couldn't be who she is—blowsy, boozy, vulgar—if she hadn't been beautiful, hadn't once been Maggie the Cat, slinking about in that slip in Cat on a Hot Tin Roof, hadn't been the girl Montgomery Clift kills Shelley Winter for in A Place in the Sun.
Some say that she was a great movie star but a mediocre actress. Richard Burton, however, said she taught him how to act for the camera. "What I try to do is to give the maximum emotional effect with the minimum of visual movement," she once explained, and that seems as astute a theory of screen acting as any other. For Whose Afraid of Virginia Woolf?, she gained twenty-five pounds, wore a gray wig and extra padding. She called it her "Martha suit" and sadly it was not on display.
A Christie's employee told us that Liz's shoe size fluctuated between eight and ten, "depending on what time it was in her life." We also learned she was five foot one or five foot two. "I think they're a bit much," Silvano said, pointing to a pair of shoes on the floor. "The metal caps. I would do metallic leather." After a closet of handbags it was paintings: Utrillo, Pissarro, Van Gogh, Renoir, Hals. "I just realized it's in pounds not dollars," Russell said. £350,000–450,000 for the Degas.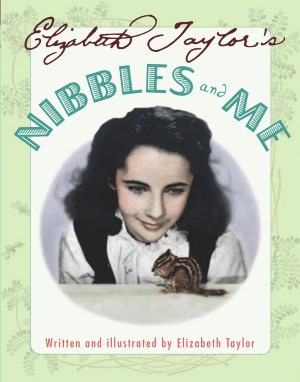 Downstairs, the movie memorabilia. Director chairs and costumes, purple leather-bound scripts, gifts from Eddie Fisher. A first edition of Nibbles and Me, the book Taylor wrote when she was fourteen about her pet chipmunk. The Oscars weren't for sale but for atmosphere. People didn't linger long, though. They were there for the jewels.
That's when the line slowed. A crowd gathered around the Taj Mahal, the Indian diamond-and-jade pendant on a ruby and gold chain, a gift from Richard Burton on her fortieth birthday. Another bottleneck at the sapphire and diamond "Trombino" ring.
A form of collective organizing emerged. One person would stand by the wall text and read off the lots and descriptions, while the rest bent over the displays, murmuring and giddy.
"I wonder who will buy that diamond."
"Which one?"
"The big one."
"Which big one?"
And that was before we'd even gotten to the Krupp, 33.19-carat, Asscher-cut. It's a Type IIa diamond, the most chemically pure, and has exceptional optical transparency. "I'm not dressed," she'd say until it was on her finger. The Christie's estimate was $2,500,0000–3,500,000. It sold Tuesday night for $8,818,500. "It's all going to end up in safe-deposit boxes in Switzerland," Russell said. There were cognac diamonds from Michael Jackson, rubies from Mike Todd, and so much more from Richard Burton, including the rings he gave her for winning a game of Ping-Pong in 1974. I'd say the effect is restrained, an unexpected word for Liz, except that there are three of them, so we don't have to call her names like modest or discreet. (Sold for $134,500.)
Taylor and Burton married the first time in 1964, divorced in 1974, then remarried sixteen months later, this time in Botswana. It lasted until 1976. The first dress was a burst of Irene Sharaff sunshine. The second, a "patchwork silk bodice and floating pastel chiffon ombré sleeves and skirts, with long, beaded, feather trimmed streamers." A garment of its time, let's say.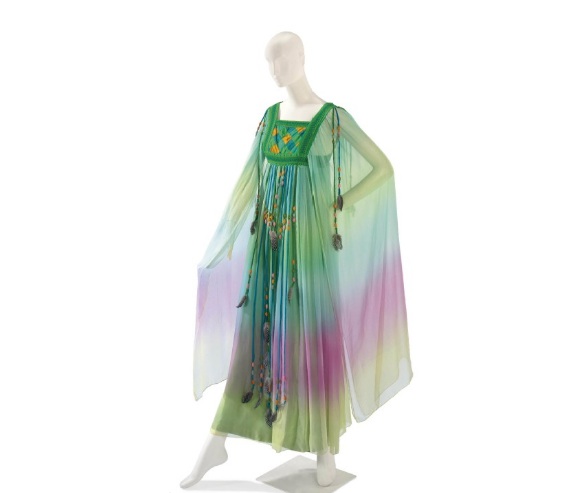 In the last room was the Tiziani black velvet cape with silver encrusted scorpions that she wore to Princess Grace's fortieth birthday party. And finally, La Peregrina, hanging from a necklace of diamonds and rubies, another gift from Burton. The provenance of the cultured pear-shaped pearl starts in Spain and goes like this:
Philip II (1582–98)
Philip III (1598–1621)
Philip IV (1621–65)
Charles II (1665–1700)
Philip V (1700–46)
Fernando VI (1746–59)
Charles III (1759–78)
Carlos IV (1778–1808)
Joseph Bonaparte, of France (1808–ca. 1844)
Prince Louis Napoleon, of France (ca. 1844–ca. 1848)
Duke and Duchess of Abercorn (ca. 1848–1914)
Elizabeth Taylor (1969–2011)
Its new owner paid $11,843,500 for it.
"It's so vulgar," Silvano said the next day when I came over to look through the set of catalogues he'd bought. There are five plus the index. He was looking at lot 35. But the way Silvano said "vulgar" was different from the way people usually say it. His voice held alarm, titillation, delight, and awe.
Silvano said he came to Elizabeth Taylor first through the movie magazines when he was seven or eight. "She did whatever she wanted and she didn't care." A woman with appetite and without apology. The jewels, the hamburgers, the men. She was somehow both self-abandoning and self-sufficient (her perfume, Passion, grossed $70 million in a year).
We were in Brooklyn at his kitchen table, and it was weirdly misty out that day. You could hear fog horns out on the water, almost like San Francisco, where Silvano told me he used to see a drag act called the Two-Headed Martha—two drag queens in one dress. "One would be smoking and the other would be gnawing on a chicken leg," Silvano said, and I felt like a kid getting the dada alternative to a bedtime story.
"How did I miss that?" Silvano was forlorn. He had come upon the page for the diamond, sapphire, and emerald brooch that Richard Burton gave her on the premiere of The Night of the Iguana in 1964. Silvano sighed. "Now I'm going to have to go back."
Liz Brown is a writer in Brooklyn.