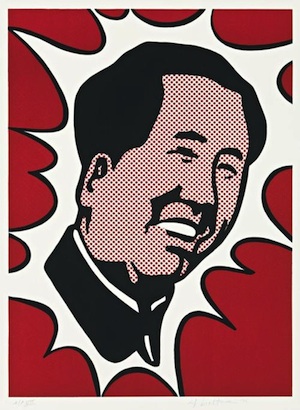 On a recent Sunday evening, in a lounge at the Jane Hotel in Manhattan, the writers Kurt Andersen and Anne Kreamer enacted before an audience the final pages of The Adventures of Mao on the Long March, a 1971 work of literary pastiche by the author Frederic Tuten. Andersen played the role of Chairman Mao, sitting for a fictitious interview. "Have you seen Godard's La Chinoise?" asked Kreamer, playing his interlocutor. "Have you seen Dali's Mao/Marilyn?" "Chairman Mao, perhaps I might ask your opinion on birth control." Tuten himself, a septuagenarian in a black blazer, sat at the front of the room, beaming with happiness at the event held in his honor.
If you have not heard of The Adventures of Mao, you would not have been out of place at its marathon reading. Indeed, some of those who gathered to participate in the reading—a roster including Lydia Davis, Wallace Shawn, Walter Mosley, John Guare, and Edmund White—admitted to having had only a glancing familiarity with the novel or its author. Yet The Adventures of Mao, about, as the title suggests, the Chinese dictator's rise to power, has always had its advocates; Susan Sontag called it "soda pop, a cold towel, or a shady spot under a tree for culture-clogged footsoldiers on the American long march." In 1972, the book achieved that pinnacle of literary attention, the John Updike New Yorker review. Analyzing the novel's five distinct modes—textbooklike history of the Long March; ample direct quotation from the likes of Hawthorne, Melville, and Fenimore Cooper; passages of literary parody of authors such as Kerouac and Malamud; "normal novelistic substance—imaginary encounters and conversations"; and, finally, that extended interview with Chairman Mao—Updike declared the resulting sum "an intelligent, taut, and entertaining change from conventional novels."
Despite Mao's champions over the decades—New Directions embalmed it as one of its classics in 2005—the event at the Jane Hotel was in some ways an unlikely one. It had all begun in the Strand Bookstore, where three men in their twenties stumbled upon the book and brought it to their book club. JW McCormack, an editor at Conjunctions, was one of them. "I so enjoyed reading Mao aloud," he told me. "It was a valentine to everything [Tuten] loved and everything he hated." Soon McCormack and his friends hatched a plan to stage a marathon reading. They reached out to friends at The New Inquiry, an online literary magazine; Bomb, ForYourArt, and Google Places would eventually come aboard as cohosts for the evening, which also celebrated New Directions's seventy-fifth year. McCormack and his friends also approached Tuten himself. "They took me to lunch, which was very charming of them," Tuten recalled. "I was very surprised that people I didn't know, had never heard of, out of the blue, came to me." Flattered, he soon turned to his Rolodex, securing many of the evening's cast of stars.
The marathon, featuring some seventy readers, was the ideal form because of "the polyphonic qualities of the text," said Mónica de la Torre, senior editor of Bomb. Those qualities also made the work newly resonant in the age of the crowdsourced encyclopedia article and the DJ's mash-up. "It's amazing how cyclical all this is," the writer Francisco Goldman said, adding that he saw in Tuten and other experimental fiction writers "a permanent strain of literature that is always reinventing itself and that never achieves its ultimate object, which is to destroy literature." He was reminded of César Aira and Jorge Luis Borges, each of whom Goldman said was an author "determined to lay waste to all literature and leave only himself standing."
The theme of laying waste, of ruins, is one common to the collage text: "These fragments I have shored against my ruins," wrote Eliot. And there is, arguably, a kind of violence in all collage or parody: the theft of intellectual property, the indignity of being shorn of context.
But neither Tuten nor his admirers view The Adventures of Mao in this way. For all its hyperkinetic novelty, a reverence for elders pervades the novel: Updike wrote that the book's ideological fabric was "deliciously complicated by Mr. Tuten's heavy reliance, for authority in aesthetic matters, upon fusty old wizards like Hawthorne and Pater." Tuten told me it was important to him to always include quotation marks when lifting passages from other works, rendering the appropriation obvious; the New Directions edition includes endnote citations. Here was an ecstasy, not an agony, of influence, and several attendees cited Jonathan Lethem's celebrated 2007 Harper's collage-essay by that name. The Adventures of Mao "destroyed in the gentlest way possible," said McCormack. "If it's the ruins, he at least made sure they were well preserved."
Later, McCormack observed, Frederic had "a keen grasp of "the new's relationship with the old." I bore that in mind as I looked around the room, which I began to notice had an unusual distribution of ages. In violation of a bell curve, the old and the young were best represented here; my eye moved from Tuten's gray-haired friends to those who had yet to acquire their first wrinkle. Partly this was a function of the evening's hosts: the fresh-faced staffers of The New Inquiry were smirkingly profiled in last week's Times as "literary cubs," and none of them was over twenty-six. But their affection for Tuten's novel in turn may have been a function of their youth. The relationship between grandparent and grandchild is often less fraught than the filial bond.
Marathons are long; this one lasted around six hours. Someone in the audience quietly observed that the event was like Mao's Long March itself: grueling, occasionally tedious, with many lost along the way. By a little after 8 P.M., the room's faces often held some mixture of exhaustion, boredom, and determination. Yet near the bitter end, a few pages from the finish line, when Kurt Andersen bellowed, channeling Tuten's Mao, "Youth is never reactionary; youth is progressive in time and hence always in the avant-garde, hence never wrong in spirit, hence never to be satirized, especially in a culture in which the reactionary forces are in power and have the guns"—the audience erupted into cheers.
David Zax is a writer living in Brooklyn.