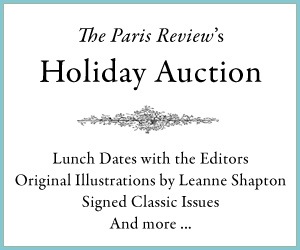 They say it's better to give than to receive, but by bidding in the Paris Review Auction, you can do both!
This year's auction features extraordinary feasts, luxurious excursions, rare first editions, and one-of-a-kind artwork, as well as book discussions with Paris Review editors, naming opportunities for novel characters, and much more. It's a chance to be a part of our rich history—and pamper yourself or someone special in the bargain.
And a holiday bonus: all proceeds support America's premiere literary magazine. (That's us, by the way.)
To view and bid on these and other exclusive items click here. Auction ends December 11.