This year The Paris Review has the perfect present for anyone you know—and that little something for yourself too!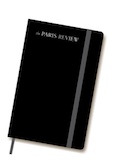 Beloved by writers and artists for more than a century, the iconic Moleskine notebook has paired up with The Paris Review for the ultimate stocking stuffer. Embossed with The Paris Review's logo and featuring a Dorothy Parker quote from her 1956 interview, it's already on the wish list of everyone at 62 White Street.

Kaweco, one of the world's oldest pen companies, created the Sport fountain pen in the 1920s for "ladies, officers and sportsmen," but we use our special Paris Review Sport pen for grocery lists. It's tiny and compact, but when uncapped, it's the perfect length for writing. Takes a standard cartridge.

We can't stop awwwing over these adorable onesies, made of 100% cotton and printed with a hand-written Paris Review logo. For slightly older friends, choose from toddler and youth tees in a range of vibrant colors.
Subscribe now, or give the gift of The Paris Review, to scoop up this season's savviest goodies!