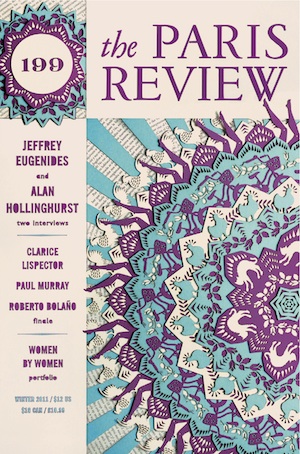 The Paris Review sends you holiday cheer—and our Winter issue! Naughty or nice, it's got something for everyone: a portfolio of women by women, curated by our art editor, Charlotte Strick; fiction by Clarice Lispector, Paul Murray, and Adam Wilson; the English-language debut of  French literary sensation Valérie Mréjen; and the conclusion of Roberto Bolaño's lost novel The Third Reich, with original illustrations by Leanne Shapton.
The Winter issue also contains long-awaited interviews with—
Jeffrey Eugenides:
I tell my students that when you write, you should pretend you're writing the best letter you ever wrote to the smartest friend you have. That way, you'll never dumb things down. You won't have to explain things that don't need explaining. You'll assume an intimacy and a natural shorthand, which is good because readers are smart and don't wish to be condescended to.
and Alan Hollinghurst:
I was very excited by the idea of telling truths that hadn't been told before and breaking down literary categories. Descriptions of gay sexual behavior had until then tended to be restricted to pornography, and the presence of gay lives in fiction had been scant. So I had the great fortune of being given this relatively unexplored territory.
Plus … poems by David Wagoner, Jonathan Galassi, Dorothea Lasky, Ange Mlinko, Gottfried Benn, and Rowan Ricardo Phillips.