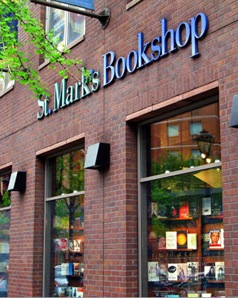 Yesterday, Lorin wrote about St. Mark's Bookshop—"where the staff knows how to spread the word about good writing, face to face, hand to hand"—and the importance of keeping independent booksellers like this one alive.
We meant every word of it, and to prove it, we're offering a special discount to St. Mark's patrons. Beginning today, when you buy a copy of our fall issue at St. Mark's, you'll receive a coupon good for 25% off a one-year subscription to The Paris Review, starting with our next issue (it's good for T-shirts, tote bags, and mugs, too).
It's our way of saying thank you for supporting this beloved East Village institution!