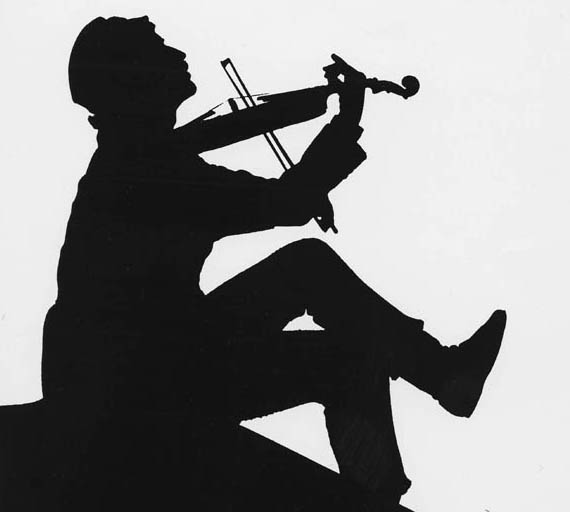 On a recent Friday evening I went to see the new documentary Sholem Aleichem: Laughing in the Darkness at a West Side theater that, on any given day, swings heavily Jewish and seriously elderly and on this occasion surpassed itself on both counts. The audience arrived early, settled slowly, talked loudly, and laughed at Yiddish jokes before they were translated, probably among the last people in the world able to do so. My own few words of the language—picked up in a class I briefly flirted with at the 92nd Street Y—were of little help.
That class was held only a few blocks from my grandparents' apartment, and each week, I'd go there afterward for a late dinner. They were glad to see me regularly—I wasn't, typically, on the Upper East Side—but the nature of the class made the dinners particularly meaningful. My grandfather would speak to me in Yiddish. I'd known it was his first language, of course, but he never spoke it normally, and it was surprising to see him slip into it as if eighty years hadn't elapsed.
My grandfather, who died earlier this year, was a librettist, which is to say he wrote the dialogue for musicals. He started in radio, worked in early TV, and in the fifties made the move to Broadway. Looking for new material in the early sixties, he rediscovered Sholem-Aleichem's tales of shtetl life and transformed them into an unlikely musical that became Fiddler on the Roof. (He had come to my sixth-grade class and told us about its inception—the difficulty of finding producers, the skeptics and naysayers, the creative team's unwavering commitment to the project—during our "Immigration" unit.) 
Grandpa Joe had never known the shtetl firsthand: his parents had moved to America a few years before he was born. Like many of his generation, he divided his youth between an old-world home and a real life of baseball, progressive politics, and English. His was perhaps the first generation for which Sholem-Aleichem's stories were not reminders but lessons.
Sholem Aleichem, born Solomon Naumovich Rabinovich in what's now Ukraine, is widely regarded as the father of Yiddish literature. As he himself expressed it, when he was coming of age in the late nineteenth century, good Jews wrote in Hebrew, while good writers used Russian; Yiddish was the lowly everyday vernacular of the people. However, it was through the rhythms and color of Yiddish that he was able to bring to life the rapidly changing Jewish experience via the serialized stories that ran in Europe's Jewish papers and in his almanac, the Yiddish Popular Library. In the fictional shtetl of Kasrilevke, and in a series of characters like the perennially optimistic speculator Menachem Mendl or the homespun philosopher Tevye the Milkman, Sholem-Aleichem not only captured that world for future generations but endowed it with a dignity and significance that was meaningful for his legions of readers. This was not escapism: Sholem-Aleichem addressed everything from the changing mores of the younger generation to the grim reality of pogroms. But his stories managed to evoke the fatalism and the resilience necessary for Jewish survival in tsarist Russia.
Despite the challenges of Eastern Europe—and the financial setbacks Sholem-Aleichem suffered in speculating ventures—the author was even more miserable in New York when he moved to the city in 1905, fleeing Russian pogroms. Initially greeted rapturously as the "Jewish Mark Twain," Sholem-Aleichem was quickly dismissed as old-fashioned and out of touch; the modern American Jew had moved on. After only a year, he returned to Europe, sick and humiliated. His disillusionment with the New World was not merely personal: as the author and translator Hillel Halkin, a commenter in the film, observes, in the American Jew's unprecedented prosperity, Sholem-Aleichem could, no doubt with some bittersweetness, foresee the inevitable death of their culture.
This is a dilemma he explores with aching poignancy in one of the Tevye stories: Chava, Tevye's third daughter, falls in love with a Russian gentile. Although Tevye's defining characteristic is that of a loving father, he cannot bring himself to forgive her. He casts out Chava, now married to the Russian, and commands the family to sit shivah as if she's died. The "happy ending"—or Sholem-Aleichem's version thereof—is his daughter's repentant return: having left her husband, she begs her father's forgiveness and is allowed to rejoin the living.
This might come as a shock to those only familiar with the story from Fiddler on the Roof: in that iteration, Tevye grudgingly bestows his blessing—after which, Tevye and his family board a boat bound for America. Sholem Aleichem: Laughing in the Darkness, a documentary on the writer's life and work, opens with a shot of Topol's 1971 Hollywood Tevye dancing across a yellow-toned steppe, a striking contrast to the grim black-and-white images of shtetl life shown throughout the film.
The musical, of course, was a version for a mid-twentieth-century American public (and it evolved, incidentally, from a far more faithful first draft). But, more to the point, it was a version written by products of that new world. As lyricist Sheldon Harnick comments in the film, he himself was married to a non-Jew. My grandfather, raised in an Orthodox home, was not religious, and my father recalls that they sometimes celebrated Christmas in New Rochelle. My dad and his brothers would go on to marry out of the faith. For me and my brother, Judaism meant only the menorah we occasionally remembered to light and the string of Bar Mitzvahs we attended in middle school. My largely Jewish progressive high school would not have dreamed of staging a show as traditional as Fiddler on the Roof, although I'm sure we all knew the score.
And then that ill-fated Yiddish class. I signed up on a whim and quickly found myself out of my depth. Taught by a scholarly old man in a cap and a series of threadbare sweaters, it was technically for beginners. But my classmates—mostly elderly, with the exception of a pair of twenty-something sisters who informed me they "really liked Jews" and were taking the class for a second time—all seemed to recall Yiddish from their youth, or to know a measure of Hebrew, and so quickly surpassed me in both speaking and reading. I was unquestionably the class dunce, and I can't pretend I narrowed the gap with assiduous scholarship. After a few weeks, hopelessly behind, I stopped going. The truth was, I felt like a fraud.