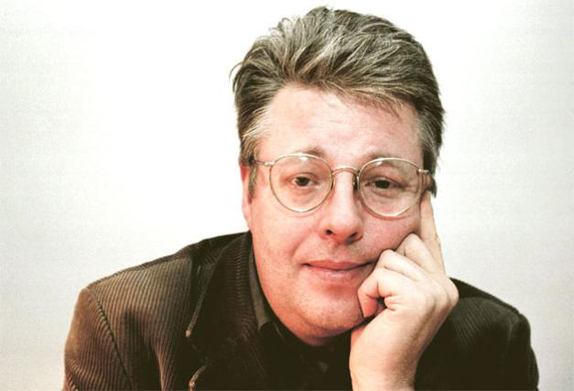 This spring, exiting the Stockholm-Arlanda airport, I found myself in a hall which enthusiastically proclaimed, "Welcome to Sweden!" From its walls, huge portraits of the country's greatest cultural exports greeted me, head shot after head shot. There were actors and directors (Greta Garbo, Ingrid Bergman, Ingmar Bergman), austere portraits of authors (Astrid Lindgren, August Strindberg), and, in 1970s color, ABBA under disco lights, and Bjorn Borg, whacking a tennis ball. At the end of this procession, as if its grand finale, was a full-body photograph of Stieg Larsson. His head rested on his hand, in a position not unlike that of Rodin's thinker. It's a familiar photograph, the same one that appears on the back of each of his books: The Girl with the Dragon Tattoo, The Girl Who Played with Fire, and The Girl Who Kicked the Hornet's Nest.
The Millennium trilogy, as the three are called, has sold more than fifty-one million copies worldwide. Larsson, who died in 2004 of a heart attack, at the age of fifty, never saw the success of his fiction, which he wrote mostly on the side. For him, the books were "like therapy," his partner Eva Gabrielsson writes in her memoir 'There Are Things I Want You to Know' About Stieg Larsson and Me. "He was describing Sweden the way it was and the way he saw the country: the scandals, the oppression of women, the friends he cherished and wished to honor." The thrillers show the seamy underbelly of Stockholm, a hellhole of conspiracies, shady corporations, corrupt police, and two unlikely heroes: accidental stud and crusading journalist Mikael Blomkvist and the bisexual punk computer hacker Lisbeth Salander, the titular "girl" of the series.
It's fair to say that a certain view of Stockholm has been shaped by Larsson's books. He had a meticulous eye for detail (which made his books either plodding, according to some reviewers, or "documentary-like," according to fans), and he used that detail to color in the lives of his characters with real locations across Stockholm and Sweden. (This includes IKEA.) Stockholm City Museum has capitalized on Dragon Tattoo mania with Millenniumtour, a weekly walking tour of locations that appear in Larsson's world. They also feature an exhibit of props from the films (the first of the English remakes is slated to come out this December), which means that you can go into a room filled with mock-ups of Millennium issues and Aftonbladet newspapers, all featuring Noomi Rapace's Lisbeth glare, and sit behind the desk and pretend that you're Blomkvist, if only for a moment. The tour has proven so popular that the museum has added a second option, the ABBA City Walk Tour.
On a recent trip to Stockholm, my seventy-two-year-old father (an avowed fan, whose acquisition of the UK edition of Hornet's Nest a month before the US release, was a point of pride) and I (somewhat more skeptical) decided to take the tour. We started at Blomkvist's apartment, Bellmansgatan 1, a brick building from the 1700s with Gothic spires, situated at the subterranean end of a cobblestone street. The elevated sidewalk and walkway cast deep shadows onto the facade. Our tour guide, Elisabeth Daude, a Hitchcock blonde dressed in black, explained the trilogy's literary links to Astrid Lindgren, the famous children's book author. Lisbeth Salander, of course, is a grown-up version of Lindgren's Pippi Longstocking: Pippi "has a heart of gold, does good, but she doesn't always know how to behave in society. It's the same with Lisbeth." Mikael, on the other hand, Daude pegged as reminiscent of Lindren's Bill Bergstrom, a boy detective who, in the Swedish version, is named Kalle Blomkvist. "He was the investigative guy, the Mr. Do-good nice guy, everybody likes him," said Daude. "And he grew up to become Mikael Blomkvist."
Over the years, Bellmansgatan 1 has become Stockholm's equivalent of Carrie Bradshaw's brownstone, attracting hordes of tourists who wait around as if Blomkvist himself might appear.
 We didn't linger, however, but moved on, a mass of tourists in tennis shoes. Down the hill and up a small side street, Tavastgatan, we paused in front of a restaurant, Tabouli—formerly Samir—a frequent haunt of both Blomkvist and Larsson. Larsson was a feminist and fervent socialist; during the nineties, he worked as an investigative journalist, writing about extremist movements. Much of this work was through the political magazine Expo, where he was the editor in chief. (In his fiction, Expo would become Millenium magazine, Blomkvist's employer.) Larsson also wrote science fiction, was an accomplished illustrator, and traveled to Africa the year after he finished his mandatory Swedish military service to teach female guerrilla fighters in Eritrea how to handle arms. The trip to Eritrea shaped the theme of female warriors in the third book, The Girl Who Kicked the Hornets Nest.
Our tour passed to Mariatorget, a small, green city square. Daude pointed to the green park bench across the way, dirty and cracked with white graffiti. "The only public photo of Larsson, besides the one you've all seen, is him sitting on that bench, in between two skinheads, from June 6, 2004. The man is not afraid. He wants to speak to these people."
Larsson lived a clandestine life, out of necessity. He was a target of the right, facing death threats from the extremist groups that he profiled (bullets were sent to him in the mail). He and Gabrielsson never married, out of caution. Perhaps in the same spirit of secrecy, Daude omitted any details of where Larsson lived, only vaguely noting that it was on the Western side of Soder.
A chilly rain began to fall. The final stop on the tour was Lisbeth's twenty-five-room penthouse on Fiskargatan 9. On the way up the hill, we passed Lisbeth's favorite store, the 7-11 on Gotgatan, where she stocked up on Billy's Pan Pizza. Lisbeth's house—bought from money she hacked—was in a beautiful yellow building that was nicknamed "The Scandal House" in 1907 because, when it was built, it blocked the view of the church at the end of the block. The penthouse floor of the building is empty now, and no curtains hang in the windows. We're told it's actually a spare apartment for a wealthy man, who only uses it to watch the fireworks on New Year's Eve.
Our tour was soon over. A Spaniard lingered, saying he came over on Ryan Air just for this experience. My father and I, however, were hungry, so we stopped in Lisbeth's 7-11 to buy a Swedish candy bar that oozed salted licorice. It was disgusting and delicious at the same time. Chomping slowly, I looked around the store, hoping to spot a real-life Larsson character, a grown-up Pippi or Kalle on a mission of vengeance, truth, and justice. But it was only us.