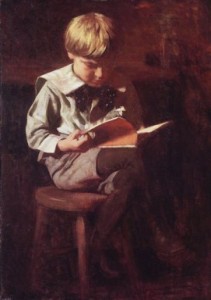 What is the best poetry anthology to give my father's new, and much younger, fiancée at her bridal shower? —Rachel
Dear Rachel,
What a lovely, tricky question. I suppose it depends on how you feel about your mother-in-law-to-be, or how you'd like her to feel about you. Gifts, especially when they are books, say so much about the giver. In my experience the best anthologies are unapologetically personal. The pleasure of reading André Breton's Anthology of Black Humor or Kingsley Amis's The Amis Anthology is the pleasure of discovering the editor's sensibility, refracted into a choice of readings. Great anthologies surprise us. They make connections we hadn't noticed before. But these might not make ideal gifts for a bridal shower. Might I then suggest John Hollander's Marriage Poems? Hollander is one of our finest anthologists—if the marriage results in any children, you might try finding The Wind and the Rain: An Anthology of Poems for Young People—and all his collections include pleasurable surprises.
Alongside the epithalamia there is James Dickey's "Adultery" ("Although we come together,/ Nothing will come of us. But we would not give/ It up") and Swift's "The Progress of Marriage," about an elder gentleman and his much younger bride. (Be warned: it's vicious.) In the same Everyman series is Meena Alexander's excellent Indian Love Poems, which is exactly what it claims to be. Both books are small, elegant, and inexpensive.
If the bride's tastes are more adventuresome, I would suggest two anthologies of translations. The first is David Hinton's Mountain Home: The Wilderness Poetry of Ancient China, a collection that centers around the experience of solitude in nature. I often take it with me to read in Central Park, next to the duck pond. The second is a stunning anthology by Peter Cole—who happens to be a poet in our spring issue—called The Dream of the Poem: Hebrew Poetry from Muslim and Christian Spain, 950–1492. It is a large, learned, and thrilling collection that I constantly find myself going back to. Here is a poem by Shelomo Ibn Tzaqbel, a poet of the twelfth century, whose speaker is noblewoman hiding out in the harem:
You who knock upon the door
I'd never barred to you before

but only to one who, erring, wasted
both my precious time and his:

If I open it—how could I forgive?
If I keep it closed, how could I live?
I was recently admitted to my university's study abroad program in Cairo next winter. Aside from wondering what the political climate will be like then, I've been thinking about what Egyptian and Arab-language literature and culture I should learn about before living there. What would you recommend as a good foundation? —Jordan Larson
Dear Jordan,
I envy you! Cairo is one of the world's great cities, a place you could live forever and never get bored. As for what the political climate will be, your guess is as good as mine—or anyone else's. One of the things it probably won't be is stable, but that shouldn't keep you from going. Try not to live in a student dormitory. Many study abroad years are wasted in just this way. Cairo is cheap: rent a place downtown ("wast al-balad") and roll with the punches.
But you ask about literature. Naguib Mahfouz's Palace Walk is the best novel written in Arabic, and you will have to prove you've read it before they stamp your passport. Albert Cossery, a Cairene who lived most of his life in Paris but set almost all of his novels Egypt, has two delightful comedies, The House of Certain Death and The Lazy Ones. Waguih Ghali's Beer in the Snooker Club is as fun as it sounds and should be better known than it is. Another favorite of mine, which I've recommended before, is Ibrahim Aslan's The Heron. I read it after living in Egypt for a year and found that it provided answers to questions I hadn't even thought to ask. A more recent novel I've enjoyed is Hamdi Abu Golayyel's Thieves in Retirement.
Finally, the best Web site for keeping up with what's happening in Egyptian politics is Issander al-Amrani's The Arabist. If anyone can tell you where the country is headed, it's him. Bon voyage!
Have a question for The Paris Review? E-mail us.