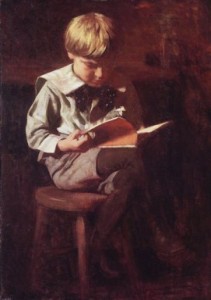 I really loved The Elegance of the Hedgehog by Muriel Barbery and am looking to read more contemporary literature in translation. Are there any books you would recommend for starters?
Well, I'm in the middle of a new translated novel that I can't wait to go home and finish: Seven Years, by the Swiss writer Peter Stamm. I had never heard of Stamm—I picked the book up because the translator is Michael Hofmann. If Michael Hofmann thinks a book is worth spending that much time on, I'm always happy to read it. So far I am not disappointed. Seven Years begins like a Turgenev novella, in the present day, with a slightly disillusioned architect looking back on the youthful love affair that became his marriage, and on another love affair that didn't. Just the kind of thing I like. And (as my friend Eric Banks pointed out last night—because it turns out he's read it, too), Stamm deals convincingly with architects and architecture, something you don't find in a novel every day.
David Foster Wallace is my favorite writer, but I now find it hard to read him without becoming desperately sad. Please can you suggest ways of coping? —Hermione
The last time I tried to reread Infinite Jest, I had the same feeling, and stopped. Then I got a note from a friend who, like Wallace, has suffered over the years from debilitating depression. My friend described how her last depression lifted. I can't resist quoting her here, because what she wrote struck me as beautiful but also because it reminded me that Wallace overcame and overcame his sense of isolation, not only in life, but in his fiction, too—in Infinite Jest, for starters, the least solipsistic of contemporary novels, or even at moments in his last collection, the one my friend was reading:
One day in late summer, I decided to give Oblivion another try, or rather to give this one story "'Good Old Neon" a try. It was a collection I'd previously struggled with. But that story, reading it at the time I did, truly gave me this surge of Spirit—life force—that I doubt I would have found anywhere else. The story's antihero trapped in various self-created hells of bad faith, and the narrator explaining to him that while we all get hung up on being untrue to ourselves, or faking our way through life, the vastness and complexity of our selves is such that we really couldn't begin to fake them … We're tied to the mast of these huge crazy ships, ploughing into dark, icy seas, and our only recourse is an occasional change of hat … He puts it about a million times more elegantly than that. It was one of the moments of the year.
Have a question for The Paris Review? E-mail us.