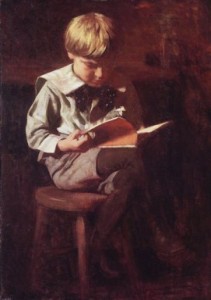 At which New York City bars can one sit, read, write … and drink? Yes, all at the same time. —Charlie
As you may have noticed, lower Manhattan has many more hospitable bars than hospitable cafés. This is especially true of my neighborhood, the East Village. The first novel I ever edited, I edited in the back room of Botanica, on Houston Street, where the Knitting Factory used to be. The music is loud enough that you don't notice it, and the chairs are grouped to discourage conversation. My old favorite bars for reading, the Spring Street Lounge and the International Bar, have both undergone renovations and are hopelessly changed. Ever since the smoking ban, Holiday has reminded me depressingly of the National Cathedral: a Gothic church with a department-store smell. (A smoke-free bar still puzzles me, in my heart.) Also Stefan, famous for stirring the drinks with his finger, is dead. The Old Homestead, where my friend Jason had his nose broken with a cue stick, and where I read Dennis Cooper's novels and David Foster Wallace's Brief Interviews with Hideous Men and first read Frederick Seidel's Going Fast, closed years ago. It was a strange bar, but very good for reading most of the time. Apart from the pool table, they had a small black-and-white TV, which sat on top of an old bureau and never had the sound on, a jukebox, and a cat who was sweet on everyone. The two most regular customers were a transvestite, who always sat alone and often fell asleep, and a middle-aged Czech dental assistant named Jan. Otherwise, the clientele was mainly Polish, mainly male, and mainly drunk. All ages were welcome, from the visibly preteen to the ancient. The Old Homestead was the first place in America I ever saw Żubrówka; the two gentle matrons who ran the place kept a contraband bottle under the bar. The Homestead was replaced by one of those "Irish pubs" with the wide-screen TVs. Lately I've been reading at Jimmy's 43, on Seventh Street, beside the electric heater.
Do you have a Twitter? Who are you least embarrassed to say that you follow? —Anonymous
I follow Thessaly La Force and Natalie Jacoby—in person!
Have a question for The Paris Review? E-mail us.