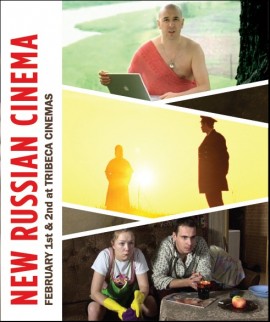 This Tuesday, the North American premiere of Elena Bychkova's short film, Express-Course of Buddhism, will screen at Tribeca Cinemas in New York City. The film follows the train journey of a Russian teenager who retreats from the grim realities of Russian manhood into a pop fantasy of Buddhist enlightenment, gleaned largely from the Internet. Bychkova, who was born in Siberia and holds a degree from the Gerasimov Institute of Cinematography, joins fellow Russian independent filmmakers Sergey Groznov, Anton Koskov, and Roman Karimov in a residency cohosted by CEC ArtsLink and the Sundance Film Festival.
It's odd to think of Buddhism in a Russian context. Why was it a theme you wanted to explore?
I noticed various young people pretend to be Buddhist, when in reality they just had no other way to spend their time. They'd use it as a pretext to hang out, without even giving much thought to what Buddhism must actually be about. There are also quite a number of people, especially young ones, who, without even thinking of the context of the religion, without practicing Buddhism, would take a phrase from that context and use it to justify their actions, whether they were right, or, as in most cases, wrong. I thought it was a peculiar cultural occurrence.
Your films have won awards in both Russia and Europe. Is there a difference in the way Russians and Europeans appreciate your work? Do they take different things away from it?
Frankly, I don't really see much difference between Russian and European perceptions of my films. I do see a difference in perception by different age groups. In Russia, Express-Course of Buddhism received all of its awards from small independent festivals organized by young people. Despite the fact that I received a grand jury award from the film festival held by the university I graduated from, the dean told me he would think twice before presenting the film to the Russian First Lady, who usually gets copies of all the winning films. Surprise seems to be well received by everyone regardless of age. I found it interesting that the audience at the Abu-Dhabi Film Festival in the Arab Emirates reacted to the film exactly like the audience in Russia.
What first inspired you to make films? Who are the directors who have had the greatest impact on your work?
You may laugh, but it all started from a dream I had one night. In the dream, I saw that I had to become a filmmaker, so a year later I decided to go to film school, and another year later I was enrolled there.
The directors… Tod Solondz, Jim Jarmusch, and Tom DiCillo, although my favorite movie is Breathless by Jean-Luc Godard. I watch it over and over. There is one more person who influenced me greatly: Yuri Arabov, the scriptwriter for all of Sokurov's films.
In your own words you enjoy "watching and seeing." How does this show up in your work as a director?
What I said relates mostly to my everyday life, the routine. I do like to observe. For instance, when you see people in real life, people who are standing far enough away that you can see them but not hear what they're saying, I might think they hate each other, but as I come closer I see that they are simply having a lively conversation. I often notice that people say one thing while their body language signals something entirely different. I like to use this in my work. Once, while shooting my feature I told the cast to act nervous—specifically, the way someone acts nervous who is pretending not to be.