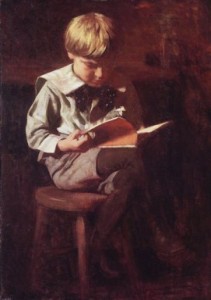 I love books, like Nicholson Baker's U & I and Ian Hamilton's In Search of J. D. Salinger, that are as much explorations of one writer's obsession with another as the critical studies or biographies they purport to be. Can you recommend anything else in this vein? —Anonymous
Can I ever! First, if you haven't read it yet, get hold of Geoff Dyer's Out of Sheer Rage: Wrestling with D. H. Lawrence. A sample:
Looking back it seems, on the one hand, hard to believe that I could have wasted so much time, could have exhausted myself so utterly, wondering when I was going to begin my study of D. H. Lawrence; on the other, it seems equally hard to believe that I ever started it, for the prospect of embarking on this study of Lawrence accelerated and intensified the psychological disarray it was meant to delay and alleviate.
That is sentence one. Things go, hysterically, downhill from there.

The classic of the genre may be The Quest for Corvo. In this 1934 "experiment in biography," A. J. A. Symons tries—and fails—to write a life of the decadent (unreadable, and utterly insane) historical novelist Frederick Rolfe, the self-styled Baron Corvo. This is a book biographers read at their peril. Symons makes "going meta" look like a good plan B. Less well known, but to me equally fun, is the poet Daniel Hoffmann's very personal study of, well, Poe Poe Poe Poe Poe Poe Poe, which begins "Across the flyleaf of my old Commemorative Edition of the Works of Edgar Allan Poe in Ten Volumes, Volume I (the only one I owned), a strong hand had written 'I hate Poe.' The hand was mine."
And if you like that, you must read Lawrence's own masterpiece of critical obsession, Studies in Classic American Literature—starting with the essay on Poe:
He was an adventurer into vaults and cellars and horrible underground passages of the human soul. He sounded the horror and the warning of his own doom.

Doomed he was. He died wanting more love, and love killed him. A ghastly disease, love. Poe telling us of his disease: trying even to make his disease fair and attractive. Even succeeding.

Which is the inevitable falseness, duplicity of art, American art in particular.
I've always wanted to be a staff writer at a publication like Vanity Fair or The Atlantic. Is it better to start as an assistant at a magazine and work my way up, or as a freelance writer? —Anne
Do both, if you can. It is easier to start writing for a magazine if you already work there. (Sooner or later, some editor or other will need three hundred words—in half an hour—and there you will be.) Of course, entry-level jobs at fancy magazines are hard to come by. So in the meantime pitch stories to magazines that cover the subjects that interest you. The closer the subjects are to your heart, the more your clips will say about you as a writer. Here is what I was taught: Pitch five stories at a time and keep your pitches very short (two or three sentences, max). This advice has always stood me in good stead. If they say no to all five at once, you know you're barking up the wrong tree.
Have a question for The Paris Review? E-mail us.