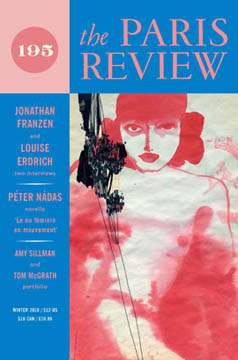 Jonathan Franzen has just given the deepest, most searching and revealing interview of his career. And we don't mean on Oprah. You won't find this interview on TV, on YouTube, or anywhere else on the Web.
You can only find it in the winter issue of The Paris Review, alongside a startling portfolio, curated by David Salle, of paintings by Amy Sillman and Tom McGrath; a selection of portraits and landscapes by legendary draughtsman Saul Steinberg; and a troubling, sexually charged novella by Hungarian master Péter Nádas.
Issue 195, which will hit newsstands December 15, also includes a Writers at Work interview with novelist Louise Erdrich, poems by Brian Blanchfield and Jim Moore, debut fiction by Alexandra Kleeman and Claire Vaye Watkins, and much, much more.
Order your copy today—or click here for our holiday gift offer and consider Christmas solved. Happy holidays!