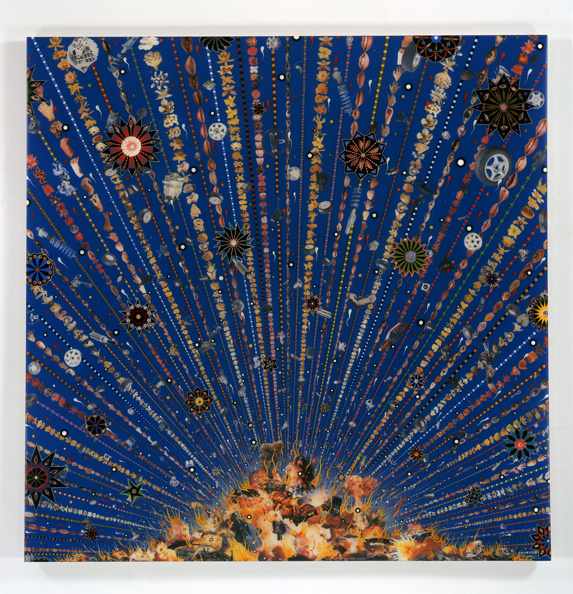 Car Bomb, 2008. Photocollage, acrylic, resin on wood panel. 60″ x 60″. © Fred Tomaselli. Image courtesy of the James Cohan Gallery, New York.
When Motherless Brooklyn author Jonathan Lethem announced in April that he would be relocating from Boerum Hill, Brooklyn, to the white-collar, academic enclave of Claremont, California (where he'd take over David Foster-Wallace's teaching slot at Pomona College), the borough felt a twinge of old-time, Brooklyn Dodgers–style rejection. Fortunately for dwellers of Kings County—and others who hold resident New York bards dear—Fred Tomaselli was simultaneously putting the finishing touches on the installation of his latest crackerjack show: his unabashedly gorgeous, conceptually expansive midcareer retrospective at the Brooklyn Museum.
Tomaselli is a Brooklynite in the same way most New Yorkers come by their adoptive heritage—as immigrants from ambition. Born in Santa Monica and raised in Orange County, within spitting distance of Disneyland's Matterhorn, he moved to Los Angeles in 1981, only to leave for New York, and rusty, desperate Brooklyn, in 1985—"one last crazy stupid thing before I got old and lost my nerve," he later recalled.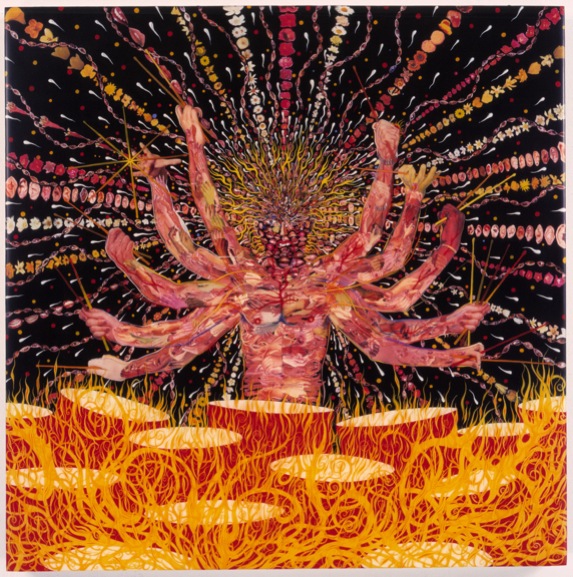 Metal Destroyer, 2004. Mixed media, resin on wood. 72″ x 72″. © Fred Tomaselli. Image courtesy of the James Cohan Gallery, New York.
A fledgling installation artist in California, Tomaselli schooled himself in late twentieth-century America's far-out utopian and dystopian fireworks, ingesting influences from surfboard and car culture, finish-fetish art, Chris Burden and his conceptual noodlings, the light and space trickery of Robert Irwin and James Turrell, the California punk scene, Alice Cooper, The Stooges—as well as loads of mind-scrambling hallucinogens. The low-rise, irony-free industrial stretches of 1980s Williamsburg was the unlikely location where these and other fanciful ideas came together beneath gallons of poured resin.
Like the Grateful Dead, Fred Tomaselli is in "the transport business." Long interested in what he called "the premodernist ideal of a picture becoming a vehicle of transportation," Tomaselli is part of an essential generation of American artists that rescued hand-wrought, two-dimensional pictures from neo-expressionist hype, the market vapidities of commodity critique, and the Carrie Nation–style prohibitions of academic conceptualism. In the early nineties, this group of once-rogue, now well-established midcareer firebrands—the diverse circle includes also wicked Lisa Yuskavage and zealous James Siena—hotwired the tired clunker of contemporary American painting with craft, beauty, and real-world content that sported, among other pleasurable offenses, sex, politics (mostly the cultural kind), history (usually of the arty variety), and a racy antitheoretical bias. A connoisseur of psilocybin and Tuinals, Tomaselli was the gang's Samuel Taylor Coleridge.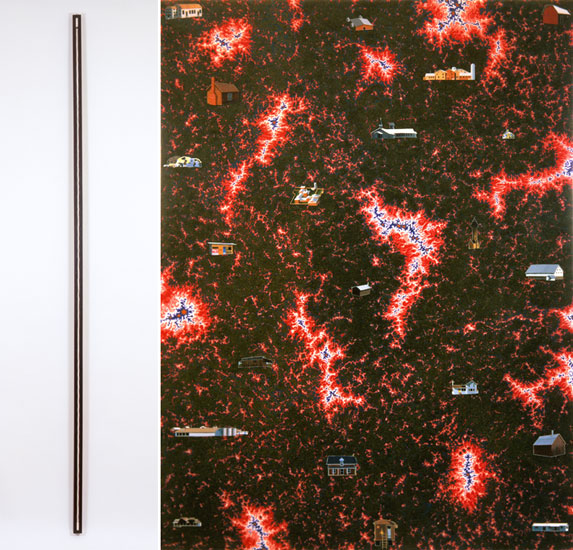 Remedy, 1989 (left). Aspirin, cotton, picture frame. 100¾" x 1½" x 1½". Shack, Commune, Compound, 1998 (right). Crushed hemp leaves, acrylic and resin on wood. 72″ x 54″. © Fred Tomaselli. Images courtesy of the James Cohan Gallery, New York.
Starting with his breakthrough "painting" Remedy (1989)—a skinny, vertical picture frame that lined up a year's worth of aspirin into a black-and-white Barnett Newman zip—Tomaselli reimagined materials like pills, pot, datura leaves, and other psychoactives, so that they might be processed by the eyeballs rather than through the bloodstream. As his practice has grown to include more conventional collage elements like clipped reproductions and painted acrylic buried beneath layers of poured resin—birds, flowers, hands and lips are favorite motifs—Tomaselli's pictures have managed to fuse decorative, Op Art–inspired eye-candy with Turneresque end-of-the-world fantasies. The paintings evoke genealogies of failed New Jerusalems (Escape Hatch, 1998; Shack, Commune, Compound, 1998), J. Robert Oppenheimer–style Vedic meditations on death (Metal Destroyer, 2004), and recent historical disasters such as Hurricane Katrina (September 15, 2001, 2009) and Iraqi IEDs (Car Bomb, 2008). The Brooklyn Museum survey has organized these and other works into a kaleidoscopic theme park. But scratch beneath the escapist fantasy advanced by his tripped-out visions and Tomaselli's weighty themes will seriously harsh your mellow.
An exercise of conscience distinguishes Tomaselli's use of drugs as a metaphor from the usual Dazed and Confused boilerplate; see figures like Hunter S. Thompson and Damien Hirst for counterexamples. Where Hirst's and Thompson's lotus-eater satires peddle goggle-eyed illumination, adolescent transgression, and out-and-out nihilism, Tomaselli's best work strikes a longing note that channels equal parts Iggy Pop and Frederic Edwin Church. Located at the juxtaposition of I Wanna Be Your Dog and the romantic sublime—itself a mirror for the artist's Internet-fed, hybrid process—Tomaselli's hallucinatory collage-cum-paintings provide entry points for a dreamy, skeptical contemporary form of transcendence.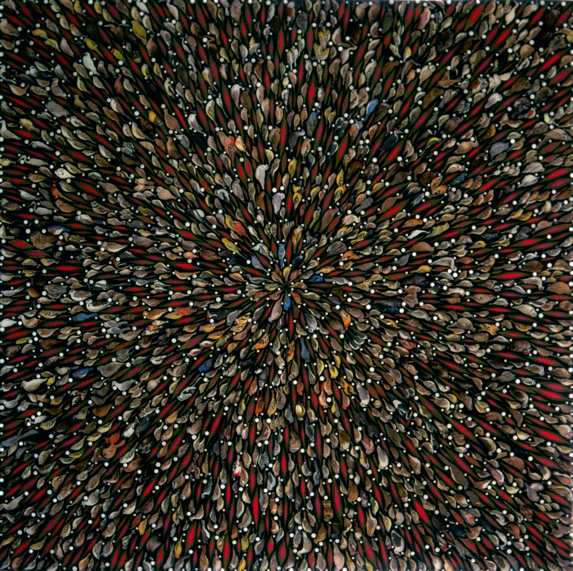 Dead Eyed Bird Blast, 1997. Hemp leaves, pills, photo collage, acrylic, and resin on wood panel. 60″ x 60″. © Fred Tomaselli. Image courtesy of the James Cohan Gallery, New York.
Take one all-time favorite Tomaselli picture, Dead Eyed Bird Blast (1997). A swooning, radial vortex made from hemp leaves, pills, and hundreds of bird cutouts, the canvas resembles the "star gate" sequence from 2001: A Space Odyssey: It represents a window onto another world, here made from detritus very much cobbled together. If that's not transcendent—and critical of our endlessly corporatized, zombie entertainments—then, well, nothing is.
Christian Viveros-Fauné is a New York-based writer and curator. He writes regularly for the Village Voice and ArtReview magazine and is a visiting professor at Yale University.