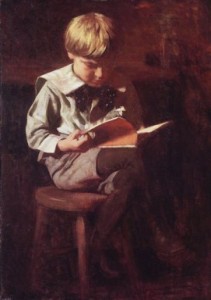 Which books would you recommend to a smart, bored, somewhat alienated
teenage girl trapped in the suburbs?
—Alice
The first recommendation that leaps to mind is Jean-Christophe Valtat's novella 03—a book all about being a smart, bored, and extremely alienated teenager trapped in the suburbs. I love it. I hesitate to recommend it only because it is so peculiar. It's written in long sentences, without paragraph breaks, and nothing happens in it. I'm not sure I'd have liked it when I was the protagonist's age (sixteen). At that age, I remember loving Steppenwolf—even after my—smarter, more bored and alienated—friend Wawa told me it was trash. (I haven't gone back to decide for myself.) I also remember loving The History of Luminous Motion, a novel you don't hear much about these days but which held up very well last time I looked.
At that age (your age?), I mainly loved books that held out the promise of a more glamorous, more real world. (Washington, D.C. wasn't the suburbs, but it didn't feel real.) Elif Batuman has written memorably about her first, teenage encounter with Anna Karenina:
Think of the time it must have taken Tolstoy to write it! He hadn't been ashamed to spend his time that way, rather than relaxing by playing Frisbee or attending a barbecue. Nobody in Anna Karenina was oppressed, as I was, by the tyranny of leisure. The leisure activities in Tolstoy's novel—ice skating, balls, horse races—were beautiful, dignified, and meaningful in terms of plot.
I remember reading Anna Karenina (in the smoking section of the Bagel Bakery across the street from school) and feeling the same way. Ditto Susan Sontag's essay collection Against Interpretation. It implied a whole world of culture, and cultural events if you know what I mean. Screenings. After-parties. Midnight debates with women in mascara. I also liked The Counterfeiters because it depicted a world (1920s Paris) in which a brilliant teenager could become a celebrated writer without first waiting to grow up.
I think I would have fallen in love with Two Girls, Fat and Thin if I'd known about it. But I probably also would have (secretly) loved The Secret History. I bet The Rachel Papers—Martin Amis's first novel, about a kid trying to get into Oxford—is almost as funny as I remember. When I was sixteen it blew my mind.
There is one other recommendation I hesitate to make—for very different (obvious) reasons. When I was fourteen I was given a copy of The Paris Review. I certainly liked reading those stories, poems, and interviews, but they also gave me a connection—my only connection, really—to a thriving literary scene. I like to think another fourteen-year old might feel the same way today.
Dear Paris Review,
I am fond of this thing called wisdom. And also books, fiction books. I am wondering if you can recommend fiction that poses or addresses questions philosophical in nature. I like a good story, yes, and some characters, sure, but what are some fictions (a la Borges or Dostoevsky) that seek to undo the questions of life, the big questions, the big pretzels of wisdom, in a way that compels my inner fiction-lover? Any works authored by the fairer sex, anything contemporary?
Truly,

PHILANON
To my mind, some of the most deeply "philosophical" novels are comedies of manners where no one reads a book or posits a theory. But if I read you right, you are looking for recent, explicitly philosophical fiction by women. In which case, I recommend The Last Samurai, by Helen De Witt. Some of my friends swear by Iris Murdoch. She was philosophical. I have been encouraged several times to get through The Sea, The Sea. It hasn't worked. But I remember enjoying A Fairly Honourable Defeat. There are also the many wonderful short novels of Muriel Spark. You might begin with The Comforters. Doris Lessing may not be in fashion—and I very much doubt she would appreciate any reference to the "fairer sex"—but she too is a brilliant thinker-in-fiction. Read "To Room Nineteen." A few years ago Zadie Smith did a sort of rewrite of Howard's End, set in Cambridge: On Beauty may not tackle the great questions of existence, but it is deeply informed by the philosophical work of Elaine Scarry. As a piece of wisdom literature, I cannot recommend highly enough John Clayton's short story collection Radiance. In particular I have been moved by the story "The Man Who Saw Radiance." It's a story that—a dozen years after the first time I read it—I still think about a lot.
Have a question for The Paris Review? E-mail us.