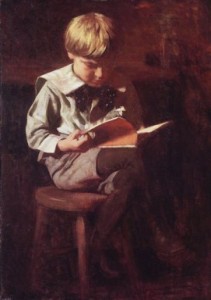 Any reading material for a pathologically shy 33-year-old woman? Who misses sex and fucking and making love and all that? Who even misses blowjobs. Who hasn't gone out with a man in ages? How do people even talk to each other anymore? I've forgotten. —November Whisky
Gosh, poor you. Shyness can be so hard. The first book I would read, if I wanted to reconstruct the language of sex and romance, is Mary Gaitskill's novel Veronica. Or really any of her books. You always get the feeling (at least I do) that Gaitskill is asking herself a question very much like yours. Asking and answering. For similar reasons you might also try Elizabeth Bowen, for example The Heat of the Day. Neither book is cheerful, exactly, but I think they might speak to your condition. Take heart!
I loved Elif Batuman's book The Possessed. Do you know of any similar books like hers? —Anonymous
I don't! Lucky for us, Ms. Batuman was kind enough to step in with her own recommendations:
Dear Anonymous,

I'm so happy that you liked The Possessed! Of course it's terribly unique and there isn't anything else quite like it. But the following four books, all of which I greatly admire, seem to me to be doing some of the things that I also tried to do. I hope you will enjoy them as much as I do.

Yours,

Elif

Out of Sheer Rage, by Geoff Dyer

One of the things I really wanted to convey in The Possessed is how different periods of one's life are informed and influenced by the books one is reading—and, conversely, how one's reading and writing are inevitably affected by the material constraints of maintaing a day-to-day life. Both phenomena are beautifully and hilariously portrayed in Dyer's memoir about his struggle to write a book about D. H. Lawrence, which involves mailing himself volumes of Lawrence while shuttling between Paris, Greece, Rome, Oaxaca, and England, trying to find the right place to start his book, while pondering the meaning of Lawrence and his beard.

A Captive Spirit, by Marina Tsvetaeva

This English-language prose collection by one of the most brilliant twentieth-century Russian poets includes an essay called "My Pushkin," from which I am sorry to say that I seem to have plagiarized about a page and a half of the introduction of The Possessed. If you liked the part in the introduction about how I learned to associate the meaning of love and the riddle of humanity with my own idiosyncratic early reading of Eugene Onegin, you'll love how Tsvetaeva did the exact same thing like seventy years earlier. I had somehow completely forgotten about this aspect of "My Pushkin" until I reread it earlier this summer—although the part that did consciously affect me is how Tsvetaeva weaves her childhood memories, misreadings, and misunderstandings into her "adult" conception of Pushkin, producing a very rich, convincing, personal, and true picture of how one experiences literature.

The Elephant Vanishes, by Haruki Murakami

In The Possessed I describe my first mesmerizing encounter with a Russian novel: Anna Karenina, which I read obsessively in Ankara as a bored high-school student. Murakami describes a similar encounter in his eerie and understated short story, "Sleep," in which the bored wife of a Tokyo dentist obsessively rereads Anna Karenina three times after inexplicably losing the ability to sleep. The basic idea is that this housewife's body, on a physiological level, rebels against an existence made up of housework, cooking, and cheery conversations, and usurps the time normally devoted to sleep in order to enable her to live a meaningful life in the nighttime. I love how Murakami equates meaningful existence with drinking brandy all night and rereading Anna Karenina. Again, I find this both very true and very beautifully evoked.

Running the Books, by Avi Steinberg

Running the Books, which comes out with Random House next month, is the memoir of a formerly devout yeshiva student who, having spent much of his senior year of high school devoted to solitary contemplation of the portion of the Torah dealing with corporal punishment, somehow ends up at Harvard, discovers women and drugs, graduates, tries to write a novel, becomes an obituary writer, becomes totally obsessed with writing obituaries, runs out of money, and takes a job as a prison librarian in Boston. Recently reading the galleys of Running the Books, I was amazed by how simultaneously extremely similar and extremely different this book is from The Possessed. Both are serio-comic adventure memoirs, about an unemployed Harvard graduate and failed novelist who is driven by lack of health insurance to seek a semi-permanent position in a hermetic community (graduate school, a prison library), where books are taken very seriously.
Have a question for The Paris Review? E-mail us.