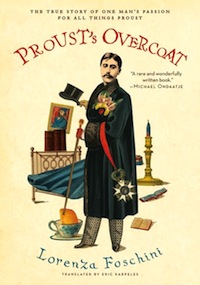 Proust's Overcoat tells the story of Jacques Guérin, a Parisian perfume magnate, who was obsessed with the works of Marcel Proust. In 1929, through a chance connection, he met Proust's family, only to discover that they intended to destroy the author's notebooks, letters, and manuscripts. Guérin ingratiated himself with Proust's heirs, and through bribery and kindness, amassed a collection of Proust's belongings and manuscripts, saving it from destruction. I recently exchanged e-mails with Lorenza Foschini, an Italian journalist, about her book.
Why was Proust's overcoat so special?
Proust's contemporaries, like Jean Cocteau, described his style as embodying an old, refined elegance. He was a real dandy, always dressed in large silk shirtfronts by Charvet, a double-breasted waistcoat, very light colored gloves with black points, a flat-brimmed top hat, a rose or an orchid in a buttonhole of his frock coat, and a walking cane. But even on the hottest days, Marcel didn't remove his heavy fur-lined coat. This became legendary among those who knew him.
How did you discover this story?
Those who love Proust know that such passion often becomes a mania. This was so in my case. When interviewing the well-known Visconti costume designer, Piero Tosi, I could not resist the temptation to ask him if he knew the reason why the great filmmaker (Luchino Visconti) stopped production on his beloved project, bringing In Search of Lost Time to the big screen.
In the early seventies, the American studios allocated a lot of money for this project and there was talk of casting actors like Laurence Olivier, Marlon Brando, Dustin Hoffman, even Greta Garbo. Tosi was invited to Paris to go over production plans. It was there that he met a very special person. My book comes from the extraordinary story that Tosi told me about this man, Jacques Guérin.
I can understand the need to collect the letters, diaries, and notes of a writer. But can you explain our obsessions with a writer's personal objects? Why a bed? A rug? A coat?
It's because of Guérin that a draft of Swann's Way became available to us. The same goes for several versions of the last volume of In Search of Lost Time.
My book is a story about the incredible efforts of a great bibliophile. Guérin was able to save important papers that offended the bourgeois respectability of Proust's prude sister in law. After Proust's death, his family began to deliberately destroy and sell his notebooks, letter, manuscripts, furniture, and personal effects.
Proust's homosexuality surrounded him like an invisible and insurmountable wall. His family's unwillingness to understand this led to a history of silence that mutated into rancor. This transformed into acts of vandalism as his papers were destroyed and his furniture abandoned. Finding the coat is only the conclusion of a series of adventures and coup de théâtre that Guérin had to face. I do not want to reveal them now; you have to read the book.
Of all of Proust's objects collected by Guérin, which is your favorite?
If I were to answer, it would diminish the simple fetishism of Guérin's love for the objects, which he saved from flames. Proust writes in Swann's Way: "The Celtic belief that the souls of those we have lost are held captive in some lesser being, in an animal, a vegetable, an inanimate object, in effect lost to us until the day, which for some of us never comes, when we find ourselves walking near a tree and it dawns on us this object in their prison. The souls shudder, they call out to us and as soon as we have heard them, the spell is broken. Liberated by us, they triumph over death and come to live among us once again." Guérin, for sure, had to know this.
I do love the bed that Proust had since he was sixteen, where he wrote his entire opus, and where he died on November 18, 1922. For Walter Benjamin, there were only two moments in history chronicling the rigging of such "scaffolding." The first was when Michelangelo, lying prone, his head thrown back, painted the creation of the world on the Sistine Chapel's ceiling; the second was the "bed on which the ailing Proust lay, pen in his raised hand, covering innumerable pages in writing consecrated to the creation of his own microcosmic world."
What drives a collector like Guérin?
Jacque Guérin loved to define himself (despite having one of the greatest book collections in the world) not as a collector, but as a rescuer. He would say that his passion was to save rare books, manuscripts and photos from destruction and negligence.
When did your own fascination with Proust begin?
I was eighteen and I was in Naples where I was born (at that time, I was living in Rome with my parents). I was a guest of the man who would become the father of my daughter, Camilla. I couldn't sleep and found near the bed a Livre de Poche of Proust. I didn't sleep the entire night. I never left the book, and took the last volume with me on my honeymoon.