Things We Love: Vallejo, Factory Records, and 'The Lonely Doll'
April 27, 2012 | by The Paris Review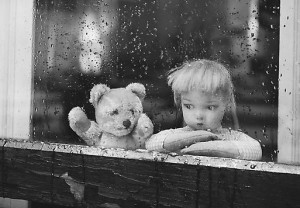 Trilce, by the Peruvian modernist César Vallejo, is a book of poems I've read (the verb is probably too strong) with much enjoyment and little comprehension. Vallejo's Spanish has almost nothing in common with the language I learned at school, but its obscurity is addictive: I keep going back to the poems. So far as we know, Vallejo gave only one interview; it has now been translated, for the first time, into English by Kent Johnson. Vallejo's repartee isn't as baffling as his poems, but it's almost as enjoyable. —Robyn Creswell
The lost César Vallejo interview should be paired with Paul Muldoon's translation of "Piedra negra sobre una Piedra blanca," which is probably the best English version of Vallejo's most famous poem. Muldoon calls it "Testimony":
I will die in Paris, on a day the rain's been coming down hard,
a day I can even now recall.
I will die in Paris—I try not to take this too much to heart—
on a Thursday, probably, in the Fall.
It'll be like today, a Thursday: a Thursday on which, as I make
and remake this poem, the very bones
in my forearms ache.
Never before, along the road, have I felt more alone.
César Vallejo is dead: everyone used to knock him about,
they'll say, though he'd done no harm;
they hit him hard with a rod
and, also, a length of rope; this will be borne out
by Thursdays, by the bones in his forearms,
by loneliness, by heavy rain, by the aforementioned roads.
—John Jeremiah Sullivan
I feel like every time I pick up a Brian Evenson book, I discover him anew. I've been reading his 2009 collection, Fugue State (published by the excellent Coffee House Press). His lapidary tales remind me of Shirley Jackson and Edgar Allan Poe—that intimate strangeness and psychic tension they do so well—and of Stephen Dixon's wry precision. But Evenson's stories, consistently disorienting, are also occasionally blackly funny: a tortured literary editor coerced into publishing schlocky Swedish mysteries (the horror!) and a woman who finds herself trapped in an invisible box after having sex with a mime. It's like The Twilight Zone on whip-its. —Nicole Rudick
My sister found Goodbye, First Love a little long. ("If I wanted to see a Roehmer movie, I'd go ahead and rent one.") Me, I'm waiting for the seven-hour director's cut. —Lorin Stein
When I was a little girl, I was both fascinated and repelled by Dare Wright's photographic picture book, The Lonely Doll. These feelings were only intensified after reading Jean Nathan's The Secret Life of the Lonely Doll—the story of Wright's strange, lonely, creative, sad life. Through this weekend, stills from The Lonely Doll are on view at the Fred Torres expedition space. —Sadie Stein
Usually when I hear someone talking about the crisis in publishing, my eyes roll back in my head. I just don't get it. But last week's show on NPR's On the Media made everything momentarily clear. —Robyn Creswell
It's been a gray week, so I figured it'd be a good time to review the new wave digs of Factory Records, those coked up shimmy shakers ran the electropop gamut from the seventies through the nineties. While everyone remembers New Order and Joy Division, I've been focusing on their lesser-known acts, like the Railway Children and Revenge (UK). Though my all-time favorite remains John Dowie's "It's Hard to Be an Egg," a rather literal lamentation on the woes of an egg's life: "It's hard to be an egg / to end your life upon a piece of buttered bread / disappearing down a hole in someone's head / it's not appealing / it's a dreadful way for eggs to start the day / first we're boiled alive / then horrid housewives cut our heads off with a knife / it isn't nice to feel the meat of our insides / it's not endearing it's such a fright that an egg turns white." I picture evil fat British children banging on kitchen tables, knife and fork in hand, Heinz beans smeared across their lips. —Noah Wunsch