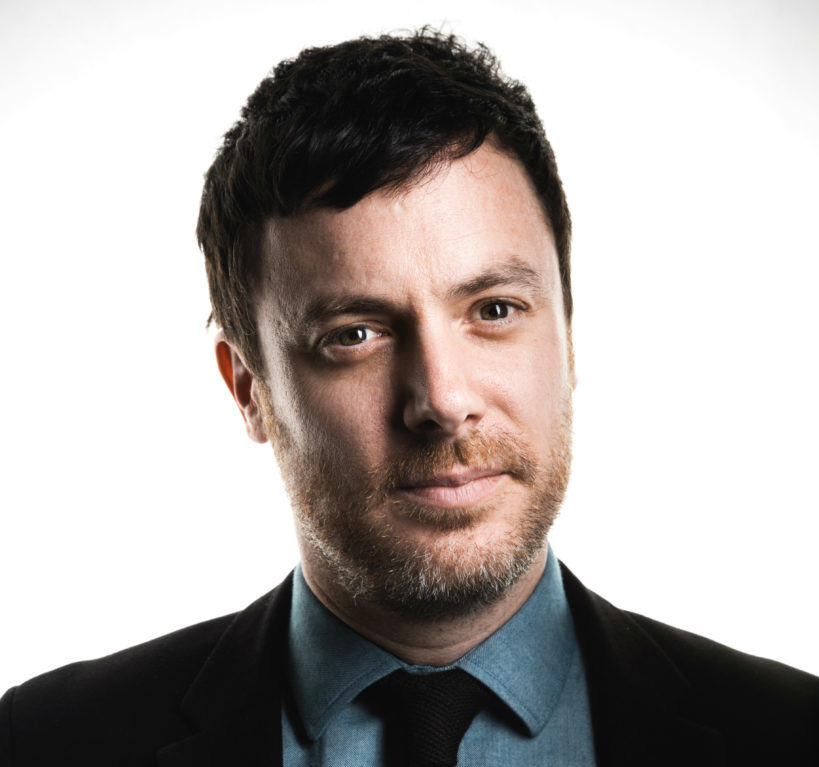 Brendan Francis Newnam is the founder of Public Address, a boutique audio production company with a focus on culture. In addition to The Paris Review Podcast, he is the cocreator and cohost of The Dinner Party Download and edits the Met Opera podcast Aria Code. He is currently working on a new show for First Look Media scheduled for release in spring of 2020. Here, he talks with our engagement editor, Rhian Sasseen, about producing this season.
INTERVIEWER
As an executive producer of the podcast, you've been present since day one for both Seasons 1 and 2. What's your favorite behind-the-scenes moment from Season 2?
BRENDAN FRANCIS NEWNAM
I know this is cheating, but your question triggers a rush of memories. Sitting in the quiet and cool Morgan Library on a hot July day and hearing the Toni Morrison archive tapes for the first time. "I assume the microphone is here and this is a test, 1, 2, 3, 1, 2, 3, 3, 2, 1, 3, 2, 1." Discovering these hilarious ads from the seventies while sleuthing out what Henry Green was referring to when he referenced "Vingarnis" in his piece "Arcady: A Night Out."

But probably the best moment was meeting up with poet and The Paris Review's digital director Craig Teicher to record Sharon Olds reading her switchblade of a poem, "The Solution." I've long been a fan of Olds, but I'd never met her. On the elevator up to her apartment I grew nervous—I assumed she would be intimidating, but from the moment she opened the door and hugged Craig, whom she knew, my preconceptions fell away. Her apartment commands a nice view of downtown, and she had three chairs set up in a circle.

We recorded her reading her poem a couple times, talked to her about it, and then she said, "Are we done?" I said, "Yes." "Good," she said, "because I'd like to offer you some wine."

And then we sat and ate macadamia nuts and drank chardonnay and talked about poetry and family and life and there I was, sitting in the clouds with a genius, and for a moment it made me remember why I live in this expensive jerk of a city.
INTERVIEWER
Obviously, not every performer can be in the same studio as one another when recording. Can you go a little bit into the process of long-distance recording—such as when you were recording Devendra Banhart for Episode 15?
NEWNAM
Audio's most powerful quality—it's intimacy—is also the most easily faked. Trigger warning—most radio interviews and podcast interviews are done remotely. Terry Gross is almost never in the same studio as her guests. And so it is with The Paris Review Podcast.

When we book a guest we find a production studio near them and connect with them digitally. Devendra lives in Los Angeles, so he joined us from Stitcher's (The Paris Review's production partner) LA studios on Sunset Boulevard. Stitcher has cameras in their studios so you can see the guest remotely. In this instance we could see Devendra, but I don't think he could see us. He was very gracious—from the moment we'd reached out to him, he'd told us he was a subscriber.

We had him read Paulé Bártón's "The Woe Shirt," which starts with a tricky sentence translated from Haiti's French / West African creole. I spent perhaps too much time advising him on how to tackle the piece's unusual grammar and finally he said, "Let's just go for it." He read it through and the delivery was a little herky-jerky—not unusual for a first pass. He asked if we had any notes. My co-producer Helena de Groot leaned into the microphone and with her soothing Dutch accent began to give guidance on how to move through the text.

On the monitor we could see a smile come across Devendra's face. In the control room I wrote on a piece of paper, "You take it from here," and slipped it to Helena, who gave me a thumbs-up. For the rest of the session, I stayed quiet, Helena directed, the smile never left Dev's face, and we got one of the best reads of the season.
INTERVIEWER
Finally, did you approach editing Season 2 differently than Season 1?
NEWNAM
We wanted to continue to expand upon what was working in Season 1: Minimal hosting, borderline psychedelic interludes, and every episode a melange of poetry, fiction, and archival materials. We made some changes to not break the spell—there are no mid-roll advertisements this season for instance, which meant fewer time constraints, and we didn't have to break up the show.

Between Season 1 and Season 2, I started listening to a lot of European audio, which got me thinking more about how to use pauses and space to create meaning. We also decided to experiment this season with having living authors provide context to their work—Alex Dimitrov for "Impermanence," Danez Smith with "my bitch!," and, last but not least, Sharon Olds told us where her mind was when she wrote "The Solution." You'll probably encounter more of that in Season 3!