Interviewed by Shusha Guppy
Issue 152, Fall 1999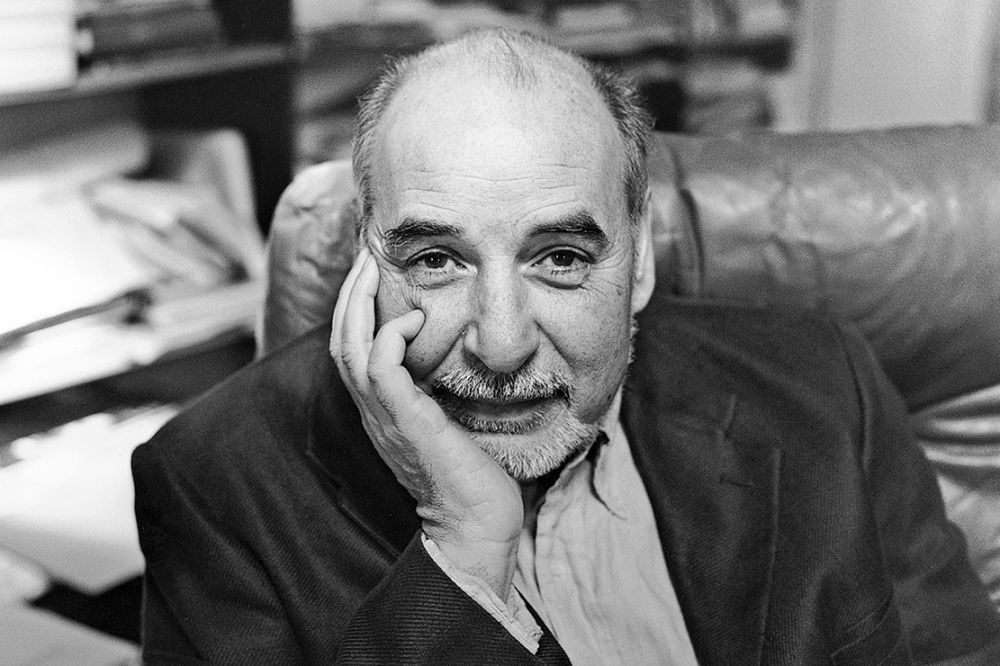 Tahar ben Jelloun is one of France's most celebrated writers: his most recent book, Racism Explained to My Daughter was a best-seller; and in 1987 he was awarded the Prix Goncourt for his novel The Sacred Night, which was the first book by an Arab writer to be so honored. For the past two years he has been shortlisted for the Nobel Prize in Literature.
Ben Jelloun was born in Fez, Morocco. The family—there were four children, three boys and a girl—lived in a small apartment in the medina, the old medieval section of Morocco's most beautiful city. His father, a modest shopkeeper, sold spices from a tiny shop in the souk and later worked as a tailor, making djellabas (the long, loose robes worn by Arab men).
At the age of five, ben Jelloun was enrolled in a Koranic school, where he learned to memorize and recite verses from the Koran. Two years later, he entered a Franco-Arab school, studying French in the morning (it was his first contact with the language) and Arabic in the afternoon. He was a studious, serious pupil: "Very early I felt the responsibility of standing on my own feet." Later, he studied philosophy at the University of Rabat.
In 1971, at the age of twenty-six, ben Jelloun immigrated to France to complete his studies at the Sorbonne. He then worked for a time in Paris as a psychotherapist. His first novel, Harrouda, was published in 1973. Since then, he has written nine novels, as well as several collections of short stories, poetry, and essays. He is perhaps best known for his trilogy about the life of Ahmed/Zahra, a girl whose father, desperate for a male heir, raises her as a boy: The Sand Child, which was a best-seller in France; The Sacred Night; and the recently published The Wrong Night.
The interview took place at ben Jelloun's office in St.-Germain-des-Près, a few hundred yards from his publishers, Editions du Seuil, and the Café de Flore, where he can often be seen meeting friends. A small studio on the top floor of a tall, narrow, modern building squeezed into the old blocks of the boulevard, the office is sparsely furnished with a sofa, a couple of comfortable chairs and a large desk strewn with papers, a telephone and a word processor. The height of the building insulates the room from traffic sounds on the street below, while the windows—which overlook a canopy of treetops—provide ample light and air.
Apart from the esteem in which he is held, ben Jelloun is much loved for his charm, warmth, and natural courtesy. He speaks French eloquently, with just a hint of a North African intonation.
INTERVIEWER
You are Moroccan, born and bred. Your mother tongue is Arabic, yet you have chosen to write in French. May I ask you why?
TAHAR BEN JELLOUN
In fact I am bilingual. My first language was Arabic, but I went to a Franco-Moroccan bilingual school. When I started writing as a young man, without any literary ambition, I felt happier doing it in French. There was no conscious choice at the time.
INTERVIEWER
Is it because you had read French authors more than Arab ones?
BEN JELLOUN
Perhaps. Also because I took Arabic for granted—it was something I would never lose, and therefore it was not necessary to make an effort over it. I thought, unconsciously, that I had to invest my energies in a foreign language. It was almost a challenge, a stimulant. When at the age of twenty I started writing in earnest, I had no doubt in my mind that I had to do it in French. Yet I never made a deliberate choice between Arabic and French; it came naturally. Other intellectuals in the Arab world criticized me, sometimes very aggressively, for not writing in Arabic. This was a painful experience for me, as I felt that their motivation was often suspect.
INTERVIEWER
Doubtless after you won the Goncourt, with the resulting recognition and success, envy entered into the equation?
BEN JELLOUN
Perhaps. But my answer is that I write in the language I can best master. I can write an article or a lecture in Arabic, but not a novel. So out of respect for Arabic I will not massacre it.
INTERVIEWER
Arabic is a very rich and malleable language; with the root of a word that consists of two or three consonants one can build a whole vocabulary of nuances and ornaments. It has produced great poetry and prose. Above all it is a sacred language like Hebrew—God has spoken it. So, as you say, one hesitates to trifle with it. Did you study it at school?
BEN JELLOUN
At the lycée we studied the Arab classics; I became aware of the richness and subtlety of Arabic when I began to do translations. To me it was another good reason not to tinker with it. Also, as it is a sacred language, given by God in the shape of the Koran, it is intimidating—one feels very small in front of this language. The other day Adonis, a great Lebanese poet, told me that the Arabic language has not yet had a writer stronger than itself, capable of subduing it. One speaks of English as the language of Shakespeare, of Italian as that of Dante, but we don't say Arabic is the language of al-Ghazali—it is always the language of the Koran. It is inhibitive; one would feel almost guilty manipulating it.
INTERVIEWER
Still, one also has to say that it is useful writing in French, or English, because it gives access to a much larger readership.
BEN JELLOUN
That is a reflection of the political situation and the Arab world's bad image, which influences the development of Arab culture. It is unfair—there are many great Arab poets and writers who are unknown. It seems that the culture of a country depends on its politico-economic situation. Today Arabic is considered the language of two hundred million people, and Persian, which has produced such great poetry, that of the mullahs in Tehran. Both have become minority languages. At present the gaze of the West has turned towards the Far East, and suddenly people are discovering the cultures of Japan and China. There is nothing one can do about this state of affairs—as long as the image of Arab countries is politically murky, Arab culture will suffer the consequences.
INTERVIEWER
John Updike once told me that when he went to Egypt he met wonderful writers who were totally unknown in the West—this was before Naguib Mahfouz's Nobel Prize—while as soon as he and other Anglo-Saxon authors sneeze, it is immediately translated, analyzed, commented upon in a dozen languages throughout the world.
BEN JELLOUN
We are more interested in Western culture than vice versa. I can give a lecture on Faulkner in America, as can other intellectuals in the Arab world, and no one is surprised, while the knowledge of our writers in the West is limited to a small number of specialists called Orientalists. I hope one day this situation will change, and that soon the rich treasure of Arabic and Persian literatures will be discovered everywhere for the benefit of humanity.
INTERVIEWER
So do I. But we may be too optimistic. Do you think that if you had written in Arabic, your books would have been different?
BEN JELLOUN
Naturally. Because a language is not only a tool, but a set of mental mechanisms, as well as all the cultural baggage one carries around with oneself. Francophone culture is more developed than Arab-speaking culture. Also, as I said, Arabic is a sacred language, and Arab authors are in awe of it; they can't use violence against it.
INTERVIEWER
In what way would your books have been different?
BEN JELLOUN
To start, the themes would have been different. There are things I could not have dealt with in Arabic, for example, sexuality or criticizing the religious behavior of certain characters. I am not sure how it would have differed in every detail, but I know there would have been more inhibitions.
INTERVIEWER
Could you have approached sexuality in any way?
BEN JELLOUN
There are important erotic texts in classical Arabic literature, in the fourteenth, fifteenth and sixteenth centuries, for example—among them The Scented Meadow by the fourteenth-century writer Shaykh Naszawi, which is the Kamasutra of the Arab world. I could have written in the same vein. But one can't be sure about these things, as when one starts writing one doesn't know a hundred percent where one is going—there are things that happen naturally. So I think it is possible to tackle sexuality in Arabic, but I am not sufficiently a master of the language to do it.
INTERVIEWER
There is the Indian Kamasutra, and the erotic poetry of Arab poets—one thinks of Abu Nawas. But erotic expression differs between cultures and languages. In what way is Arabic erotic writing different from ours in the West?
BEN JELLOUN
I think that the Orient has a larger and subtler conception of eroticism than the West. For example, there is an important erotic element in A Thousand and One Nights, which is one of the keys to understanding the Orient. But today there is a kind of censorship and prudishness in the Arab world, perhaps as a result of fundamentalism—people are afraid to shock.
INTERVIEWER
If you lived in North Africa and wrote in Arabic, what could you write now in a fundamentalist climate?
BEN JELLOUN
It would be impossible to write anything—it would be suicidal. Fundamentalism is against freedom in general, and freedom for a writer is not just to be free to sit down and write, but to think freely, to express oneself freely. So I think that a fundamentalist society can produce nothing but silence or a literature of opposition written in exile.
INTERVIEWER
When you started writing, at first poetry, how old were you?
BEN JELLOUN
The moment writing became serious for me I was at the university, aged twenty-two, studying philosophy. The curriculum was the same as at the Sorbonne. In 1966 I was arrested with about a hundred other students for political activity—I was on the left, naturally, like everyone else in those days. Rather than put us in prison and thereby appear oppressive, the government forced us into the army to do national service, which at the time did not exist in the country. So we found ourselves in a barracks doing military exercises, but we were made to understand that it was a punishment. I was choked, and I reacted by writing a long poem in secret. After eighteen months we were released, and I thought perhaps I could publish what I had written in "prison," since I regarded it as the duty of intellectuals to transmit such experiences. The poem was published in Soufle, a magazine created by Abdellatif Laabi, a Moroccan poet.
I received very good responses to this poem and I felt that there was a receptive readership. If the reaction to the poem had not been so good, I probably would not have persisted in writing. The reaction of the public to the first effort of an author is very important.
After university I taught philosophy at a lycée for three years, first in Tétouan and later in Casablanca. In 1971 the political situation in Morocco became rather unstable—there was a coup d'état, a second was foretold, and I wanted to leave teaching in order to prepare a doctorate. So I came to Paris, to the Sorbonne, as usual thanks to a grant. Here I found myself in a hospitable environment. France was then a welcoming country, which is hard to imagine in the present climate. People were not frightened by the immigration bogey as they are now. Even I am nervous when someone comes up to me suddenly in the street—often it is to say something nice, but occasionally racist insults are poured out. "Go home, you dirty wog," or some other obscenity.
In Paris I met people who helped me enormously. For example, I became friendly with the editor of Le Monde who asked me to write articles about immigration and about Arab culture in general. At the same time I wrote my first novel, Harrouda. I gave it to Maurice Nadeau, at Denoel's, who was then the publisher most attentive to foreign literature—to what came from "elsewhere" and was new—and he accepted it. That is how I started.
INTERVIEWER
You had published a book of poetry before this first novel?
BEN JELLOUN
Yes. One day I just went into the offices of François Maspero's publishing firm and I handed my manuscript to Maspero's wife, who was in charge of their poetry collection. She decided to publish me. The reception by the critics and the public was very generous. They printed two thousand copies, which for poetry was huge in those days.
INTERVIEWER
Were there many North African writers in France at the time, or were you a rarity?
BEN JELLOUN
There were some. Especially a whole generation of Algerian writers who had begun to be published in the fifties—for example, Kateb Yacine, Mohammed Dib, Jean Pelegrini, T. Amrouche, and others. Their work was on the whole rooted in the Algerian war of independence. But when I say I was well received, it wasn't a complacent reception or a concession, rather my success was a slow process. I was serious. It wasn't like today, when everybody talks about a writer for three months and then it is over, he vanishes without a trace. They sold only three thousand copies of Harrouda, but in contrast to more flamboyant successes, twenty-four years later the novel still exists and is sold in bookshops.
INTERVIEWER
Harrouda was a very literary novel, with a strange plot. Was it based on a true story?
BEN JELLOUN
There was an old prostitute in Fez who haunted the imagination of children and adolescents when I lived there as a child, and I turned her into a kind of saint.
INTERVIEWER
But real success came with the Goncourt. You were the first Arab, indeed the first foreign writer, to win it.
BEN JELLOUN
There had been an African writer in 1934 who had won the Goncourt, but no one mentioned him in 1987 when my novel won it, so it was assumed that I had been the very first. The prize gave me access to a much larger public. But already my previous novel, The Sand Child, published two years earlier, had been a best-seller and sold a hundred and fifty thousand copies. When The Sacred Night won the Goncourt, it carried all my other books with it.
INTERVIEWER
Apart from the curriculum of the lycée, which writer gave you the first impulse to write?
BEN JELLOUN
It may seem strange, but I did not identify with writers, rather with certain filmmakers: Orson Welles, Federico Fellini, Yasujiro Ozu, Akira Kurosawa, Michelangelo Antonioni—people who told stories. Of course there was the intellectual influence of Sartre, Camus, Genet, and others, but that was due to the times, the zeitgeist. For my artistic paternity I looked to Welles and Ozu rather than novelists.
INTERVIEWER
Did you try to become a filmmaker?
BEN JELLOUN
I even wanted to study cinematography at L'Institut des Hautes Etudes Cinématographiques. But very soon I realized that cinema is an industry, a very heavy industry at that, and complicated. One can't always be a creator when one depends on so many people and circumstances. I had confused my love of cinema with my desire to make films. So I gave up the idea.
INTERVIEWER
Cinema is a passion in France—after all the French invented the thing. Did you go to the cinema all the time when you were a student here, as we all did?
BEN JELLOUN
I am fascinated by images. What helped me most in the cinema was the way a story is told pictorially—through images—by a Welles or a Hitchcock. In the first few minutes of a film you have the presentation of the characters and the situation, and you're off. Today, American movies try too hard to be realistic—you see someone have a coffee, eat in a restaurant or a bar, punch someone in the face. But Ozu and Welles did not copy reality. What is important is to invent a story and to make the spectators believe it—what is important is that sitting in a dark movie theater one is transported to another universe in imagination. This is what I try to do in my books.
INTERVIEWER
You went to the cinema, but you also read a lot, you said. Who? Any foreign writers?
BEN JELLOUN
I read Steinbeck, Dos Passos, Faulkner—in adolescence. But the writer who helped me most was James Joyce, not because I wanted to do the same thing as he had done, but because of his formidable boldness; I thought that if Joyce could be so daring, I too ought to dare. When I was in the military barracks, I asked a friend to send me the thickest book he could find. As we were not allowed to read, I read secretly, and I wanted a book that lasted a long time. So Ulysses was smuggled in, and I was thunderstruck by the sheer audacity of the enterprise. I knew nothing about Ireland; it was the writer's itinerary that interested me, his temerity. I have never succeeded in reading Finnegans Wake—there I think the risks are gratuitous. It is obscure.
INTERVIEWER
Yet you like modern poetry, which is often obscure when it is not opaque.
BEN JELLOUN
Obscure poetry does not exist, or else it is not poetry, it is something else. Real poetry is never obscure; even Mallarmé is clear. For my part I have stayed with St.-John Perse, René Char, certain poems of Yves Bonnefoy, of Louis-René des Forêts. Sometimes I read poetry books I am sent, and I say to myself, But this is nonsense! It has no relation to poetry. But then sometimes people have nothing to say, or nothing more to say, and yet they continue saying it all the same! Look at Jean-Luc Godard: I found his first films admirable then one day I discovered a strange phenomenon—Godard was a man who had nothing more to say. He still has the technique—this marvelous way of manipulating images, but his films have no interest whatsoever, they are empty.
This is also the case with certain poets. As a result I feel that at the moment there is an absence of poetry, at least in the West, and a fear of poetry, as if people didn't dare. In France the Resistance produced great poetry by inspiring poets like Aragon, Éluard, René Char. They had something urgent to communicate, certain values to defend that were in peril. What does a French poet have to say today? Write a poem against Le Pen? About unemployment? The suicide among the young? These are cyclical themes, temporary subjects.
It is not an accident that a bad poet like Bobin who writes sentimental, pseudoreligious mediocre poetry sells tens of thousands of copies every time he publishes a new collection, and that The Alchemist, Coelho's, in my view, banal novel has sold eleven million copies. It is because people need poetry and are looking for some sort of spirituality; they need to be reassured and to hope. But this is the spirituality of the bazaar, of the Monoprix.
INTERVIEWER
It seems to me that one finds more poetry in certain prose writers today. In English as well. For example, I think that the success of your books is partly due to the fact that your writing and your sensibility are poetic.
BEN JELLOUN
That is my Arab heritage. When I tell a story, I feel Moroccan and tell it like a Moroccan storyteller, with imagery and a construction that is not always realistic, but where poetry can reside.
INTERVIEWER
In A Thousand and One Nights, which is very pictorial—the author paints pictures, perhaps because originally these stories were told orally, and the storytellers had to hold the attention of their listeners by spellbinding them. You tell your stories like an Oriental conteur.
BEN JELLOUN
I don't claim the mantle of the author of the Nights, nor do I refer to any particular period of Arab history. Yet when I write I feel inhabited by the Arab culture. At least that is the logical explanation I can give for the presence of "poetry" in my work. As regards narrative technique, I was very influenced by Roland Barthes—his essays on the relation between the text and literature. As the nouveau roman bored me stiff when I was a student, I did not want to write anything like it myself. What I did, I invented as I went along, unconsciously. I think my style is Moroccan, but perhaps the Moroccans don't think so!
INTERVIEWER
The themes of your novels are Moroccan too—the story is always situated in Morocco, or at least in North Africa.
BEN JELLOUN
That is true. The themes are deeply Maghrebi, because they relate to problems that preoccupy us, problems of daily life—the relationships between men and women in a Muslim society, between the state and the law, or the individual and the collective.
INTERVIEWER
In all third-world countries, particularly in Islamic countries, there is a state of upheaval and uncertainty as a result of contact with modernity and the West. This is the case in your first great success, The Sand Child, which is the story of a baby born a girl whose parents pretend is a boy, because they already have six other daughters and are ashamed of not having produced any male child. This has tragic consequences for the baby girl as she grows up. Was it based on a true story?
BEN JELLOUN
No. I invented it because I wanted to write a novel about women's condition in North Africa, but not in a didactic, militant manner. I wanted to react against the feminist literature of the 1980s, which was rhetorical, strident, and unimaginative. So I thought if I took a child whose destiny has been forced to deviate from its normal course, who therefore lives both conditions—the masculine and the feminine—at the same time, I could highlight certain problems.
INTERVIEWER
The Sacred Night, the novel that won the Goncourt, continues the story. It is the second volume of a trilogy of which the third is The Wrong Night. The first volume, The Sand Child, had several possible endings, all of which you indicated in the manner of Oriental storytellers. But you had to choose one to continue the story. How did you make the choice?
BEN JELLOUN
It was the readers who asked me to continue the story. I received endless letters saying, What happened to Ahmed/Zahra?—the main character with the double sexual identity. It was a way of talking about women's condition without dogmatism.
INTERVIEWER
If the readers hadn't suggested it, would you have written a sequel to the story?
BEN JELLOUN
We can put it the other way: if there hadn't been a story to continue, the readers would not have suggested it.
INTERVIEWER
You have said, "To be a woman is a natural infirmity that everyone accepts. To be a man is an illusion and a violence that everything justifies and favors." Is that how you conceive women's condition in the Muslim world, particularly in view of the growth of fundamentalism that targets women in particular? I ask you this question because parallel to the oppression of women by so-called fundamentalist groups, there is a thriving Islamic feminism.
The Muslim feminists draw their arguments from the doctrine and the history of Islam, demonstrating that the oppression of women in Islamic countries has nothing to do with Islam, which was originally a liberation for them, and which produced remarkable women—heads of state, politicians, poets, mystics. One of the most eloquent and erudite of these Muslim feminists is your compatriot, the historian and sociologist Fatima Mernissi. I'm thinking of her books The Forgotten Queens of Islam, Islam and Democracy, Beyond the Veil, among others, which show to what extent Islam has been denatured, in relation to the intentions of its founder, by corrupt rulers and mullahs. She feels that today the oppression of women has to do with underdevelopment, poverty, injustice, and corruption, which are endemic in third world countries.
BEN JELLOUN
They are right. The veil exists in all religions, even in Christianity. One covers one's head as a mark of respect when one enters a church, a synagogue, or a mosque. It is recommended during prayer. But I think it is essential to separate politics and religion. Religion is a personal matter, which concerns the relationship between the individual and God. To use Islam for political ends is pure demagoguery, a means of oppressing people. Religion concerns what is eternal, and politics by its nature is temporal. So we have to separate the two, otherwise Muslim countries will never overcome underdevelopment and oppression.
INTERVIEWER
Let us get back to Ahmed/Zahra. How does she resolve her dilemma?
BEN JELLOUN
My job is not to give answers or to find solutions, but to ask questions, to testify in a human situation. I tell a story in the hope that it will incite reflection, provoke thought.
INTERVIEWER
In between the volumes of the trilogy, you also wrote a small book on friendship where you speak about all the friends who over the years have enriched your life. Jean Genet seems to be among those who have counted most for you. He was a very strange character, rather farouche, diffident, solitary, known to very few people. What do you think of him and his work now with distance in time?
BEN JELLOUN
He was an extraordinary human being. When my first novel appeared, I sent him a copy via his publishers, without any hope of response, as everyone knew how shy and aloof he was. One day a communist friend of mine who read L'Humanité regularly told me that there was an article about me in the paper. I rushed and bought it. The article was in fact the text of a broadcast Genet had made on the radio about several Arab writers. In it he attacked Sartre, whom he blamed for not being sufficiently attentive to these writers, among them myself.
I sent him a note thanking him for his kindness, saying that I lived at the Cité Université. The next day I was called to the telephone, and it was Genet, suggesting that we meet. It was the start of a great friendship, which lasted until the end of his life. In 1979, during Khomeini's revolution in Iran, he said to me, This old man interests me because he says "screw you!" to America and to the West. It wasn't the political quarrel between the Shah and Khomeini that interested him, it was the rebellious stand of one man against a system, against the world. He always took brutal positions because he was a rebel, against power of any kind.
We became great friends, although he didn't really believe in friendship, as for him freedom and fidelity were incompatible. Yet he was always a very good friend to me. He said to me: "When you are writing, think of the readers, be simple." I have tried to follow his advice, for I think simplicity is a sign of maturity.
INTERVIEWER
The cult of friendship is very strong in Middle Eastern countries. In Persia it is rather passionate, close to love. Is it the same in Morocco?
BEN JELLOUN
Not quite. But friendship plays an important part in my own life. Love is something different, often the opposite of friendship. Love is complicated, fraught with difficulties. Love is not always there, it depends on things over which one has no power. Friendship is just the opposite—simple, voluntary, lasting.
INTERVIEWER
Corruption, which was published in 1994, deals with the problem of corruption in a country like Morocco. It is the most political, the most accusatory, of your novels. Do you think politics can change things in the Maghreb, and in the third world generally? Could it be that a moral and spiritual revival is needed as well?
BEN JELLOUN
Moral and spiritual regeneration cannot take place without healthy, clean politics. Therefore the fight against corruption is an effort towards moral and cultural hygiene of the society as well.
INTERVIEWER
Your new novel, The Wrong Night, is the third volume of the trilogy. The main character is again a woman. Were you reacting to what is happening against women in Algeria at the moment?
BEN JELLOUN
No. It deals with a certain violence that has long remained dormant in the protagonist, who finally takes her revenge. It is not a realistic story. It is the violence of a woman who has been oppressed for a long time, and that finally explodes. But she is not a real woman; rather, she belongs to the realm of legend.
INTERVIEWER
What do you think of magic realism, which uses legendary figures from popular sources, especially in South America, to illuminate the present situation? In what way do South American novelists of that school differ from you? Which author or work do you admire particularly?
BEN JELLOUN
I very much like Juan Rulfo, Juan Carlos Onetti, certain novels of Gabriel García Márquez. But I don't think we belong to the same school. They are rooted in their own culture, and I in mine; and the two are very different, not only because of Islam but because of other factors, such as history and geography.
INTERVIEWER
Have you been involved in the Rushdie affair?
BEN JELLOUN
Of course. And I have defended him. It has become a symbol and a necessity. To defend Rushdie is to defend the freedom to write, to imagine, to create.
INTERVIEWER
How do you organize your work?
BEN JELLOUN
I leave home every morning and come here. I work all day, and go home to spend the evening with my family, my wife, and my four children.
INTERVIEWER
Do you write by hand or on the word processor?
BEN JELLOUN
I write by hand. The word processor is for articles, because newspapers demand that the text be on a diskette.
INTERVIEWER
How does the idea of a new novel come to you? Do you stop all other work during the writing of a book?
BEN JELLOUN
I let the idea mature over a long period. I start writing when I feel a certain urgency. I can't read much while I'm writing a book. I am entirely given over to writing. It is the only task that gives me joy.
INTERVIEWER
What are your work-destroyers? Hemingway said the worst thing was the telephone.
BEN JELLOUN
Frustrations, little annoyances, contrariétés—social, psychological, the time one wastes grappling with bureaucracy, quotidian chores. Yet one can't write unless one lives, and living means also dealing with the post-office employees, driving in the rush hour, facing up to the demands of daily life. So what disrupts the work comes from outside it. But what would break it completely would be the absence of hope—reaching a point when one wonders, What's the use? If ever I came to feel that literature is useless, then I would stop writing. Until then, despite all the frustrations, I will go on. In short, when one no longer feels the need to write, one stops.
INTERVIEWER
Gore Vidal once said that just as a shopkeeper goes to his shop, or a doctor to his surgery every day, a writer sits down and writes, meaning that writing is a profession, that writing is what a writer does. Do you feel the same?
BEN JELLOUN
No. That is an American vision. To me if a writer writes to earn a living, he is bound to compromise—to consider what sells and what doesn't. That is not my preoccupation. I am glad to have found a readership, but one can't write only what is likely to sell. A writer is not a shopkeeper. A writer creates an imaginary world that he transmits to others.
INTERVIEWER
Is that the function of the writer? Shelley famously said that poets are the unacknowledged legislators of the world. Do you believe that?
BEN JELLOUN
I am not as ambitious as that. To me a writer is a witness. He bears witness to his time. Thus he has a privileged position. I don't think that the writer has a determining role—he tells stories, and in so doing comments on his society and the world. He communicates through imagination.
INTERVIEWER
Once you have the outline of the novel and have started writing it, do you remain in control all the way, or do the inner dynamics of the story take over?
BEN JELLOUN
I don't always know what will happen, but I feel free. I don't feel constrained, or lose control. I proceed by intuition, and may go along with new ideas and possibilities, take unforeseen turns.
INTERVIEWER
What comes first, the idea, the plot, or the characters?
BEN JELLOUN
The central idea is important, but so are the words—they have to be well chosen, and well used. It is almost mathematical. The plot can come from something I have seen, or read or heard. One doesn't know everything; if one did, writing would become boring. What guides the story is the ambience, the world that is created around a character. It is the character who invents the story as the writer proceeds.
INTERVIEWER
Do you rewrite a lot?
BEN JELLOUN
The best texts are the ones that have been written in one draft. But that is rare, almost impossible. I rewrite a whole chapter, not just a paragraph here a line there. I may cross out a whole paragraph, or add one.
INTERVIEWER
What are your plans for the future?
BEN JELLOUN
I am working on a new novel, which is situated in Naples. For once I am trying to leave Morocco. I've just revised and expanded an essay on racism, published in 1984, called "French Hospitality." I have written a long foreword to explain what has changed in thirteen years—for the worse.
INTERVIEWER
I may be too optimistic, but I think Le Pen is a temporary aberration, and that the French will soon recover their tradition of offering refuge and protection to the persecuted. After all, French culture has hugely benefited from it. Look at the number of great poets, writers, and intellectuals in the past hundred years who came from elsewhere.
BEN JELLOUN
I sincerely hope you are right. Meanwhile we—writers, artists, intellectuals—can only do our best by our work, and by our own examples.