Interviewed by Shusha Guppy
Issue 168, Winter 2003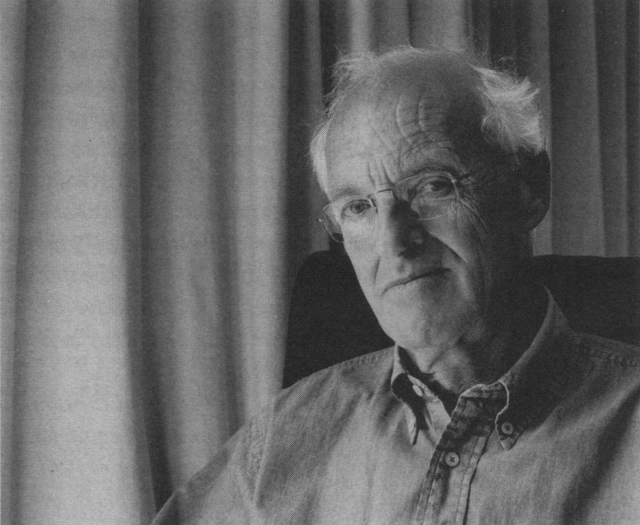 Michael Frayn works in an office around the corner from his house in north London. It is an apartment on a modern block, light and airy. His quiet study overlooks a communal park, an old canal that has been drained and planted with trees and shrubs. It is sparsely furnished, with a huge desk, a couple of armchairs, and some bookshelves. Opposite the desk on a low shelf is a row of bronze statuettes, the prizes he has won for several of his plays—the Olivier, the Evening Standard, the Tony. Frayn and his wife, the biographer and critic Claire Tomalin, have just bought a large house by the river near Richmond, where there is enough room for both to have offices at home.
Frayn grew up in south London. His father, who was deaf, worked as an asbestos salesman and his mother was a violinist, gave up a promising professional future to supplement the family income as a shop assistant. She died when Frayn was twelve, and that early loss has left a deep scar that shows up in touches of bittersweet wistfulness, even in his most hilarious comedies. He was educated at Kingston Grammar School and Cambridge, where he read French and Russian and philosophy, and began to write. His first piece for the theater was a sketch for the student revue for Footlights. After university he worked as a journalist at The Manchester Guardian and The Observer, then left to write full-time.
Over the years Frayn has produced an oeuvre as substantial as it is varied—from Noises Off, one of the funniest English farces, to Copenhagen, a worldwide hit about the meeting in 1941 between two giants of atomic physics; through a dozen plays, among them Alphabetical Order, Make and Break, and Benefactors; and as many novels, including The Tin Men, Towards the End of the Morning, and Headlong; a collection of philosophical aphorisms, Constructions; selections of his journalism; and translations of Chekhov's major plays. Frayn's deep intelligence, comic genius, and humane values have made him one of Britain's best-loved authors. Despite a certain aloofness, he is warm, generous, and always of impeccable courtesy.
INTERVIEWER
There are authors who go on mining the same terrain book after book, while every work of yours is a new departure. Take the recent novels: Headlong is based on the discovery of a Brueghel painting that has been missing for centuries and contains a good deal of research and art history, while A Landing on the Sun is almost a spy thriller, and The Trick of It is about the nature of creativity and writing. In between you write plays, which are equally varied. Do you deliberately set out to surprise and be new every time?
MICHAEL FRAYN
Let me say for a start that I don't think it is a very good idea to write different sorts of things. If I were to give serious practical advice to a young writer about how to succeed I would say, Write the same book, or the same play, over and over again, just very slightly different, so that people get used to it. It takes some time, but if you do it often enough, finally people will get the hang of it, and get familiar with it, and they'll like it. Then you go on producing a consistent product and you'll have a market for it. Because the consumer of books or plays, including myself, very reasonably wants to know or have some idea in advance what the book or the play is going to be like. It is the same as buying breakfast cereal: if you buy a packet of cornflakes, you want to be sure it will contain cornflakes and not muesli. It is very irritating if the packet doesn't contain what you expected it to contain. Similarly it is a reasonable demand from the theatergoer or novel reader that he should get a constant product, which is identified by the author's brand name.
If I could have done this, I would have. But I don't have much control over what I produce. All I can do is to write the stories that come to me. And what a story is, is in part the way of telling it. A story is not an event in the outside world—it consists in the telling. It is only when you think that you have found a way of telling the story that you can start writing it. Different stories naturally suggest different ways of telling them. If I had been better organized as a writer, I would have gone beyond the stories' dictates and imposed my own central imprint on everything.
INTERVIEWER
But everything does bear your imprint. It's the form that changes.
FRAYN
That is like saying that a criminal commits different sorts of crimes—sometimes he does bank robberies, sometimes he murders people, sometimes he forges pension books—but on all of them he leaves the same fingerprints. He can't help it. I don't think there is anything deeper in it than that. That is what consistency is—you have these intellectual fingerprints, and you can't help leaving them on things.
INTERVIEWER
You once said that you started writing novels because your first attempt at theater, a revue for Footlights at Cambridge, was a complete flop. Then you went back to writing for the theater when you lost your voice as novelist, and now you alternate between the two. What dictates the form?
FRAYN
First of all, I don't think it is strange to be both novelist and playwright. I wonder why others don't do both. I think the great difference is that in a novel it is possible for the writer to be inside the head of at least one of the characters. He doesn't have to be, but if you think of most of the novels you've read, the author has known what all the characters' thoughts and feelings and intentions were. If you read: She felt bitter resentment about what he had said. He intended to set off for Birmingham, but he changed his mind. She realized that he had not understood what she had said, etcetera—all these things seem absolutely natural, you don't even notice that is the way most novels are written. In fact it is quite odd, because it implies that the author has absolute knowledge of what's going on inside the head of his characters. Sometimes the author chooses not to exercise that right, and sometimes he exercises it in the case of one or two characters but not all. But it is the natural mode for the storyteller to know what's happening inside his characters' heads.
By contrast, in the play it is impossible to indicate directly what is going on inside people's heads. All we know when we watch a play is what the characters are saying and what they are doing. Of course characters can say, I'm thinking so and so, or I'm feeling such and such, but this is not the same as knowing directly. You have to trust that the character is speaking truthfully, that he can understand himself—because characters often don't.
Now, some stories require that you know what people are thinking, and some stories require that you don't. In Copenhagen the whole point of the play is trying to find out what Heisenberg was thinking and what his intentions were in going to Copenhagen to see Niels Bohr. If I tried to write it as a novel the whole story would be told in one paragraph. I'd say, Heisenberg decided to go to Copenhagen in 1941 in order to talk to Niels Bohr about such and such, because he hoped that Bohr would say so and so . . . But I wanted to look at the difficulty of knowing that exists in life. So it seemed natural to be outside Heisenberg's head and have to work out what was going on inside it.
INTERVIEWER
When you got the story, did you know at once it would be a play rather than a novel?
FRAYN
Yes. Because that was what it was about—the difficulty of understanding people's intentions, even one's own intentions.
INTERVIEWER
So it is the story that chooses the form, not you, the author?
FRAYN
Absolutely. In Headlong, for instance, it seemed that we needed to know all the time what Martin Clay—the art historian protagonist—was thinking and feeling, because a lot of the story depends on his misunderstanding the situation, and misunderstanding his own feelings and intentions. We need to know what he thinks he is up to, then stand back as readers to say: "Hold on! He is not being honest with himself here. His motives are much more mixed than he is saying."
INTERVIEWER
How do the stories come to you? Headlong, for example.
FRAYN
Well, the stories come in different ways. I can't remember exactly where most of them came from, I can only remember them growing in my head. But I can recall the precise moment when I thought of the idea of Headlong. I was in Vienna with Claire, and we had gone to visit Georg Eisler, a painter friend who was ill in hospital, and also to see an exhibition of his work. He was too ill to see us for long and we had time on our hands, and of course we went to the Kunsthistorisches Museum. I had often been there before, and every time I go I look at the Brueghels—they have about a third of the world's extant Brueghels.
As always I spent a long time gazing at The Hunters in the Snow, which I think is one of the most wonderful paintings in the world. Then I looked at the picture next to it, The Return of The Herd, and then the next one after that, The Gloomy Day, and for some reason I read the sign on the wall. Now, I'd never read the sign on the wall in all the years that I had been to the museum and looked at those pictures, never read what it actually said, which is: these three pictures are part of a series of six that Brueghel painted to illustrate the seasons; three are in Vienna, one is in Prague, one is in the Metropolitan in New York, and one is missing. Even as I read the sign I thought, Well, if you thought you'd found the missing picture, what would you do? It would present a lot of difficulties, because plainly it wouldn't be identified as Brueghel or it wouldn't be missing, and it wouldn't be in a museum, some art historian would have looked at it and identified it. So it would have to be in a place where art historians don't much go, probably belonging to somebody who didn't know what it was, and the difficulty would arise as to what you would say to the owner. Would you simply say, I think you've got the missing Brueghel on the wall there? What if you thought that the owner was an unscrupulous man in desperate need of money, who would certainly sell the picture to the highest bidder? The highest bidder is unlikely to be the National Gallery in London, because it doesn't have any money. So it is quite likely that the buyer would be an investment trust, which buys the picture purely as investment, does not put it on display but locks it up in some vault, and no one would ever see it. So you might say you have a public duty for altruistic reasons to be a little devious, and to acquire the picture first, and then identify it as the missing Brueghel. But of course if you do that, you also make your reputation as an art historian, as well as lots of money. So you have mixed motives, and mixed motives are always interesting.
INTERVIEWER
Do you invent your characters as you go along? Or is the cast all there when you begin?
FRAYN
They come into your head slowly. When I start I like to know in advance where the story is going, and I spend a lot of time thinking about the story before I begin writing it. Some writers claim that they start not knowing where the story is going to go. Muriel Spark says that she starts with nothing in her head except the title. This is very dramatic—and she has very good titles. One of my predecessors as a reporter at the Manchester Guardian was Howard Spring, not remembered now but an immensely successful popular novelist in his day. Well, he says in his memoirs that his book, called Shabby Tiger, began simply with the first sentence: "The woman flamed along the road like a macaw." So he wrote it down, and then other sentences followed and so on to the end of the novel. I can't work like that. I do have to know where I think the story is going to go. However, then complications arise. It is like an industrialist setting up a new industry: He has this idea for a wonderful new product he wants to produce and it's going to be of great value to the world, and all he has to do is build a factory, take on the staff and things will be fine. Then as soon as he starts to build the building, and as soon as he starts taking on the staff, problems arise: They make difficulties, they bring in the union, and so on. As soon as you involve other people in your schemes you get into difficulties. It's like that with the characters. It sounds a bit whimsical but it does feel like that; as soon as characters come into the story, they begin to take on a life of their own, and they don't always want to work the plot that you've so laboriously provided for them. It irritates me that they are so ungrateful! One has given them life, existence, and they won't fall in with one's plans. And just as in life the factory owner has to negotiate with the striker, and say, Alright I'll pay you more if you do this or change your practices on that, so you have to negotiate with your characters, go along with some of their ideas hoping that they'll go along with some of yours. And the whole story begins to change.
INTERVIEWER
Your latest novel, Spies, is about two children during the war who get entangled in the complicated world of adults. It is the only one of your works that has a whiff of autobiography about it. How did that story come about?
FRAYN
I find it difficult to remember when it started. I had been thinking about that part of my childhood for twenty-five years, thinking about the way children see the world, the way they see it through the stories they tell about it, the stories they've heard about it. This is true of adults too—we all make sense of the world by seeing it in terms of the stories we've heard. It is easier for us adults to see this happening in children, because they're distanced from us. I thought about it in this way and in that way and couldn't see how to do it. And then one day about fifteen years ago we were staying in the south of France and we went for a walk in the woods around Vence. I remembered that I had a great friend when I was a child who was a very dominant personality. He was the leader in all the games we played. If we were playing cowboys and Indians, he was the chief cowboy, and if we were playing something with policemen he was the chief constable. It was fair, because he always invented the games, he had the imagination and I didn't have any imagination at all as a child. So he was always thinking up new fantasies that we became part of, and he took the leading role. As I thought about this I remembered that at some point—and this would be in the middle of the Second World War—he said to me out of the blue, My mother is a German spy. I didn't say, I don't believe you, I don't think she is a German spy, have you got any evidence for it? I thought it was an exciting idea, and I believe we followed her around for a couple of hours; she didn't try to break into an ammunition factory or get in touch with the German High Command though, so we got bored and gave up. Now, walking in the woods above Vence, I thought, What if we had been persistent and had followed her around for a couple of weeks, what would we have made of her life? If we, as children, had seriously looked at an adult's life, what would we have understood of it? Well, we would probably have seen it in terms of the stories we were familiar with, the stories we invented and acted out, and sooner or later we would have discovered some anomaly. Although she was charming and straightforward, an honest and honorable member of the community, I imagine there would have been some anomalies in her life, because everybody has some anomalies in their lives, not criminal activities but things that don't quite fit in with the rest of their personality and that normally we pass over in silence. So that was the point of departure for Spies. After that it was all fiction.
INTERVIEWER
When did you start writing?
FRAYN
Some of the earliest things I wrote were for my own puppet theater. I needed some material for the puppets to perform. I can't remember anything about them now—I don't believe any great masterpieces have been lost. When I was a child I read children's stories. I passionately enjoyed Arthur Ransome and the Just William stories. It wasn't until I was fifteen or sixteen that I began to read serious literature, but then it was above all poetry, particularly the romantics—Shelley and Keats. I was passionate about Shelley, I suppose because of his radicalism. I still think Shelley is an underestimated poet. I wrote reams of poetry myself, devoid of any virtues whatsoever. I didn't consciously give up poetry, I just gradually wrote more and more prose.
INTERVIEWER
Who else did you read who might have been influential?
FRAYN
Goethe as soon as my German was good enough. Vanity Fair, Thomas Love Peacock, Evelyn Waugh, of course, Aldous Huxley, Christopher Isherwood, Henry Green. As soon as my French was good enough, Mauriac, Gide, Sartre—particularly Les Chemins de la liberté, Malraux—and a wonderful romantic novel of Provençal life that probably isn't considered by anyone now, but which had a great and lasting effect on me: Henri Bosco's Le Mas théotime. The obvious classics I didn't get round to until later, when I was a student, insofar as I ever read them at all, and my Russian wasn't good enough to read anything in Russian until then.
INTERVIEWER
You started studying French and Russian at Cambridge, but after a year switched to philosophy. Why?
FRAYN
I learned French at school and Russian in the army. I switched to philosophy because the language course consisted of a lot of academic work and a certain amount of literature. I enjoyed the language course very much but I was baffled by the literature, didn't have the faintest idea how to answer literary questions. In part two of the tripos it was all literature, and I couldn't face the prospect of spending two years writing essays about literary topics.
INTERVIEWER
This was in the midfifties. What was the philosophy course like then at Cambridge? Was it not dominated by Wittgenstein?
FRAYN
Absolutely. He died in 1951 and I arrived in 1954, but he had been a professor at Cambridge. He was one of the world's greatest philosophers but he was also a terrible human being, an appalling bully, who terrified everyone on the faculty, in the way that some scholars do. Almost everyone was in awe of him. I was passionately interested in Wittgenstein, and I had the great good fortune to be taught in my last year by almost the only person who was not. He was a young New Zealander called Jonathan Bennett, who had just arrived and who, at that stage, had no interest in Wittgenstein at all and resisted all his ideas. Jonathan Bennett loved arguing. He would not accept anything I said about Wittgenstein and I had to argue every step of the way. It was exhausting but a very good way of learning philosophy.
INTERVIEWER
Were you very radical in your youth?
FRAYN
Oh yes! I described myself as a communist.
INTERVIEWER
When did you stop being a communist?
FRAYN
Oh, very quickly. By the time I left school. If I had any lingering sympathies for the Soviet Union they vanished in 1956, when I and four friends at Cambridge who all spoke Russian organized an unofficial exchange with the Soviet Union, and that was an eye-opener.
INTERVIEWER
Let's move on to the beginning of your career, as a budding reporter. You once told me that any good writer should have a stint as a journalist. Chekhov thought it was a dreadful profession. Evelyn Waugh, too, said that journalism is inimical to creative writing. By contrast Graham Greene needed reporting for his novels. Can you say why you recommend journalism?
FRAYN
I always wanted to be a journalist, from the age of eight onwards. Wanting to be a journalist was the public expression of wanting to be a writer. But I did also want to be a journalist for its own sake. I had a girlfriend at Cambridge and I told her that my ambition was to be the editor of the Observer at thirty. That was a misunderstanding of the nature of the newspaper industry. I didn't realize that the Observer was owned by its editor, David Astor, and that to be the editor of the Observer you had to be very rich. I also misunderstood the nature of my own talents—I could never be an editor. But journalism is like everything else; there is good journalism and bad journalism. Trying to describe what is in front of your eyes, trying to understand a real situation, is very difficult and very demanding, and when it is done well it is just as important and good as any fiction.
INTERVIEWER
Who were the journalists you particularly admired?
FRAYN
I suppose when I was young I idolized reporters who were cool. At Cambridge being cool, being relaxed, being detached and apparently undisturbed by the world was the admired attitude.
INTERVIEWER
Your first job was with The Manchester Guardian. What was it like?
FRAYN
It was wonderful, because the Guardian was a very informal place. They used to take two graduates a year, one from Oxford and one from Cambridge—we are going back to elitist times. They didn't give you any training, you just started writing. If you could do it you stayed, and if you couldn't you were chucked out. Of course you began by doing small jobs around the office, but very soon you were sent out to do what they called "color pieces"—usually a personal essay about some northern folkway, the last handloom weaver in Bolton, or the last lock maker in Westhoughton. One of their favorite subjects was sheepdog trials. A friend of mine, Dick West, was sent out to cover his seventeenth sheepdog trial and he had the idea of writing it from the standpoint of the sheep. The Guardian took exception to it; they thought that all that they held most dear was being mocked, and they sacked him, or tried to. But he ignored the letter of dismissal and, the Guardian being the Guardian, nobody liked to raise the subject again.
So you were supposed to describe the world, not just report on road accidents. I discovered that it is very difficult to describe the world—it's a very odd shape. It is not the shape you think it is when you imagine it before you actually confront it; it is a terrible mess, a terrible confusion, nothing fits together, nothing seems to work, any kind of hold on it is ferociously difficult.
INTERVIEWER
You left the Guardian after a couple of years to work at the Observer.
FRAYN
Yes, I moved to the Observer and wrote a weekly column for about six years. When I left the staff of the Observer I made an arrangement to write long serious reportage about various countries—Cuba, Japan, Sweden . . . I have to say that those articles are some of the most difficult things I've ever done. It is very difficult to know what you think about Cuba, for example, very difficult to give any fair account of Cuba that gives any picture of what is in front of your eyes, because you can't understand what is in front of your eyes except in terms of some idea. I went to Cuba thinking, OK, I shall simply describe what I see, I will say this happened and that happened, I will not suggest that I approve or disapprove of this form of government. But it is not possible—what you select to write down is in the light of some particular view. You keep experimenting and trying out the favorable and the unfavorable views, but the only way you can select what to write about is in the light of some idea.
Einstein famously said that "the theory determines the observation." He meant that in an experiment what you tend to observe is what either confirms or disconfirms the theory you started with. Sometimes scientists do manage to notice what appears to be extraneous phenomena, and look for a new explanation. They then hit on new theories, which have to be tested in their turn by experiment. In exactly the same way when you look at the world you start with a set of expectations, and what you see either proves those expectations or doesn't. Even simply walking down the street, you see roughly what you expect to see—cars moving around, pedestrians walking, shops busy . . . It is very difficult when something happens that doesn't fit into that pattern.
I once talked to a judge who said that he spent his life in court being skeptical of witnesses who couldn't give an account of incidents they claimed they had seen. Then one day he was in the street and an accident happened right in front of his eyes. He had a full view of everything that occurred, and afterwards he could not give any account of what he had seen. Good reporters feel the same sort of difficulties. Like scientists they have to slowly change their expectations of the world, and take into account the discrepancies between what they see and what they are expecting to see.
INTERVIEWER
Were you writing novels as well as journalism back then?
FRAYN
I wrote my first novel when I was a reporter at the Guardian. It's not one you're likely to come across. I sent it to my agent and she wrote back to say, I think the first few pages are very promising, but the next three hundred pages are absolutely appalling. So I put it in a drawer and forgot about it. I couldn't write anything else when I was writing three columns a week—they took every idea I had. That is why I moved to the Observer; to do one column a week, and start writing novels.
INTERVIEWER
Your first published novel was The Tin Men. It's very funny, a mixture of pastiche and parody.
FRAYN
It was an intermediary form between a novel and a column. It did reasonably well, and I wrote another four novels before I got into the swing of writing for the theater. After I wrote that unsuccessful revue at Cambridge, I reacted in a sour-grapes way against the theater. A lot of those early columns were mockeries of the theater, about how embarrassing it is to wait for actors to drop their props or forget their lines. I hated the theater. Then very slowly I went back to it. I started by writing a television play. The story came to me one night when I couldn't sleep. Then one of the actors said to me he was collecting a series of short plays about the state of marriage, and he needed one more. They were going to be done in the West End and the producer was an American called Alexander Cohen who had a reputation for doing very difficult works; he had done the first production of Pinter's The Homecoming in New York—hard to do in mainstream theater. So I wrote a simple play about a young couple who pay a nostalgic visit to their honeymoon hotel two or three years later, only they now have a small baby. It was about the difference children make in your life. The director rang me up and said, I'm sorry, Alex says he can't do it—it's too filthy. I was astonished; this was someone who had done The Homecoming on Broadway. But he said, Alex says he can't possibly do a play in which a baby's nappy is changed on stage. I was so annoyed by this that I wrote another three short plays to make an evening of my own, just to spite Alex Cohen. The play was called The Two of Us, and it had universally bad reviews. The gallery claque who came to first nights in those days booed the play. They also booed me personally in the street afterwards, which I thought was pushing criticism a bit far. However, it had two stars—Richard Briers and Lynn Redgrave—and ran for six months. The best thing that happened was that as a first-night present Richard Briers gave me Sheridan Morley's biography of Noël Coward. I didn't know much about Noël Coward except that he had a career of unbroken success, just one hit after another. But when I read his biography I realized he had also had the most appalling flops. He wrote one light comedy called The Marquise, and after the show he was spat at in the street. Curiously, this story has got mixed up with the story of my being booed in the street, and every time I do an interview I'm told, I gather you were spat at in the street. Anyway, it was a revelation to see that Noël Coward had flops; I realized that by their very nature flops don't last for very long, and by their very nature successes do. So as time goes by it's the successes that people tend to remember while the flops tend to disappear from the records.
After The Two of Us, I wrote several unsuccessful plays that were either not done or were flops. The first reasonable success was Alphabetical Order, which was done at the small Hampstead Theatre and then transferred to the West End and ran for a long time.
INTERVIEWER
You must have had a creative encounter with Georges Feydeau's work. Did he trigger something in you?
FRAYN
Well yes, I greatly admire Feydeau and very much enjoy his plays. When I first started writing Noises Off I did it as a pastiche Feydeau farce. But then I thought in Britain people don't play Feydeau, they play British sex farces. Never having seen a British sex farce I had to go and see some to pick up the genre.
The thing about farce is that you have to set up a lot of plot. You've got to build up a house of cards before there is something to collapse. That is the boring bit; even the first acts of Feydeau farces are often tedious—Madame X is getting to meet Monsieur Y in such-and-such hotel while Monsieur Z has arranged to meet Mademoiselle A in the same hotel. You have to sit through all that before you get to the hotel where the couples get mixed up. To write Donkeys' Years I thought I would get round all that by making the beginning of the play a comedy of manners that would be funny in its own right, then gradually tip it over into farce. The result was that half the reviewers liked the comedy of manners but thought it degenerated into farce, and half liked the farce but didn't like sitting through the comedy of manners first. I have to say that I had a poor memory of Donkeys' Years. But it was revived recently, I went to see it, and I thought it was quite funny.
INTERVIEWER
Noises Off is the play that really took off. It's at once a classical farce and a send-up of one. What made you go for farce as a genre instead of straight comedy?
FRAYN
Farce has always been regarded in this country, in fact everywhere, as rather down-market, popular entertainment. There is the English sex farce, and there was a famous series called the Aldwych farces in the 1930s. But it depends what you mean by farce. Goldsmith's She Stoops to Conquer is a farce—mistaken identity and misunderstanding—and it is regarded as a classic. So it depends on the context. But farce chose me as its victim. When I first started writing farces, interviewers would ask me, Why do you do farces? Why don't you write about life as it is? and I couldn't understand what their lives must be like. I mean it seems to me that everyday life has a very strong tendency towards farce, that is to say, things go wrong. And they go wrong often in a very complex and logically constructed way—one disaster leads to another, and the combination of two disasters leads to a third disaster, which is the essence of classical farce: disaster building upon itself. It seems to me that the same thing happens in life, in my life anyway. I would like to live a life of classical dignity and write plays in blank verse or alexandrines.
INTERVIEWER
After Noises Off came Benefactors. That is a serious comedy, so to speak. What is the essential difference between comedy and farce?
FRAYN
Hard to say. Farce is very elusive. Everybody who tries to define it falls on his nose in a rather farcical way. There is a collection of farces edited by the American critic Eric Bentley. In the introduction he gives a very plausible account of what a farce is; he says the farce always has to be an attack on domestic virtues of fidelity and stability and so on. Then the very first farce he offers is a piece by Labiche about two young men competing for the hand of the same girl and trying to win her father's favor, with no suggestion of adultery or disruption or any other threat to domestic virtues.
I think what most farces have in common is the element of panic. People lose their heads. They find themselves in an embarrassing situation, and they tell a lie to cover up. The lie doesn't make things better, it makes them worse, and they then have to explain not only the initial embarrassing situation but the lie as well, and the panic escalates. In Noises Off it doesn't happen quite like that. It's about a group of actors putting on a play and things going wrong. They don't have to lie, but they have to find a way out of the difficulties, and of course the things they invent, like lies, make the difficulties worse. It is the same in Clockwise. Each solution to the central character's problems doubles them.
INTERVIEWER
It was very much like a nightmare, except that a nightmare is not funny. How does one turn nightmare into comedy? Is it because it happens to someone else?
FRAYN
Yes! In every farce, in every comedy, there has to be an element of pain and difficulty, and we laugh as a relief that it is happening to somebody else and not to us.
INTERVIEWER
Perhaps this is why Chekhov called his plays comedies, while we tend to think of them as very sad dramas?
FRAYN
There are two things here. Chekhov described those last four great plays as comedies and that has always been puzzling, because they plainly are extremely painful as well as sometimes funny. It's different with his first play, which I adapted as Wild Honey. The original had no name—the title page was missing—and usually it is called Platonov after the protagonist. It's a terrible unblended mishmash of serious and comic stuff. It seemed to me that the comic stuff was by far the best, and my aim in adapting it was to find a way of using the comic material and leaving out the rest.
INTERVIEWER
So was Chekhov an important influence, especially reading him in the original Russian?
FRAYN
Yes, he was. What people forget about Chekhov is that he began as a humorist; he was a comic writer, and with age he became a serious writer. When at first he tried to write for the stage, he wanted to write serious plays, but it didn't work, so he wrote farces. His first successes in the theater were farces: The Proposal, The Bear, and so on, straightforward commercial plays.
INTERVIEWER
In Copenhagen there is a shift of emphasis from panic, which as you say is the central element in your comedies and farces, to uncertainty. Did this gear shift come about as a result of your reading about quantum physics?
FRAYN
Like anyone who is interested in science I was always interested in quantum mechanics, because it has so many bizarre philosophical implications. I have also been interested in what kind of knowledge you can have of people's intentions. It just seemed to me that there is a kind of parallel between physical uncertainty and people's intentions. The reasons why we can't know everything about the behavior of particles are very different from the reasons why we don't know everything about people's intentions, but in both cases there is a theoretical barrier. What Heisenberg demonstrated is that even if we had much better machines, more accurate instruments, there was an absolute limit to our knowledge of physical objects that you couldn't get beyond. Similarly, however much we know about biology and the structure of the brain, it is in principle impossible to have a complete understanding of intention and thought. I've been interested in the subject for a long time, and I suppose it was released by the story of Heisenberg's trip to Copenhagen in 1941 and his visit to Niels Bohr—the endless dispute as to why he did it, what his intentions were.
INTERVIEWER
Do you think Heisenberg deliberately withheld the information that stopped the atom bomb being produced in Germany because he knew Hitler wouldn't hesitate to use it?
FRAYN
The evidence is ambiguous. It is possible to make a case that Heisenberg did the crucial calculations of the critical mass and concealed it, but I think the bulk of evidence is against that. I think the evidence also suggests that neither Heisenberg nor anyone else in the German team put much serious thought into atomic weapons. They put a lot into building a reactor, to produce electricity. I don't think that Heisenberg made any conscious decision not to work on atomic weapons. I think he thought, quite reasonably, that there wasn't the faintest chance of producing atomic weapons within the time scale of the Second World War. One of the reasons he thought that was that he hadn't realized how little fissile material he would need, and he didn't realize that because he hadn't done the calculation of the critical mass.
The question asked in my play is why he hadn't done the calculation. I don't think there is any formal way of answering that question. A reasonable judgment, though, is that he didn't do the calculation because he didn't think it would produce an interesting answer. He thought it would come out in tons, and there wasn't the slightest chance of producing tons of fissile material so it wasn't worth pursuing the matter. The question arises as to why two physicists in Britain—the German physicist Rudolf Peierls and the Austrian physicist Otto Frisch, who were working in England because they were Jews and had been forced to emigrate—did do the calculation and discovered that it would come out not in tons but in kilograms.
That was the beginning of the Allies' atomic weapon program. So why didn't Heisenberg do the calculation? He was a brilliant physicist, far greater than Peierls and Frisch. He had a very aggressive approach to problems—he had faced many intractable problems as a physicist and he had gone immediately after them and found mathematical solutions. Why not this one? There is no answer that is knowable. All you can say is that it was rather convenient for him not to know what the critical mass was. I'm sure he didn't consciously choose not to know in order to avoid being faced with the moral dilemma. But one can't help thinking that maybe it was a question he didn't wish to look at too closely, and seeing the answer in tons made it not worth pursuing.
INTERVIEWER
You said earlier that you were a communist in your youth. And yet you seem to have given up politics in favor of existential problems, for there is nothing overtly political about your plays and novels.
FRAYN
I'm certainly not a left-winger. I would describe myself as moderate. You might say that Benefactors is a political play, not in the sense of promoting a political viewpoint but in describing a great change in the political temper of society. It's about the period from the late sixties to seventies when we gradually lost our faith that we could find rational, communal solutions to our problems, and decided to leave it to the forces of the market, or the forces of nature. It wasn't just in this country, it was true right across Western Europe and even in America. I remember going to America in 1968 and radical friends were saying that all their problems of race, education, etcetera would all be solved—it was just a matter of deciding what to do and spending the money. I don't think anybody thinks that in America today, or has for a long time. The solutions that were found in the forties and fifties turned out to be partial solutions at best. We began to see that some problems are endemic in the human condition, that conflict is endemic in human societies, that you can't have human society without conflict. That is what The Benefactors is about.
INTERVIEWER
So politics is not a solution to existential problems.
FRAYN
I think there are many problems we can solve. And it's impossible not to have politics; politics is our attempt to reconcile all the different forces in society. Everybody in society has a different viewpoint and interest, and the task of politics is to find the least bad way of reconciling them all, of coexisting without killing each other. You'll find a lot about that in my next play.
INTERVIEWER
You will shortly be seventy. Is it a watershed?
FRAYN
I was surprised to be sixty-seven—last time I thought about my age I was twenty-nine. Nowadays I get a bit more tired than I used to.
INTERVIEWER
Given your energy and productivity, do you ever think the day will come when you might stop and think you've done enough?
FRAYN
Oh, yes yes yes! Tomorrow! Tomorrow is when I'll stop. I think all writers feel this way, that tomorrow or next week they won't be able to go on. I certainly think that after I have finished the play I'm working on now that'll be that. But who knows, an idea might come. I have some partial ideas, and sometimes one of them gets together with another and breeds, then a new idea appears that catches one's mind.
INTERVIEWER
Do you think about death? I mean philosophically, since it is hard to associate you with anything like that.
FRAYN
I thought very hard about death at the traditional age, sometime in my forties, partly because it was then that my father and various of my friends and contemporaries died. I can't say it's something I think about a great deal now. I'm against it, of course, but I can see that what gives life its value is that it is limited. What makes every moment precious is that there aren't that many of them.
INTERVIEWER
There is the new house to look forward to and the garden to be created.
FRAYN
Once we've moved to the new house I'll sit in a deck chair with a rug on my knees and a straw hat over my eyes and do nothing at all.