Interviewed by Valerie Stivers
Issue 219, Winter 2016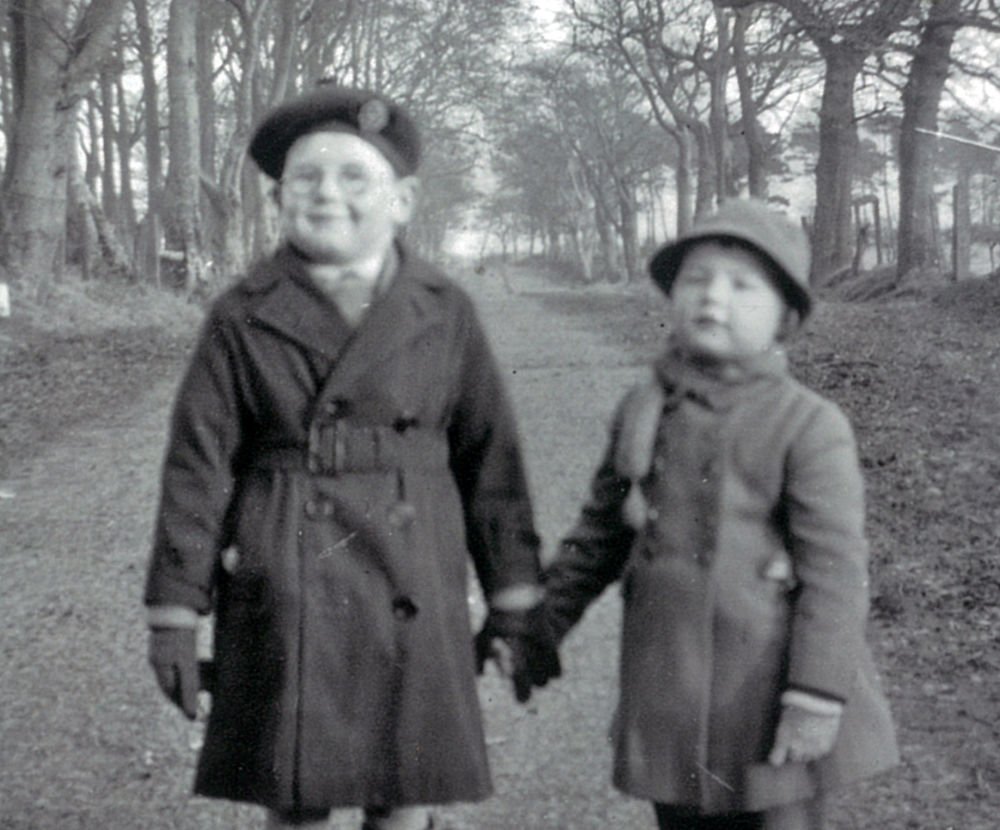 Gray, left, with his sister, Mora, in Auchterarder, Scotland, ca. 1939.
The Scottish writer Alasdair Gray, now in his eighties, lives in a two-room flat in the bohemian Hillhead neighborhood, near the University of Glasgow, where for many years he used to teach. Described by Will Self as a "little gray ­deity," Gray is widely credited with blazing a trail for Scottish-identified fiction in the 1980s—­although his books themselves have rarely ­encouraged imitation. His first major work, Lanark: A Life in Four Books, published in 1981, was thirty years in the writing and came in at nearly six hundred pages, including a false prologue, a false epilogue, footnotes, and a partially fictional "index of plagiarisms." (The ­entry ­under "Burns, Robert" reads, "Robert Burns' ­humane and lyrical rationalism has had no impact upon the formation of this book, a fact more sinister than any exposed by mere ­attribution of sources. See also Emerson.") Cover illustrations, frontis­pieces, and design were done by Gray himself, whose drawings often recall the engravings of William Blake. Lanark's urban realism, playfulness of form, and imaginative splendor ­emboldened a generation of Scottish writers to look locally for inspiration. The book, Irvine Welsh told Gray's ­biographer Rodge Glass, "is probably the closest thing Scotland's ever produced to Ulysses. What it said to me was, it would be fucking great to be a writer."
Since then, Gray has published plays and poetry and is nearly as cele­brated for his short-story collections—Unlikely Stories, Mostly; Ten Tales Tall and True; and The Ends of Our Tethers—as he is for his major ­novels: Lanark; 1982, Janine; and Poor Things, which won a Whitbread Book Award and the Guardian Fiction Prize in 1992. He is also a fierce advocate for ­socialist causes, has written two books in support of Scottish independence, and never misses an opportunity to promote the work of a friend. His 2014 ­autobiography, Of Me and Others, explicitly set the record straight on ­fellow artists he feels have been underrecognized.
Gray is a notoriously digressive and polymathic conversationalist. He has a high voice capable of a range of reedy, shrill, or menacing intonations, and he does humorous accents, often slipping into a facetious, hollow, pompous tone when discussing his own achievements. When I visited him, he had recently returned home after a year in the hospital—a bad fall has left him confined to a wheelchair. An assistant was working on a large painting in the book-cluttered front room. The author sat by a window in his bedroom; he has lived alone since the death of his second wife, Morag McAlpine, two years ago. Although the apartment is sparsely furnished, its walls are covered with Gray's artwork; a grouping of nudes clusters like muses around his mechanized hospital bed. Throughout our interview, Gray gallantly struggled to quell his discursive tendencies, sometimes shuddering and saying, ­unprompted, "I'm trying to stick to your question!" as if to do so caused physical pain.
—Valerie Stivers
INTERVIEWER
Are you writing anything now?
GRAY
No, but I have recently written a rhymed paraphrase of Dante's Divine Comedy. I cannot call it a translation as I do not know Italian. My version is based upon eight different English translations, none of which satisfied me. It will be published in three parts, the hell section to be launched for Christmas 2017, purgatory and paradise in following years. The delay is due to my work on the illustrations. The American publisher Gabriel Levinson will publish a book of my recent poems, some of which are translations. But I now have no ideas for more works of fiction and expect none.
INTERVIEWER
You've said that many times before. You said it to Kathy Acker and later wrote that "such announcements were truthful but not honest," admitting that you're always hoping for new material. Is that still the case?
GRAY
Oh, yes, I'd be delighted if I suddenly got a good new idea, but I think it highly improbable now. I don't think there's scope now for me. All my ­notions for poems and things or new works come generally through reading.
INTERVIEWER
That hasn't always been the case?
GRAY
No. The earliest verses I wrote were written mainly out of sexual or adolescent frustration and written through the loss of people I loved, either because they got sick of me or had died or gone away. Then I had the intention to write "A single huge novel!" "A single book of all my poetry!" "A single book of all my plays!" [sinister silly voice] "A single book of all my art!"
INTERVIEWER
Why was it important to you that each be just one book?
GRAY
I didn't think I had a lot of books in me. And I meant my first novel to be an epic which would contain, in an artistic narrative, "everything I knew" and would in fact be a modern Divine Comedy. It took me a long while to write it because I realized at one point that I had to combine two books that I'd started. One was going to be a modern Glaswegian version of A Portrait of the Artist as a Young Man, which would be autobiographical. My artist was a painter of murals who would eventually go mad and commit suicide and maybe even murder because he was insufficiently attractive to women to . . . uh . . . "attract one." And also it's hard to be an artist in Scotland if that's all you're keen to do.
The other book I wanted to write was a Kafkaesque novel. I felt that Kafka's Trial and, for that matter, his Castle were taking place in urban ­communities not totally unlike Prague, where he lived. This world in which an ordinary citizen—well, not all that ordinary, a member of a bank!—finds himself summoned to a court which is held in the attic of a tenement in a slummy quarter of the city—I felt yes, that's something that could ­happen. Except, unlike many who read The Trial, I came to the conclusion that in fact K. was guilty, even though he wasn't quite sure what the crime was, unless it was the crime of being a prosperous member of a bank. Because you'll find in his dealings with his mistress and other people that he's utterly selfish and ruthless. Could that be the fault? Could that be where his guilt is located?
In any case, as I say, at first I saw these as two different books, and then I read a book called The English Epic and Its Background by a Cambridge don called Tillyard. In a chapter dealing with a Portuguese epic, Tillyard mentions how the author, writing an account of Vasco da Gama's voyage to India on behalf of the expanding Portuguese commercial empire, has mixed up with it episodes which involve Neptune, Venus, and nymphs. After da Gama successfully got to India, after a stretch of immense trouble and hardship, there's a period in which the Portuguese crew are allowed an erotic indulgence with nymphs, et cetera, et cetera. Things straight out of classical Greek mythology! Tillyard was explaining that a true epic could blend all literary forms into one. It was that which decided my Portrait of the Artist as a Young Man and my Kafkaesque afterdeath parody of our society were going to be one book instead of two.
INTERVIEWER
When did you have this realization?
GRAY
I think it was my third year of art school.
INTERVIEWER
In 1954. So still twenty years before you finished Lanark. What was that process like?
GRAY
Well, I was advancing very slowly. The first part of the book would end with Duncan Thaw being accepted to art school, and that was very closely based on my own life. But you see, I believed that as a writer I should have experiences of fatherhood and family life, more adult experience than that of childhood. I was afraid those things might not happen to me. But they did. My first marriage, which lasted for about nine years, was a turbulent but vital one. It provided me with essential experiences that I could not have had if I'd married a decent, wee Scottish girl instead of a rather wildly precocious Danish one. I wasn't particularly attracted to the decent, wee Scottish girls. And the ones I was attracted to weren't at all attracted to me, except as a good friend. And I didn't want a good friend, I wanted a passionate love affair!
INTERVIEWER
What was it about the experiences of your first marriage that helped you write the novel?
GRAY
I hope there is a suggestion that Lanark really loved Rima and was desperately sad and unhappy that she left him, and that he loved his son. It's meant to be the story of a man who, though he wants very much to love, is very bad at expressing love, but tries.
INTERVIEWER
I read somewhere that you like to write in bed.
GRAY
Yes, quite a lot. But I could write anywhere. I carried a notebook around with me and could wake up early in the morning on somebody's floor and continue the writing because I was doing it in my head a lot of the time.
INTERVIEWER
May I ask where you've gotten your ideas? I know it's a terrible question, but in your case it seems warranted.
GRAY
I've stolen them from other people and other books and other things I've read. In the index of plagiarisms in Lanark, I list H. G. Wells and various science-fiction writers. And of course Lewis Carroll, all kinds of legends and short stories, and occasionally dreams.
INTERVIEWER
It's funny that you say you've "stolen them from other people" because your work is full of startling twists and dislocations that seem as though they could only have occurred to you. Like the moment in the short story "Job's Skin Game" when the protagonist goes from picking at his skin to collecting and cooking the material.
GRAY
That came to be written because I was commissioned to write a short story based on a book of the Bible, and the Book of Job came to mind. And I have been bothered by eczema, a skin condition, for much of my life—not recently very much. That business of collecting the scabs and frying them was a thing I once did. I never entered into arguments with doctors about it, or with my wife, as happens in the story. I don't think I was married then.
INTERVIEWER
So what you invented was the other characters' responses.
GRAY
And I made the main character a fairly successful businessman, which I've never been, and an alcoholic. There was a friend of mine, dead now, who while apparently drinking water at meetings was drinking neat vodka. That was a detail I could use. Many details of a fairly realistic kind that have slipped into my novels and stories were picked up from other people. I've often been amazed how certain details that strike you as most improbable are actual and are part of the web of somebody's life. Whenever I've come across one of these, it's rather stuck in my mind.
INTERVIEWER
And how did your second novel, 1982, Janine, come about?
GRAY
After Lanark was done, I had many short stories and wanted to finish a number of them for a collection I was calling Unlikely Stories, Mostly, ­because it was to contain my realistic stories. One of these was going to be a rather ­depressingly realistic story, a first-person narrative by a Scotsman, an alcoholic, but not obviously so, whose alcoholism was a way of maintaining his work at a job he didn't particularly like and wasn't interested in. It was partly inspired by Dostoyevsky's book Notes from Underground. It's a long monologue by a bloke who despises himself and everybody else. I thought, I can't take this bloke seriously for very long, but I can maybe make him sound interesting for two or three pages. And then, to my surprise, it started swelling up. And I started putting in his pornographic, sexual fantasies. And I'd suddenly found that this was expanding hugely, and in fact, it became my second and, I think, my best novel, 1982, Janine.
In A Portrait of the Artist as a Young Man, Joyce wrote that a true work of art should not move people to any activity, saying only improper arts, pornography and political propaganda, do that. And I was inclined to believe it, but then I found that, in 1982, Janine, I was putting in pornographic fantasy and political propaganda. I was very impressed by the fact that Jonathan Coe, who liked the book, said that in reading it he'd not realized it was an argument for socialism, or political independence. It was only at the end that he realized it was a criticism of modern Britain.
INTERVIEWER
In that essay, he also said that he didn't really like the pornography. Did you feel like your peers and critics rushed to disassociate themselves from the sexual content?
GRAY
I was amazed so many didn't. I thought it would be denounced widely, on a huge scale. It wasn't denounced widely. Half the critics didn't like it. Some feminists found it disgusting. Other feminist critics said, Oh, we know that's how men's minds work anyway. The fact was that the main character, McLeish, was somebody who didn't like the way his own mind worked and, in the end, was attempting to change his mind and his way of life.
INTERVIEWER
And his sadomasochistic sexual fantasies ended up playing a negative role. He had been using them to distract himself from the real problems of his life. Do you think that's true about that kind of sexual fantasy?
GRAY
Yes.
INTERVIEWER
Because you know, it has become much more acceptable . . .
GRAY
Yes, I'm surprised by that. It's quite funny, I read most of my work out loud, as I go along, to friends or whoever will listen, and I used to read the pornographic bits aloud to folks quite cheerfully. I do regard them as containing many of my best bits of writing, but now I can hardly reread them at all. I think, Oh dear.
INTERVIEWER
Was there a big bondage scene in Glasgow at the time?
GRAY
None I ever encountered!
INTERVIEWER
Now it's a fairly easy thing to find. There are clubs and parties and apps on your mobile phone where you can connect with people who share those same kinds of ideas.
GRAY
Maybe so, but . . .
INTERVIEWER
It wasn't happening here back then?
GRAY
Well, no. And it wouldn't have for me. After my first marriage ended, I had one later partnership that lasted exactly the duration of the university vacation—because the person in question was a lecturer who started the affair with me when the vacation began and had it all wrapped up by the time school was back in session. At one point, she suggested that she might find it entertaining if I spanked her, and I couldn't bring myself to do it! I've always hated physical violence. Even in pretense I find it repulsive.
INTERVIEWER
This could be a good time to ask about your childhood.
GRAY
I agree with Freud and many other psychologists that our memories of ­being a baby and a very young infant hardly exist consciously but do shape us subconsciously. Investigating as far as possible into my own memory, there are things—I put them into Lanark, of course—that take me aback. I met an elderly lady who had known my grandparents, and she said how fond I'd been of my grandmother. I couldn't remember. I had memories of her, but I didn't remember a very great fondness. But she said that whenever I quarreled with my mother, I would run away to my grandmother's house. And that after my grandmother died, I was found outside the back door, banging and crying . . . I thought, How very touching. What a Dickensian detail. But I don't remember anything like that, you know.
I do remember quarrels with my mother—always about food. She would present me with something and I would refuse to eat it. Generally because it was white and soft looking. This extended from stewed pears to any form of fat, even possibly to mashed potatoes. She would get very upset about that. The reason, I know, was that she came from a working-class family, where it was regarded as a matter of pride to give your children meals. And she was quite proud of the food she made, which I greatly liked in later years. Had she decided to say, Well, don't eat it then, just do without, I would have done without, and without much fuss, because what there was to eat was sufficient, what with the pudding. But to her, I realize now, it was a terrible insult to the best thing that she could give, to be rejected just like that. She'd never strike me, she never struck any of us, but she'd say, You wait till your father gets back.
Years later, when I was having my bad asthma attacks, my father said he wondered if it didn't have anything to do with me having been chastised so often in infancy, and he reminded me of my defiance over food and how, when he came back from work, he would have to spank me for not eating the meals. He hated doing it, but he felt he had to. And then, since this did not calm me down, I would go into hysterics and start banging my head against the wall. To quiet the hysterics, they would fill the bath with cold water and plunge me into it. Which quieted my hysterics right away. I'd be put to bed. One thing was that we were given a good-night kiss. Being put into bed, I would think, I'm not going to let her kiss me tonight. But I could never refuse it, somehow. I'm quite glad, because I think it did shape my character.
And see, this is the thing—I didn't remember any of it. I only remember it because my father reminded me.
INTERVIEWER
You've said that your early impulses to write were through sexual frustration and liking women who didn't like you back. Surely that changed after Lanark was published. Women must have started to fling themselves at you.
GRAY
Undoubtedly in 1981, when it came out, I did become confident, as it's called, and was involved in two love affairs [very silly voice] and one of them became a quite steady partnership in which . . . [laughs]
INTERVIEWER
Why are you laughing?
GRAY
I'm just remembering. I met her at a party, which was held on the occasion on which Diana and Prince Charles were married.
INTERVIEWER
An ironic party?
GRAY
Rather, because we were none of us royalists. I proposed to this lady that she come home with me, and she said she couldn't because she was having an affair with so-and-so, who was there, but she would meet me a time when he wasn't. And I thought, No strings attached! How wonderful! And then the lady, she came to me in an excited way, not long after, and explained that she'd found that the man she'd been having the affair with had also been having an affair with one of her best friends. She told to me in high glee how she'd gone to see him and said, I've got something to tell you! I know you're having it off with so-and-so, and it's quite all right, you can go on doing so, because I'm having it off with Alasdair! And suddenly I realized that she regarded me as a fixture in her life, and I became one.
INTERVIEWER
Lanark has been described as opening up possibilities for writers in Scotland and creating a movement of local literature. Are you happy with how Scottish literature has developed?
GRAY
That's just because a lot of young writers found the book used immediate, contemporary Scottish experience in a way they hadn't imagined it could be successfully used. I think they would have come to it anyway. And in fact, I had no influence at all on James Kelman and Tom Leonard and Liz Lochhead, who had their first writings successfully published before mine, though theirs didn't make such a big bang, because mine was very ambitious and very, very long. As well as getting good reviews.
INTERVIEWER
Let me ask you about your reading habits.
GRAY
My main reading nowadays is in books I used to read—biography and history, and I suppose popular science more than anything else. Nowadays I'm chiefly rereading Dickens, though I've been rereading a lot of Wonderful Life by Stephen Jay Gould, about how discoveries in the Burgess Shale changed people's understanding of evolution.
INTERVIEWER
Do you read contemporary literature ever?
GRAY
I read the Times Literary Supplement and the London Review of Books, which I think keeps me sort of abreast.
INTERVIEWER
One thing that distinguishes your work from almost anyone else's is that you've managed to keep creative control of the entire publication—you do the illustrations, design the cover, write the jacket copy, write fake blurbs. How did that come about?
GRAY
Lanark was published by a small Scottish firm called Canongate, which was started in 1973 by Stephanie Wolfe Murray and Angus Wolfe Murray, in order to publish Angus Wolfe Murray's first novel, which was quite a successful ­novel and, I'm told, rather a good one. The firm kept running into economic difficulties, which were got out of whenever Stephanie would get a new partner with enough money. Eventually one of her new partners, Charles Wild, wrote me a hugely enthusiastic letter about Lanark, saying he hadn't read more than the first few chapters of it but there was no doubt that Canongate would have to publish it, despite its length, and they could probably get ­money from the Arts Council of Great Britain to assist them if they couldn't ­afford to do it themselves. I explained to Stephanie that I wanted my paragraphs to be read as a unit, without indentations, even for new speech. I asked that there be a line-and-a-half space between each unit instead. And that struck her as a bit eccentric, but she had a number of pages printed in that style and discovered that it looked quite conservative. And therefore she allowed me to design the book, my initial decorative title pages for each of the four books, and one for the book as a whole, and to design the cover and the jacket. And it was successful. They even got an award for the art—they did, not me!
INTERVIEWER
What's the story behind the cover copy that you write, and the fake blurbs? They're often negative in a roundabout way.
GRAY
I do that to make it more entertaining! For 1982, Janine, since it received some negative reviews, it occurred to me to print both the for and the against, alternating. What did that fellow Levi say? "I recommend nobody to read this book . . . It is . . . hogwash. Radioactive hogwash." Which I thought very good. Of course, many of the most antagonistic reviews would get people interested in the book. The ones I'm most pleased with are the quotations I invented for Poor Things.
INTERVIEWER
It is also notable that, in many of your books, there is a subject heading at the top of every page.
GRAY
Yes, you get that in the novels of Dickens, in Martin Chuzzlewit for instance. On one side you have the title of the novel and on the other a heading. "At the Old Fingerpost," "Dawn Among the Packets," "Mrs. Gemp's Anxiety," "Jonah Summoned Back," "Tom Pinch as Landlord." And for the start of each chapter, you've got often quite a lengthy chapter summary.
One of the earlier books I read, The Rose and the Ring by Thackeray, was copiously illustrated, and I remember being highly amused when I first read it, before I was in my teens. He not only had commentaries at the top of the page, but they fell into rhyming couplets—"See the Monarch in a Huff / Look at Lovely Gruffanuff."
INTERVIEWER
You do that in Lanark in the Oracle prologue. "A Bleak Man Tells Why He Likes Bleakness / It Seems a Strength But Proves a Weakness."
GRAY
Yes, I put into the Oracle all the typographic devices I'd seen in any books. For instance in Flann O'Brien's Third Policeman, he has long footnotes that provide a commentary on plot, but they're also giving information about the fictional philosopher de Selby. The narrator of The Third Policeman is an enthusiast for the writings of de Selby, which are full of mad theories. One of de Selby's theories is that there is no such thing as night. It is a periodical pollution of what he calls "black air," whose source seems to be partly industrial pollution and volcanic eruption. This black air has a toxic effect that induces the state called sleep, and de Selby says he gives no chemical analysis of this black air except to suggest that it is of inflammable quality, in order, perhaps, to explain how it can be dismissed by the simple operation of striking a match [raucous laughter].
INTERVIEWER
That is gorgeous.
GRAY
But he has many other equally daft accounts of things. And in the footnotes you'll find a parody of academia, in the form of secondary opinions on de Selby quoted from those who attribute the daftness of his theories to a fundamentally not only stupid but vicious nature, and those who attribute it to the mistaken workings of a great mind. I've read no work on a major philosopher—from Plato to Hobbes to Nietzsche—in which the author does not, no matter how highly they regard him, point out where he's gone wrong and why, because every commentator must show the superiority of his own intellect to the more influential person he's commenting on or introducing.
INTERVIEWER
That brings us to the topic of academia. There have been whole books written on the postmodernism of your work. I know you don't like that word.
GRAY
Oh, no.
INTERVIEWER
What does postmodernism mean to you, and why do you reject that category?
GRAY
Well, one thing postmodern novels have in common with mine is their ­attitude to time. They present their story in something other than a simple chronological sequence, so it's only in the mind of the reader that a chronology can be laid down. But by all the other definitions, I can see nothing in postmodern novels that I haven't enjoyed in earlier books. The business of having the author himself as a character in the book? I suppose you could say that Dante's Divine Comedy was one of the first to mingle autobiographical events with that of the story he was telling. But of course, you get it in Wordsworth's The Prelude, and then The Excursion.
And then the business of using different kinds and forms of stories. Again, I found that first in my preteen reading, in Charles Kingsley's The Water-Babies. You've got the story of the exploited chimney sweep in a quite believable early nineteenth-century setting, but after his death and drowning he is resurrected as a water-baby. As he becomes cruel in his dealings with the underwater creatures, he grows a prickly hide, so nobody can cuddle him. Eventually he realizes that to get rid of these prickles, you must become a better and more acceptable person.
INTERVIEWER
Was that the inspiration for the dragon hide grown by the main character in Lanark?
GRAY
Oh, I think many things were. For example Pinocchio, one of the earliest Disney films, hugely excited me. There are strange transformations and the business of him joining the bad boys who are led by a satanic coachman to a town where they indulge themselves, which turns them into donkeys. You see them shattering stained-glass windows and getting drunk and playing pool. And the friend Lampwick turns into a donkey, and Pinocchio begins to turn into a donkey, being rescued in time with nothing but his huge ears and long nose and a donkey's tail.
Another very big influence was reading Tristram Shandy. Sterne is a writer who insists upon his own voice and insists on having dialogues with his readers and discussing his own book and what its purpose is.
INTERVIEWER
I find your epilogues, when you speak directly to the critics and explain the book, to be very cleverly subversive. Because critics usually assume that
the text should stand on its own—and that it's up to them to determine the meaning.
GRAY
There was one editor at Canongate—quite a nice bloke, he wasn't there very long—who said to me, Won't this annoy the critics and put them off? I said, Not at all! They'll see me as one of themselves! Though one I know—Scottish, and a woman—said quite rightly that this method of anticipating people's criticism is a sign of cowardice and manipulation.
INTERVIEWER
In a New York Times review of your novel Something Leather, the reviewer was offended by the explanations in the epilogue. He felt you were implying he might have missed something, and he seemed indignant because you had admitted to writing the book because you needed money.
GRAY
Hmm. Well, there it was. Tom Maschler, the managing director at Jonathan Cape, had written to me saying that he knew I had no ideas for new novels, but he was so keen. And I thought, Oh, God, I need money. I had written the first chapter of Something Leather, in which the heroine finds this shop where they prepare to make fetishistic leather garments with strong S&M overtones and she decides to order one. I had written that as the start of a pornographic novel when I thought I would never get a publisher to take Lanark. I sent it to Jonathan Cape, asking whether this could be the first chapter of a novel. He wrote back in a state of high excitement—not what I was expecting—because he said this class of pornography hadn't been written before, et cetera. Then I started thinking, I shall do something truly postmodern and incorporate short stories, reflective essays, that kind of thing. So I started taking plays, half-hour plays I had written for BBC Radio Scotland, all kinds of ideas, and fitting them together. I also decided to put four women in it representing different social classes.
Because I was quite desperate for money, I wanted an advance of forty thousand pounds for it, to be delivered in three quantities. A third of it on signing the contract, on condition that I receive that payment the same week of signing the contract. The second third when I delivered the manuscript. And the last quantity on publication. None of my previous agents had asked publishers to offer anything like those big sums before. Anyway, I asked for that and he said yes to it. And so I said yes.
INTERVIEWER
You've been an outspoken socialist your whole career, in essays and nonfiction as well as in fiction. To what extent has politics been a concern in your writing?
GRAY
I think social justice is necessary to everybody. There are those who can take the political establishment of the time for granted, as being something quite good enough, to get on well with and to live well in if you exercise enough tact. This is certainly the opinion of Jane Austen. But it's a view that very few people—well, very few thinking people—would adopt nowadays, because we're all aware that our society is in transition, and that there is no normalcy to return to.
INTERVIEWER
Society is in transition to what, in your view?
GRAY
What one can be sure of is that things aren't going to go calmly onward. After the Second World War, I thought Britain had become an example to the rest of the world, because the welfare state had been set up on the assumption that, from now on, a person's health and education would not depend upon the amount of money owned by their parents. And of course, we had national ownership of transport, metal production, public services, if one takes the BBC as that. And, you know, we could take it for granted that we were better than Russia because Britain was not a single-party dictatorship. But in Thatcher's time, I suddenly realized that the government was deliberately proceeding to reverse all the things that made us think that Britain was a better country than most others.
INTERVIEWER
Perhaps as a socialist, you've always been very generous in collaborating with friends and in promoting the local community of artists.
GRAY
The more of us there are, the better. I know I'm not the only one. Maybe it's vanity, but I have no sense of competition with the other contemporary Scottish writers. I don't see how my work could receive much recognition for its qualities unless other writers, whom I think as good or as interesting, also receive recognition themselves.
INTERVIEWER
How have you managed to divide your time between painting and writing?
GRAY
They both come naturally to me. I found, when drawing and imagining things in words, that each was a complement to the other. Take the embryo inside the skull in my mural at Òran Mór—I got that idea from Leonardo's notebooks, where he sketched skulls and wombs. I noticed that the ovoid interior of his skulls was very like the ovoid interior of his wombs and that it invited the transferring of the embryo into a human skull. It would fit very neatly there. That particular image seemed to represent life within death in a very condensed way, with death itself as the protective cocoon.
INTERVIEWER
In Poor Things, you turned that into the premise for a plot. Did the image come before the idea for the book?
GRAY
Oh yes, long before. Years, decades before. Though in fact, the notion came from a friend—I mean, the notion of restoring a drowned woman to life by giving her the brain of her own fetus. I was reading the earlier phases of the story to my friend, Bernard MacLaverty, and wondering, How could a brain be got? I thought of a surgeon who deals with bodies of suicides that have been reclaimed by the Glasgow Humane Society, whose house existed, and still ­exists, beside what was a jumping-off point for suicides. It's a ­pedestrian suspension bridge in Glasgow. Grim. I was thinking, The Glasgow Humane Society—that's where he would get both a body and a brain. It was Brandon who said, Wouldn't it be ideal to use a brain from within the body of the mother? My immediate thought was, Nonsense, oh dear, certainly not. And then—as often happens when I have been given ideas which I ­reject—later, as if I've had them myself, I think, What a good idea. Of course, it must be! But, as I say, it came together later. And that image, the embryo in the skull, keeps cropping up. I've used it in the auditorium ceiling of Òran Mór as well.
INTERVIEWER
What is it that attracts you to grotesque or horrible material, as a writer?
GRAY
The same question has been asked of Thomas Hardy and Charles Dickens and Dostoyevsky.
INTERVIEWER
I am asking you. I'm thinking of a YouTube video I've seen in which you read your short story "Pillow Talk." After the last line, you pause, then start laughing, and say, "What a horrible story!"
GRAY
"Pillow Talk" is a marital story in which the man is apparently quite happy but he's had a dream in which he got an e-mail from his wife saying she wanted to leave him. He doesn't know it was a dream, so he confronts her. He says, What about this e-mail earlier? And she says, I sent you an e-mail?! He says, Yes, and why did you send it to the office so that everybody else could read it? And she says she didn't send any e-mail but admits that she would like to leave him, but that she's certainly not going to—it would be too inconvenient.
INTERVIEWER
And then he says, I'm glad! I don't want you to ever leave because I love you, and she says, Then you're luckier than I am. And they say good night. It's a perfect portrait of a marriage.
GRAY
What I find horrible is that it strikes me as possible.
INTERVIEWER
You've always described your second marriage as a happy one. How did that relationship feed your work?
GRAY
A few of my later stories have come from things my wife told me about. She worked for a book supplier, and a story I wrote took a letter of complaint she'd written to her head of department, which started, Excuse me if this letter sounds as if I'm flaming angry, because I am! And then went on to mention ­almost numerically the complaints she had about the running of the firm. I found her letter so funny that I used it in a short story. I added a number of complaints that she hadn't mentioned in the letter. And she discovered that when the book was published, the head of department had it on his table and that it opened automatically to that particular story! In other words, he'd read it more than once. And because her complaints eventually reached people in authority via my short story [raucous laughter], something was done about them!
INTERVIEWER
That's very satisfying. What do you see as your contribution to literary history?
GRAY
I will be happy if I've written books that people want to read.